Wander like a Designer: 5 Places on Valencia St. to Inspire Your Eye for Design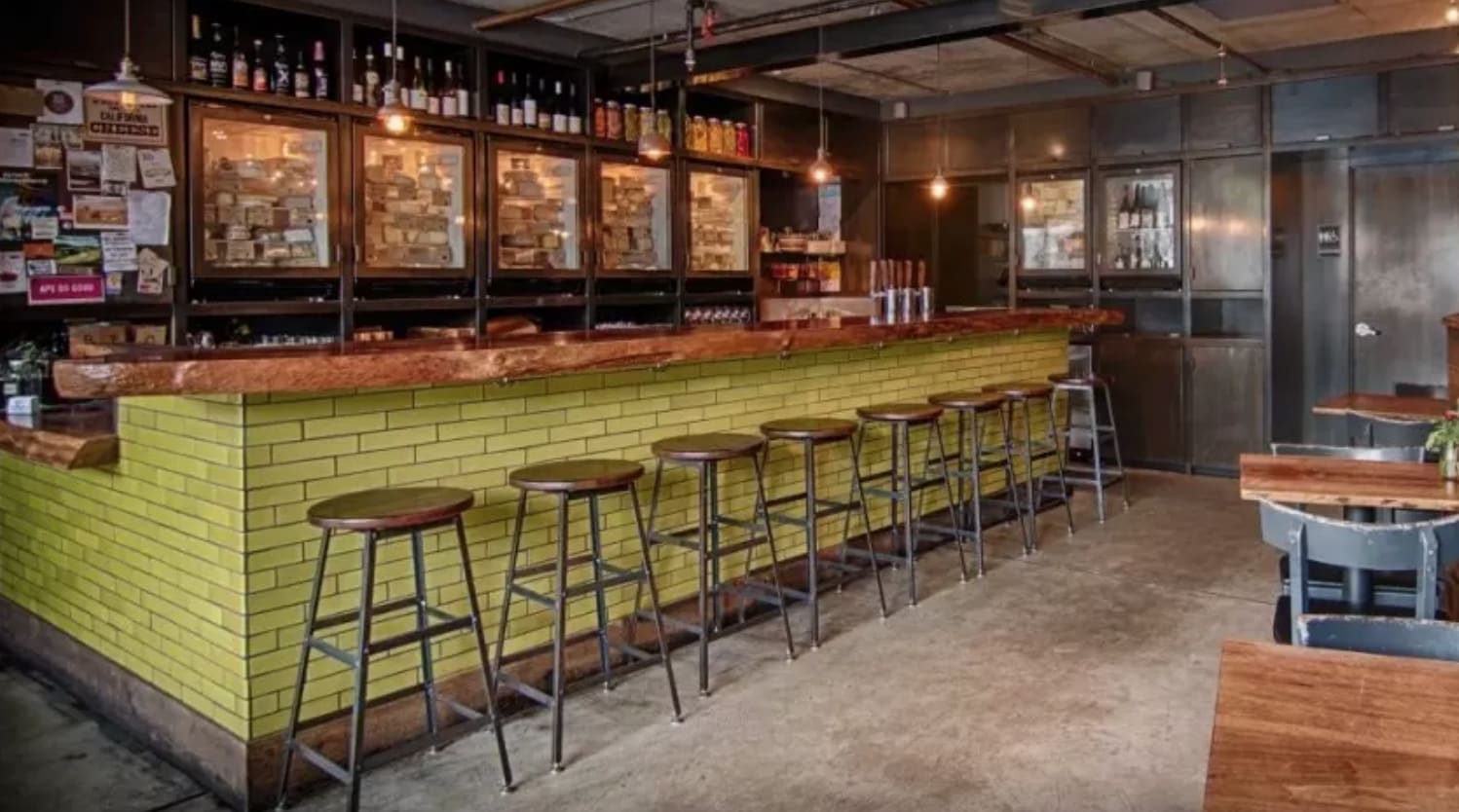 Welcome on our first Journey! We hope it'll inspire you to explore everyday spaces and discover extraordinary details. And if you ever feel lost navigating the invisible world of design we're here to be your guide. Email us with questions, ideas, and inspiration anytime.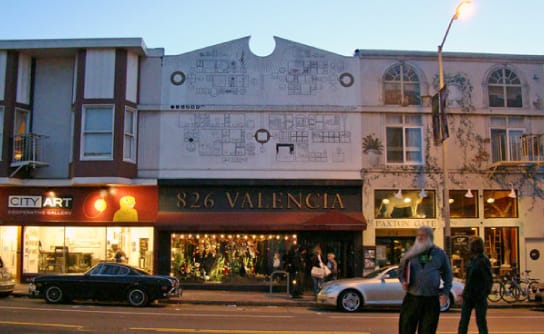 ---
Deep in the Mission, far from tourists and transient residents, you'll find me at Four Barrel. I'm sitting in my usual window seat, sipping on my go-to dark roast with my notebook in front of me. I have lived in the neighborhood for years and worked from this cafe countless times. But today is different.
When I told Rachely of Wescover that I wanted to learn more about local makers, she challenged me to explore my neighborhood through the eyes of a designer. When we're out together, I can point out a design detail, and she'll know more than a museum docent. "Hey, Rachely, isn't that wall hanging cool?" "Oh yeah! It was made by this awesome local woodworker named Aleksandra Zee. She does most of the work by hand in Oakland and uses reclaimed elements in a lot of her pieces. If you like these small ones you should go see her wooden wall in the Buchanan Hotel."
Looking around this cafe on Valencia Street, I suddenly realize that there are mysteries behind the scenes of every space, even ones I've visited before. I suddenly feel like a traveler discovering my own city.
FOUR BARREL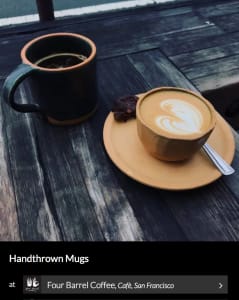 The palette here may be dark and moody, the textures raw, and the animals dead, but the space is alive with analog coffee culture. I pick a pour-over from the hanging laser-cut menu. My gaze drifts under rough reclaimed wood ceilings and over the custom concrete barista island, and then catches a glint of sunlight off the namesake Ffour-Bbarrel vintage German coffee roaster. Before I know it, a rust-glazed Sven Ceramics mug slides across the counter, and I snag a seat.
Above me is a chandelier made from a tangle of gravity-defying ropes and exposed bulbs. Four boar heads stare me down, but I feel comfortable in their company. To my left a row of flat lamps lead my eye to the skylight and then a scratching needle cues the vinyl set list.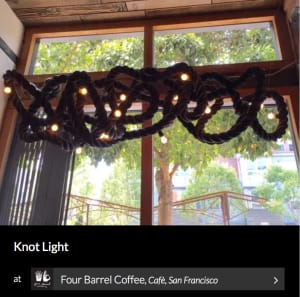 Four Barrel has stayed true to its old-school style for nearly a decade. The founder, Jeremy Tooker, is a veteran coffee roaster and well-traveled bean curator who uses a 100-year-old Probat roaster to achieve the clear, complex taste that their coffee is known for. And the space counters the laptop-shop vibe with Luddite flair: Spontaneous interactions are easier when there's no Wi-Fi or charging stations.
The room came together thanks to Boor Bridges Architecture and local makers. San Francisco designer Seth Quest's Knot Light and Flat Light Pendant are in tune with the worn concrete floor and gray walls. Despite the weight of these industrial pieces, they're light, sustainable, and playful. I leave imagining a crew of bearded architects dreaming up the space over a morning campfire in the woods.
SAMOVAR
In Samovar I feel the absence of things; there are no dainty china saucers, lacy tablecloths, or doilies here. The minimalist style and muted colors leave room to focus on tea. The selection is pared down to Green, Black, Herbal, and Iced tea with a few choices for each while the menu is "Mostly Toast." A chai comes from the contemporary concrete bar, and I cradle it in a handless cup made by ceramists at Oakland's Atelier Dion.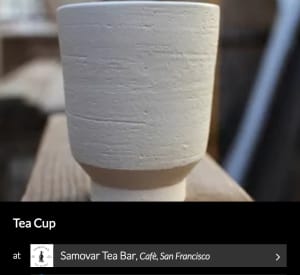 I've watched tea service evolve alongside coffee culture, and Samovar has been a driving force of change. Its founder, Jesse Jacob, calls what they do "third-wave tea."
The space reflects the philosophy of shinrin-yoku, or "nature bathing," which emphasizes natural elements and is meant to relieve stress. Surrounded by simple materials like salvaged wood, stone, metal, and glass, I feel at ease. The idea connects everything from the balanced line of mugs behind the counter to the light on the wood floor. Even after I leave, this sense of order lingers.
MISSION CHEESE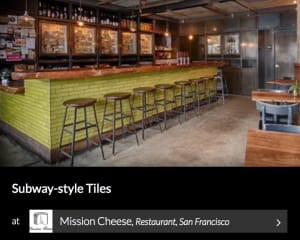 The mongers at Mission Cheese have successfully combined local urban style with farmstead vibes. In the middle of the small space a split Claro Walnut tree forms an L-shaped bar, and I chat to the woman behind it. I can be skeptical of San Franciscans' taste—I often expect them to know more about milking an almond than a cow—but she charms me with her devotion to artisanal cheese and interior design.
I dangle my feet and tap my toes against the lime-yellow Heath Ceramics tiles, reminiscent of a seventies subway station, while she tells me about the space. For one, Carpenter Josh Duthie created the simple bar stool that I'm perched on. The lights above me are from Big Daddy Antiques and showcase Edison bulbs.
The owners had a small budget, but 450 Architects managed to achieve their mission to "ignite enthusiasm around local farmstead cheese and those involved in its production." The firm focused on three elements: the cheese lockers, the bar, and the mural wall.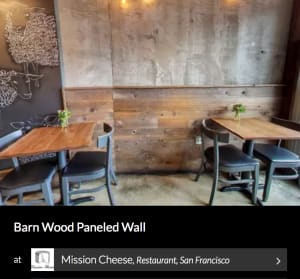 The rolled-steel cheese cabinets, created by Stingray Builders and finished by local artist Jeff Burwell, set a functional backdrop with industrial charm. The opposite wall doubles as a blackboard and features a mural of chalk sheep that were drawn as a performance piece for the store's opening. I look closer and realize the names of the space's creators are written in their wool. Geometric touches adorn the space. Diamond-shaped succulent planters hang against the concrete and barn-wood-paneled wall from Heritage Salvage. The sum is a design centric place that transports me to the countryside.
FELLOW BARBER
Further down Valencia Street, a gold-lettered "Apothecary" sign draws me into a musky men's barbershop. The vintage-inspired interior looks like a vestige from the 19th century. In fact, the barber stations were created in the 1800s in Chicago and then made their way to a bar in Miami, where it was good luck to rub the chests of the mermaids that adorn them (hence the extra wear). Over funky music and the buzz of clippers, a barber jokes that I'm a poor candidate for an old-school straight shave but offers the hangover treatment (a men's facial). I make a note to come back here the next time things get saucy at Dolores Park.
RITUAL ROASTERS
I stride into Ritual Roasters and frame the room like I'm a director: The 1,800-square-foot space ideal for a photoshoot. Its blond wood paneling, cream-white walls, and brushed-steel alcoves make it feel like the offspring of the SFMOMA and the Apple Store. But in the world of coffee shops, Ritual is a trendsetter in its own right.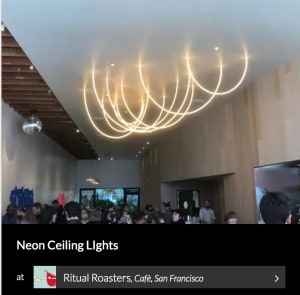 I look up at the custom neon light fixture, a collaboration by locals Laura Stevenson, a designer, and Shawna Peterson, a neon fabricator. The fixture echoes the line of a coffee cup while playing on the brightness of the space—a simple, yet elegantly captivating focal point that leaves trails of neon in my vision. Ritual's logo of a crescent cup and a star against a muted red background is often mistaken for a communist sickle or a play on the Turkish flag, but it's really a nod to rebellion. I chat up the barista, Ted, who's also an artist and has curated the Ritual's flagship walls multiple times. After working at Ritual, he's more aware of the feeling when you walk into a space. He tells me that an open floor plan, minimal decor, no Wi-Fi, and an emphasis on beans were once foreign concepts in San Francisco's coffee scene. Ritual rebelled against the "library-office vibe" where most coffee shops help keep everyone's head buried behind a laptop. That doesn't mean technology is banned here. Ritual just strives for balance.
A recent remodel of the flagship on Valencia Street allowed them to refine its decade-old concept and emphasize elements that reinforce the brand and contribute to better interactions. The long space facilitates movement, and especially on the weekend, when there are eight baristas serving a line out the door, it's an inviting space where people can move around without accidentally scalding each other.
Walking back to meet Rachely, I am daydreaming about unfinished raw woods, Victorian details, open floor plans, and made-in-America merchandise. I am feeling inspired and decided to 'shinrin-yoku' my workspace.
I'm surprised it wasn't harder to adopt a new perspective. It was just a matter of slowing down to take in the details and, when I found a piece I was curious about, I found the answers on Wescover. When I couldn't find something, it became a part of the treasure hunt.
I like the trendy aesthetic of new businesses in the Mission but I'm also wondering what else is out there.
I wonder where we'll travel next and what we'll discover!
---
This Journey was Written by Allison Murray. Allison navigates the unknown and captures ephemeral elements of beauty as a content producer, traveler writer, and floral designer in San Francisco.