This Week's Top Wescover Maps

Maps were first created to give us
direction.
Getting lost and using a map to find your way back is an experience of its own. But with the rise of technology and easy access to the most remote corners of the world, the mystery, suspense, and excitement of finally finding the hidden treasure where "X marks the spot" has been lost.
Introducing Wescover's MAP.
The Wescover Map is all about uncovering the hidden design objects that we see in our everyday lives. Those gorgeous kitchen pendant lights in your friend's new home, the tiles at your favorite restaurant, the couch at your hotel's lobby, the barstools at your favorite late night spot: the design has always been there. Now it's time to uncover the stories.
With the new map, the team here at Wescover has certainly been able to take notice to see which Creators have Maps filling up
fast!
Check out these up and coming Creators with works all around the globe:
1. Rica Belna:
Rica has been developing unique photographic designs for large-format printing. These pieces have been up to 25 meters long (approx. 75 feet). Many of these artworks have been installed in 5-star hotels, office buildings as well as wellness-resorts.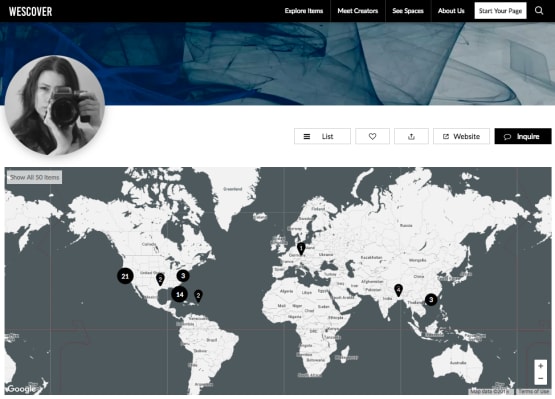 2.

Christina Watka Studio
:
Christina Watka is a New York-based installation artist who specializes in large-scale installation art. Watka's installations evoke naturally dynamic patterns found in swarms, flocks, cells, constellations, and topographical maps.
3. Jylian Gustlin's Artwork
:
Jylian's complex and layered paintings give glimpses into a process that moves with great facility between right brain and left brain. The works draw us in with their rich patterns of shape and color and lead us to an ambiguous landscape where figures stand, sit or dance within the charged atmosphere created by the artist.
4.

Heather Day
:
Day's art is a form of visual storytelling interested in conveying moments of interactions. Her background in travel and culture encouraged her to see more of the world, where she discovered a connection to nature—her main source of inspiration.
5.

STUA
:
Timeless design, from Spain, located all over the world.
Creators:
Feel free to email us at social@wescover.com.