Traveler Tips: Where to Look for Design Inspiration and Support the Local Art Scene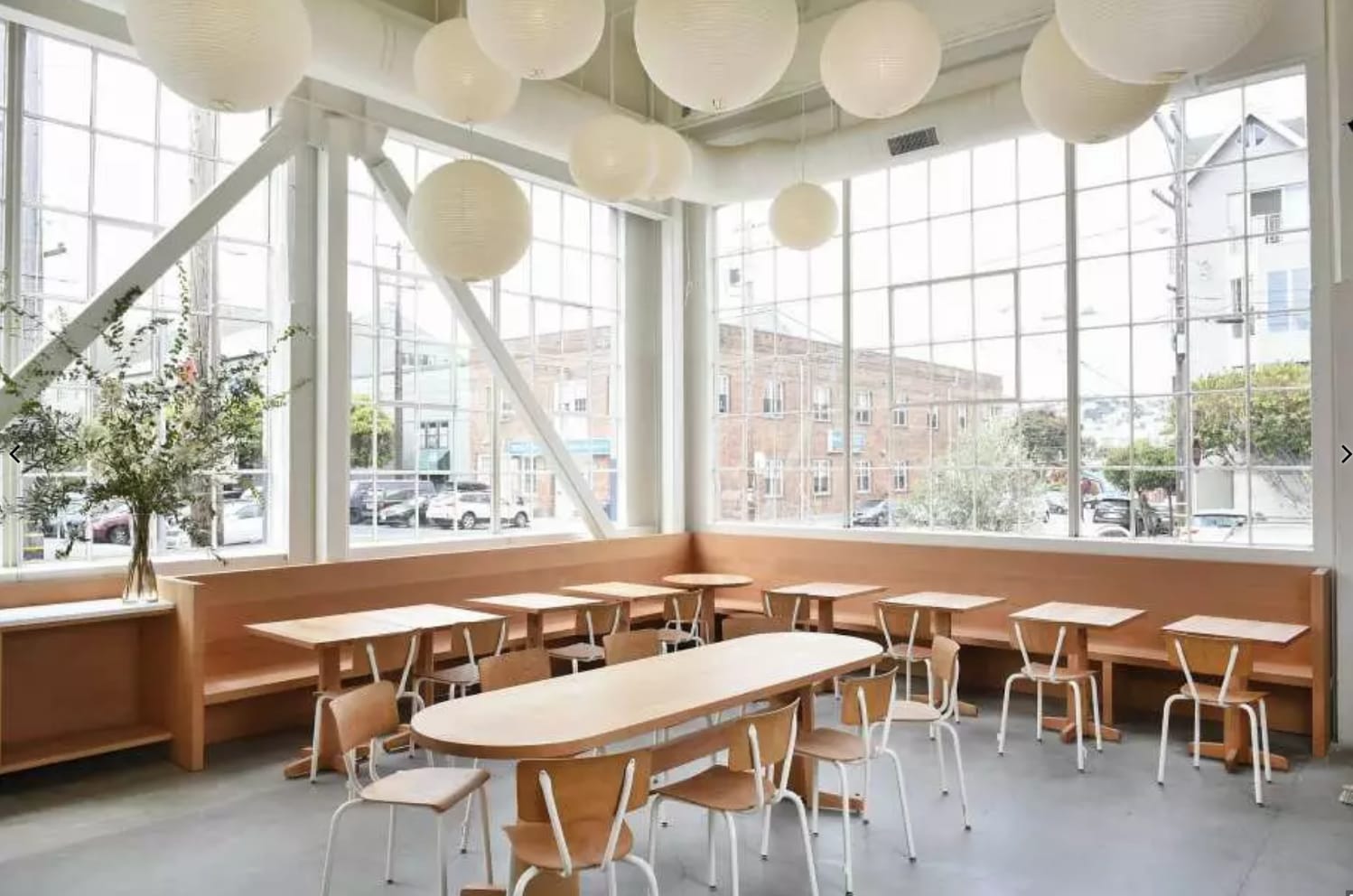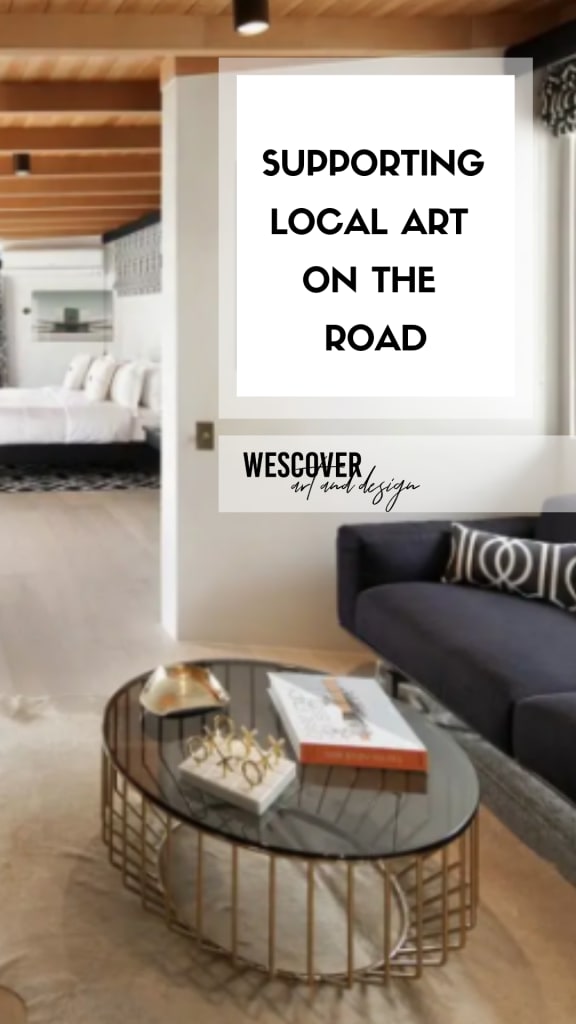 How to Support Local Art as a Traveler.
Everyone is embracing a trend to support local artists— and we're thrilled about it!  At home and abroad we're gravitating towards restaurants and hotels that uniquely embody their surroundings. Spaces like these are the places we fly around the world for and draw inspiration from. A traveler survey even showed that 70% of travelers decide to stay based on the design of the space.
Many travelers want to bring home a piece of their trip. But they're not just buying themed off-the-shelf home decor anywhere. Rather, these design-savvy travelers prefer unique pieces, ones that connect them to a special moment of their trip or a specific local artist. The artists and designers who've gotten their works in these spaces are often times incredible modern artists and craftsmen whose pieces would draw crowds in a gallery/showroom. You can find incredible design and moving experiences in any space and help local artists thrive in the process. 
Alex Segal and Riley Rea, who founded Croft House in 2010 in Los Angeles, are California to the core. Their team at Croft House incorporate California's signature style—a relaxed kind of elegance—into any piece they make.  The style and origin of their furniture as equally important elements. They source and manufacture the pieces in Southern California— a local move that many other artists and designers are catching onto.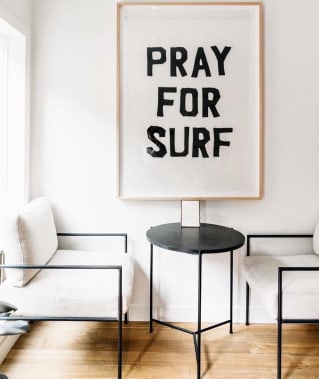 The side tables at The Surfrider Malibu hotel provide an intriguing contrast to the light browns and off-whites found elsewhere throughout the space. But like anything else sporting a distinctly California style, the piece would fit right into a less beach-like atmosphere back at home. "If you want to go bold with design, hotels are the place to look for inspiration," Architectural Digest recently noted. That said, bold doesn't have to mean gaudy or cluttered, as the simple materials and use of negative space in Croft House designs show.
Other great spaces where you can find inspiring local design are restaurants. Travelers who step into Bar Agricole in San Francisco's SOMA district are met by a subtle yet huge mural triptych mounted behind the bar by Germany-born, SF-based Thomas Winz. Winz specializes in large-format panoramas of places, and the one at Bar Agricole is part of his "After Hours" series, which showcases houses, signs, and cars in the quiet hours of the morning. As a part of Bar Agricole, the mural matches both the classic feel of the bar and the distinctly urban surroundings outside. 
There's something about their subdued lighting, intimate layout, and unique decorations that makes cafés a great source of inspiration for cozy design. Cafés are also one of the prime destinations for food travelers hoping to get some caffeine and leisure into a long day of sightseeing. Tartine Manufactury is a bakery located in the Mission District in San Francisco. Big windows steam natural light onto this excellent organic space, completed by LA-based design firm Commune with lots of gorgeous metal and woodwork, raw concrete floors and Calacatta marble counters. Many creators contributed to this earthy and soothing space, such as the reclaimed Douglas fir wood furniture by Peter Doolittle of PDX Productions and stainless steel metalwork by Conceptual Metalworks.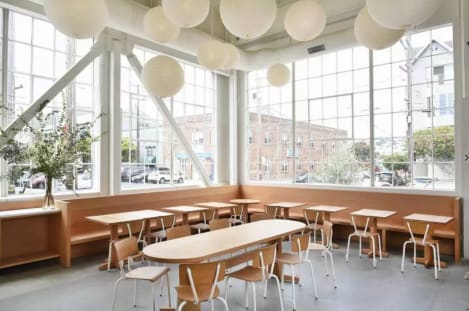 Many trips abroad are spent in quaint resorts and spas and we can't help but get a little inspired. Phase Design by Reza Feiz is an LA-based self-taught designer who conveys a 21st-century edge, making his work relevant to the constantly evolving contemporary environment. His philosophy of "strength in simplicity" is present in the solid woods, metal, and fiberglass furniture crafting the luxurious interior at L'Horizon Resort & Spa. His innovative wired table designs and veil chairs add an industrial touch to the modern and yet cozy atmosphere that greets guests upon arrival. 
When we travel, we bring back an amalgam of experiences, shaped by the places and people we meet during our time away. Local creators in any city tell stories through unique designs and culture-specific trends that are new to the traveling foreigner. When cool designs are an advantage, space owners buy more work from local creatives. At Wescover, we love to acquire unique designs and help local artists thrive. As a traveler and design-lover, you have the power to not only harness inspiration from unique designs all around the world, you also have the power to nourish local artist communities worldwide. 
Planning a trip and hoping to get inspired? Checkout spaces all over the world on our MAP and the incredible creators that make them special>