PR Advice for Artists from Design Milk Founder & Editor Jaime Derringer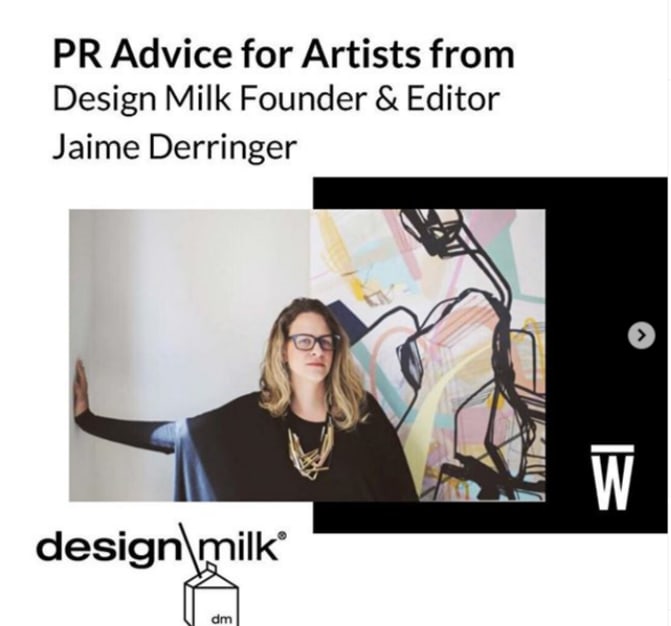 We're big fans of Design Milk. Everything they curate inspires us and makes us wonder, "How did they find that?!"  So, when we were lucky enough to connect with founder Jaime Derringer (she's also an artist on Wescover!), we wanted to know her story and ask for a little advice…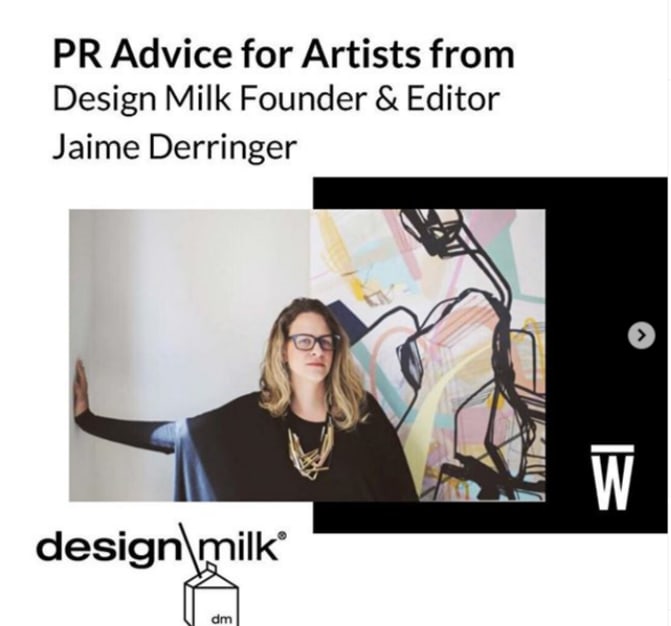 Like many great creations, Design Milk is a passion project turned profession. Founder Jaime Derringer worked at a medical communications company when she started her blog (actually, to keep track of a sofa). She was no stranger to art or publishing but, even with a full-time gig, she made the blog a priority. To realize her long-term vision, Jaime had to teach herself about design and even how to code. Over the course of many nights, she built up the website (and her amazing podcast, Clever). As the site grew and gained a following she rose to the challenge of being a tastemaker for all things architecture, interior design, art, and décor. Today, Design Milk is a success and her full-time job. Yet she never stops honing her brand and pursuing personal creativity. She inspires us to focus on what we're passionate about until it can consume our lives!
On the other side of the story are all the artists and designers who have gotten discovered thanks to Design Milk. Getting in front of their 2 million followers can become a big break for any Creator. It can lead to buyers, industry connections, and kick off a new chapter in a Creator's career. Even if it doesn't, it can inspire an artist to keep creating until that moment comes. So we wanted tips on how Creators can get recognized for their work and under the spotlight…
What do you look for in an artist to feature in Design Milk or interview on your podcast Clever?
" I always look for the following (if I'm lucky – someone satisfies all of these criteria!):
– Innovative materials
– Innovative method
– Innovative form or function
– An interesting story
I often also consider work that is sustainable, solves a real problem or aims to better the world in one way or another."
Jaime recognizes how hard it is to put your work, and by proxy yourself, out there. It takes courage to create something. What makes someone stand out, however, is the desire to create change in the environment and in our everyday lives.
What kinds of Creators inspire you?
" I'm inspired by most creators, regardless of what they design or make because I know how challenging it can be to ideate something that hasn't been done before or improve upon something that already exists. The designers, makers, and artists that I am most drawn to undertake the burden to improve our lives and the world around us—they're constantly innovating and thinking about the future.
Here are some of the Creators on Wescover that I like (and tbh this was hard to narrow down!):
Heather Day – https://www.wescover.com/creator/heather-day
Bec Brittain – https://www.wescover.com/creator/bec-brittain
Anony – https://www.wescover.com/creator/anony
Bend Goods – https://www.wescover.com/creator/bend-goods
Mike & Maaike – https://www.wescover.com/creator/mike-and-maaike
Woven Concepts – https://www.wescover.com/creator/woven-concepts
CLE Tiles – https://www.wescover.com/creator/cle-tile
Nike Schroeder – https://www.wescover.com/creator/nike-schroeder-studio
Croft House – https://www.wescover.com/creator/croft-house
Phase Design – https://www.wescover.com/creator/reza-feiz
Malene B Atelier – https://www.wescover.com/creator/malene-b-atelier "
Some of Jaime Derringer's favorite creators on Wescover; Heather Day, Bec Brittain, and Bend Goods
You don't have to have a Public Relations firm to get into a major magazine— but it helps. If you have the time and stamina to pitch your work, you can get exposure just by contacting people yourself. However, hiring someone to help with PR is a great way to forge connections quickly, market yourself, and maintain communication.
What are some misconceptions about PR?
"I think many people believe that PR has to be expensive and time-consuming, however, some of the best PR that brands I've worked with were simple and straightforward. I would never deny a brand any publication or exposure if they were not using a PR firm. We are a democratic site and believe that the work often says it all."
A new, ingenious idea catches Jaime's eye, but it's not necessarily the only thing that holds her attention. Think about your story before pitching your designs to a publication. And, if you have a bigger picture, don't dwell on the one-to-one experience between a design and its owner. Share how it could impact the environment, industry, or whole groups of people.
What do you think will be the future of media and how do you expect Design Milk to evolve?
" Content is still king, but it must touch the reader in some way. It's the same with commerce… if 10 stores are selling the same thing, why should someone buy from YOU versus the other stores? It's about the experience, the quality of the experience and how you can connect with that customer on a level that goes beyond the transaction."
If you're being interviewed, know who their readers are and keep them in mind as you're sharing your design story. Say you're a painter and you did a mural in a new restaurant. In an interview for Thrasher, you may want to mention how you got your start painting trains… With Dwell maybe it's more important to mention that the custom tableware by your friend Mary Mar inspired the painting. Either way, don't be afraid of emotion.
What are some trends you've noticed when it comes to purchasing art and design items?
" Anything expensive takes time to sell: from expensive sofas to large-scale original artwork, to chandeliers. Items that make people smile, laugh, or draw emotion are most likely to be purchased, or responded to in a positive way (engaged with online). "
You've probably worked on an "About" page for your brand. But does each one of your design objects have a short story of their own? Once it's sold, will it become apart of someone else's story too? There are so many ways to bring emotion to a design story and, if you're feeling stuck, try this: pick an emotion you want to feel. Then describe an object you've made. We bet you're not recounting the methods you used to make it or how long. Instead, you're focused on the details that make you chuckle or feel nostalgic.
We have big dreams for our Community of artists and designers on Wescover too: we hope they'll land commissions all over the world, get recognition for their work whenever it's noticed, and see their creations splashed across the digital pages of Design Milk!
Keep Jaime's words in mind to stand out and keep your creative business growing!