Artist's Van Life: How to Run a Creative Business on the Road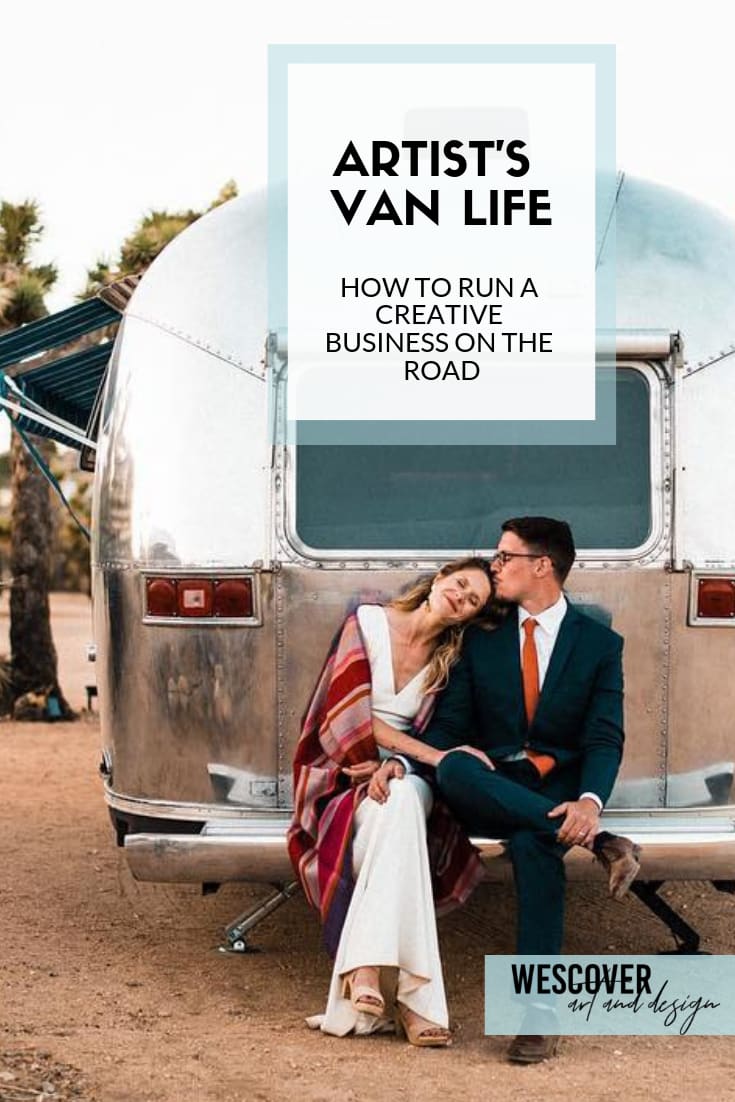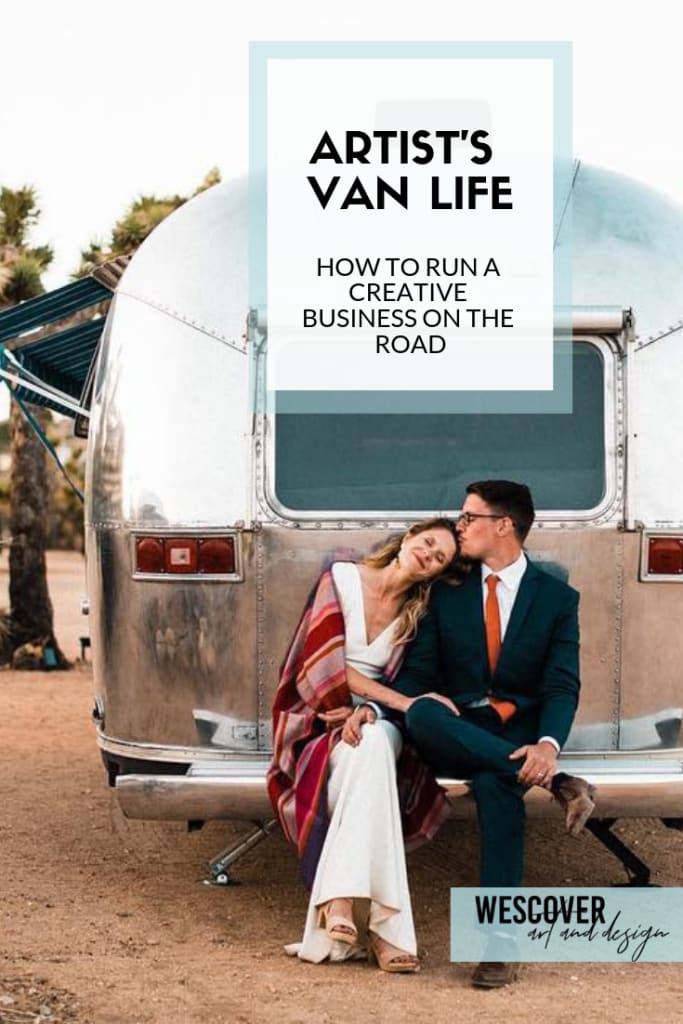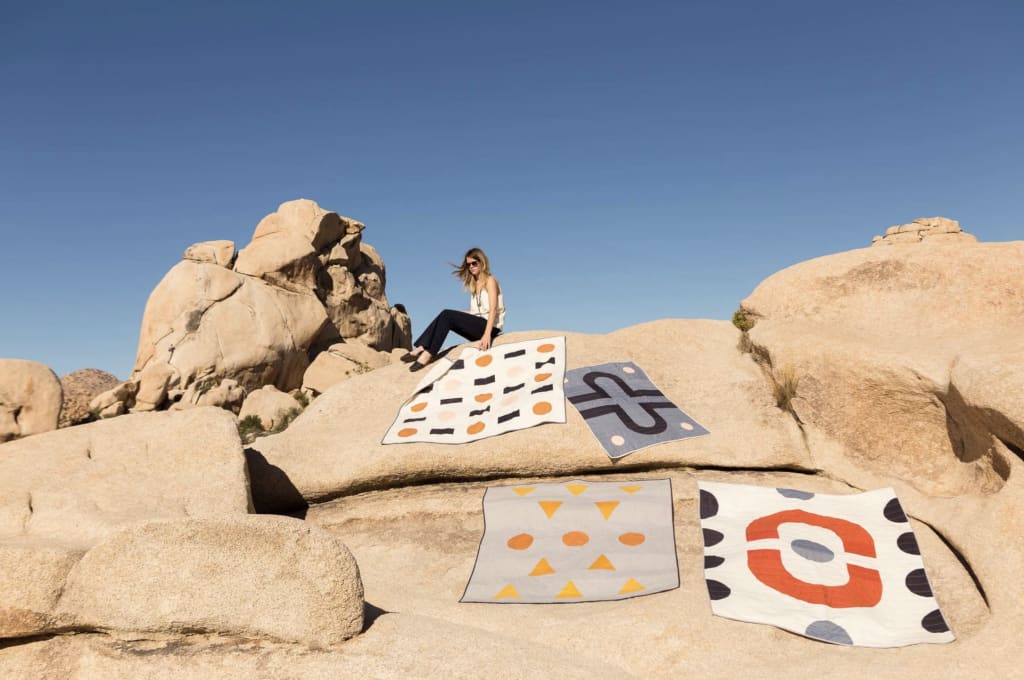 Laura Preston of Vacilando Quilting Co. with some her quilts at Joshua Tree National Park, as seen on her Wescover page.
Have you ever fantasized about buying a van and becoming a full-time traveler? I'm Renee and, when I started working with Wescover, I noticed that some amazing artists are living a nomadic lifestyle. Leaving home can be scary and, intentionally choosing to live without a traditional home can be even scarier. I'm obsessed with alternative living trends and this episode of NPR's All Things Considered podcast "'Nomadland' Tracks Rising Number of American's Living on the Road" got me excited about van life especially!
Living in a van is a radical idea and it demands some minimalism, so owning a nomadic business poses some extra challenges. Without a home base you're going to have to source and transport materials; outfit your space with the right equipment; and stay focused. Traditionally small businesses tend to rely heavily on a local customer base and "word-of-mouth" advertising. Which, if you know the right tools, is now quite possible online. I was curious, how do artists and designers make it on the road? So when I spotted this mobile textile artist on Wescover, I had to know more…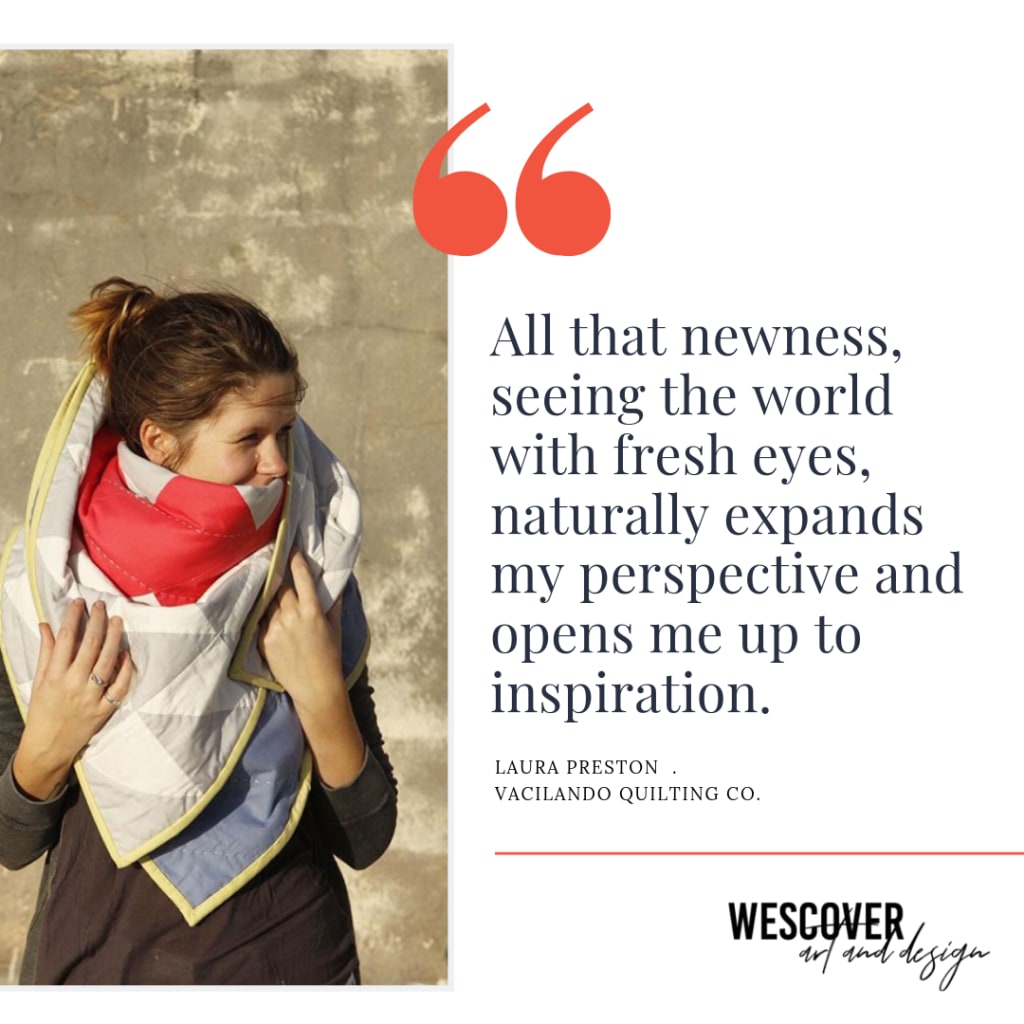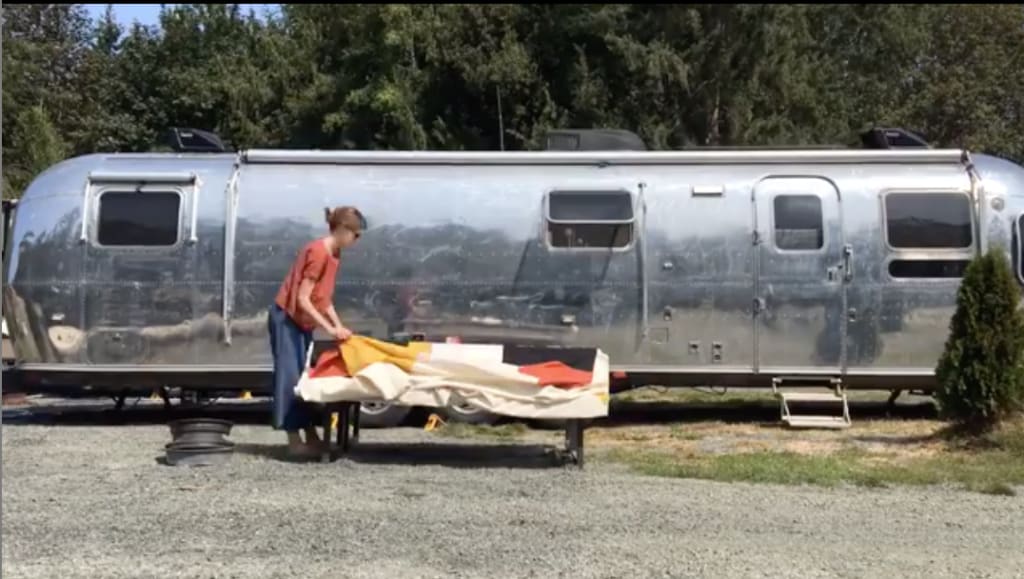 Vacilando Quilting Co. founder Laura Preston fell in love with the nomadic lifestyle in 2013 and now runs her creative business from the road full time. Laura shared more about her nomadic lifestyle and how she makes it works creating out of an Airstream trailer. Here are some insights into Laura's experience that can help any creative entrepreneur make their van life dreams a reality:
Online Networks: In Business Anywhere
"With the internet and social media, it's becoming less necessary to have a location-specific business. People from all over the world can see and shop for your work online, which is pretty amazing. For me, sharing my story and my work through social media has allowed me to reach a broader audience and connect with amazing fellow makers and customers I wouldn't have if I had limited the scope of my business to one city."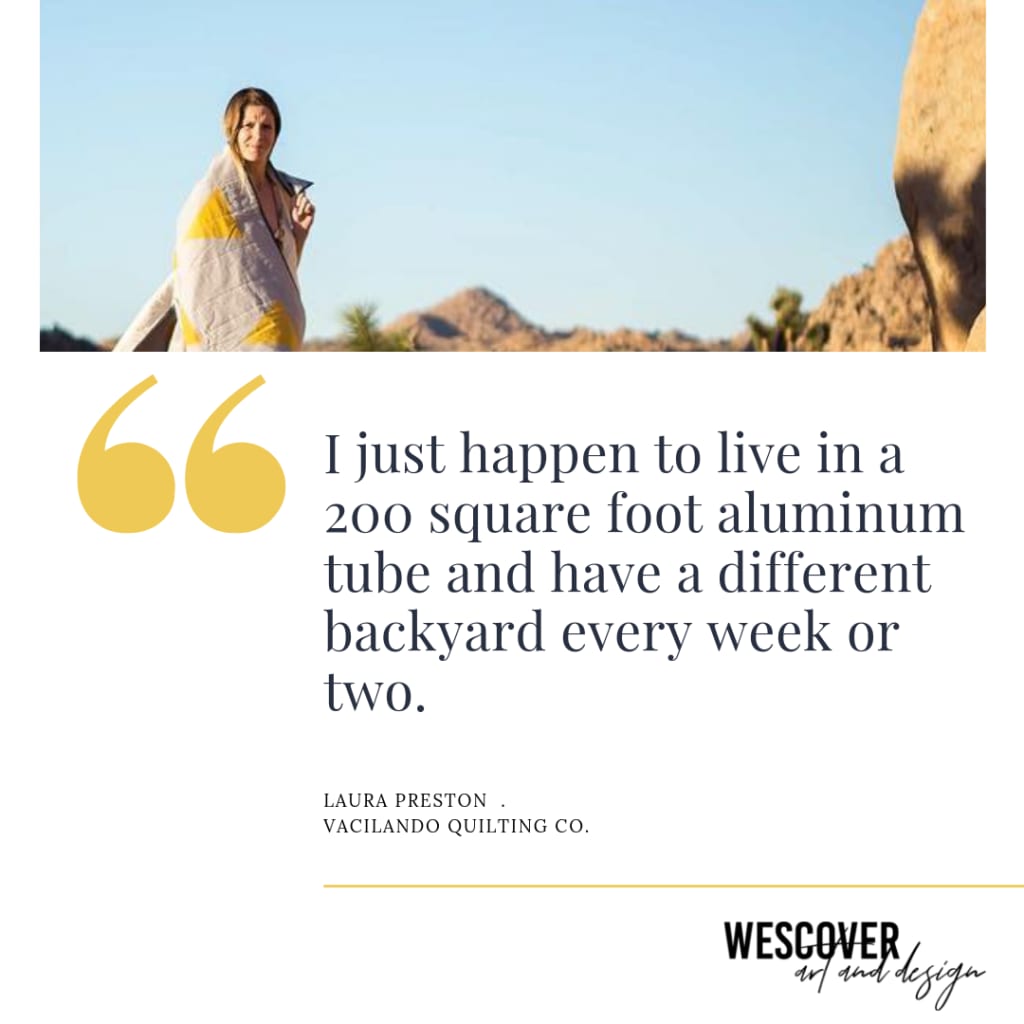 Routine on the Road: A Day In the Life…
"I think a lot of folks imagine "living on the road" as a permanent vacation, but living, working and traveling full time in a mobile Airstream studio is surprisingly not much different from a normal, stationary life. I keep a pretty regular Monday through Friday, 9 to 5 schedule, but I just happen to live in a 200 square foot aluminum tube and have a different backyard every week or two. Having a regular routine like this grounds me and keeps the constantly changing scenery from becoming overwhelming." 
Early Mornings:

 Most days for Laura start early. She has a routine that many of us (particularly fellow dog owners) know very well: she wakes up and walks her dogs, gets a workout in, and makes her coffee.

Getting to Work:

Running a business like Laura's requires a fair amount of online work. She spends a lot of her time on the computer with emailing, admin, designing, and them check-ins.

Afternoon Production

: From 11-5, Laura begins production work on out outsourcing or custom orders.

Ending the Workday

: Anyone who works from home/owns there own business or side-hustle knows that one of the hardest parts of the day is ending your work-day. It can be difficult to turn off work mode and spend some quality personal time. When she ends her day, Laura walks her dogs again, makes dinner, works on personal projects, and/or watches Netflix.
" I do make a point to get out and explore the area we're in on the weekends though. Depending on where we are, that could mean hiking around a national park, spending the afternoon at a museum, exploring a local market, visiting a brewery or searching for a secret swimming hole. That's my favorite part of this lifestyle – there's always something new and interesting to discover." 

Change of Scenery: Boost Your Creativity
People are profoundly impacted by space (that's why artists are so so impactful in the spaces where their work is featured). With the change of scenery, you may be wondering where Laura specifically looks for inspiration. Laura believes that her changing surroundings have a positive effect on her creativity and gives her constant inspiration.
"The constant change of scenery is the biggest inspiration. Exploring new places, traveling through new landscapes, experiencing different cultures and meeting all kind of people really fuels my creativity. All that newness, seeing the world with fresh eyes, naturally expands my perspective and opens me up to inspiration. All my quilts are inspired by specific locations, so for me, design and travel are inextricably linked. Some of them are more inspired by the feeling of a place, like the Balance Collection which was inspired by the high deserts of Texas and California. But the designs in my most recent collection, the Lowlands Collection, were directly translated from the architecture in Belgium, the Netherlands, and Denmark. Like the Copenhagen Quilt – it's based on this row of traditional boathouses along the canals in Copenhagen. The design is super simple and abstracted, but when you look at the inspiration photo, you immediately see it."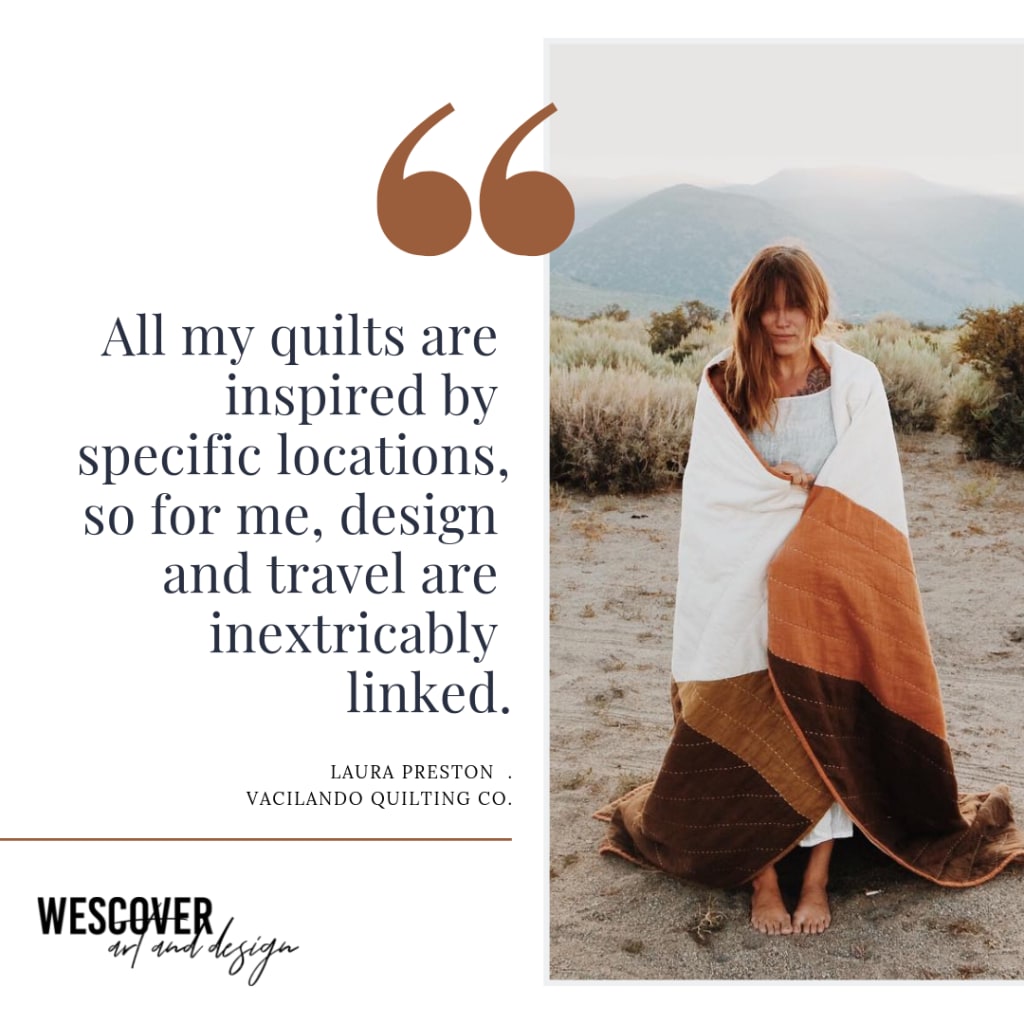 Keeping Up: Outsource Production
Laura designs her quilts but outsources production to independent, home-based quilters she works with.
"I've been really lucky to find a couple of amazing quilters to work with, but it's a long, slow process of building trust and learning how to work with each other remotely. We start with a couple emails and phone calls to get to know each other a bit, then I give them a sample to make and send to me to look over.
If everything checks out and the process goes smoothly, we slowly build levels of responsibility from just quilting all the way up to full production and shipping directly to the customer once I fully trust their quality of work. It's all about communication, flexibility, and openness."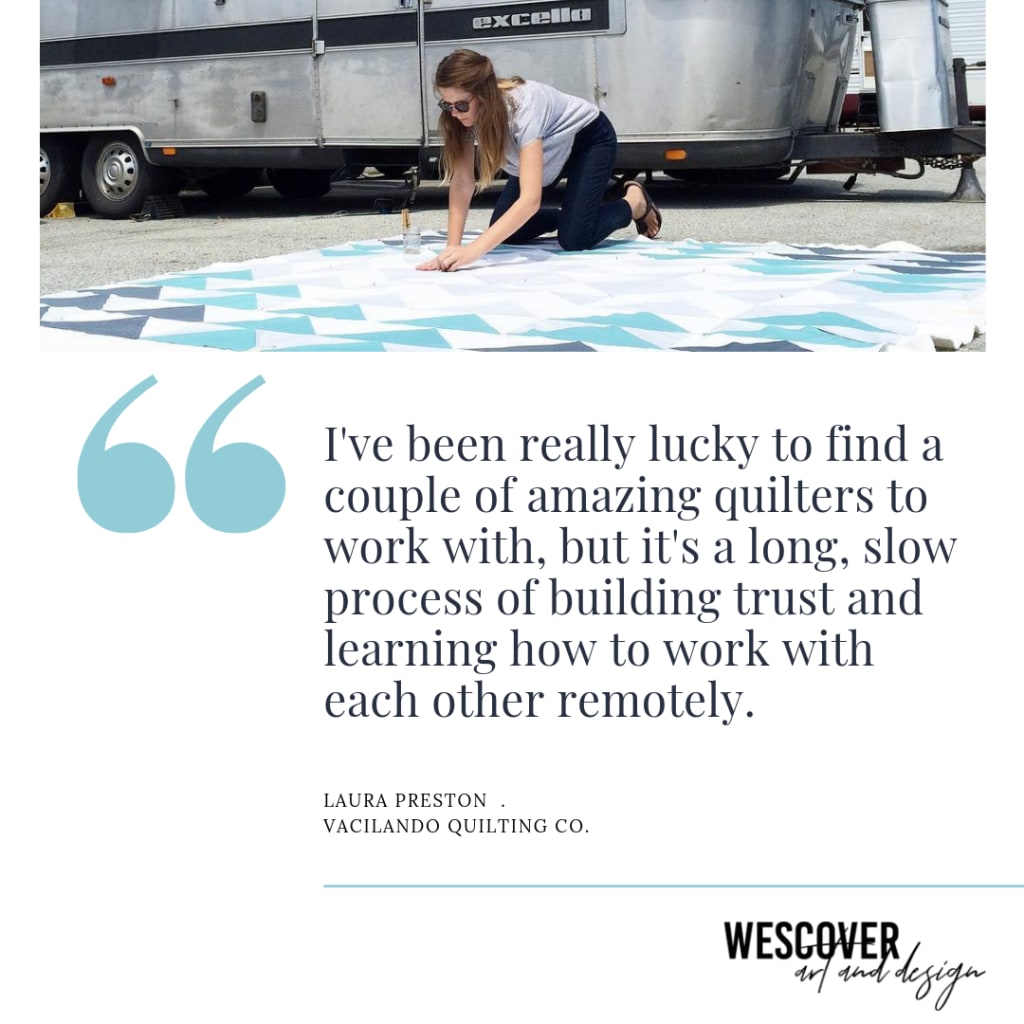 Personal Inspo VS. Client Research
"I feel like I always have a million ideas for quilts or collections or new products that I want to make and never enough time to actually make them all. But I'm always gathering visual inspiration, mostly photos from my travels and things that catch my eye on Instagram or Pinterest (although I'm trying to spend less time looking to others for inspiration). I'm usually designing a piece that's directly inspired by a place I've traveled to, which can come from an interesting color combination, the pattern on a sidewalk, architectural features, the shape of a landscape, or any combination of those things.
But if I'm working on something custom, where the client wants something specific that I'm not personally familiar with, I gather as much visual research as possible and use that as a starting point for the design."

When to Go: Now.
"Just do it. You'll never feel ready, you'll never know all the things. If you want to live this lifestyle, it does take a fair amount of sacrifice and adjustment. But if you feel like the reward will be worth the risk for you, then you have to give it a shot. It'll work out the way it's supposed to."