Unique Tile Decor Trends of 2020!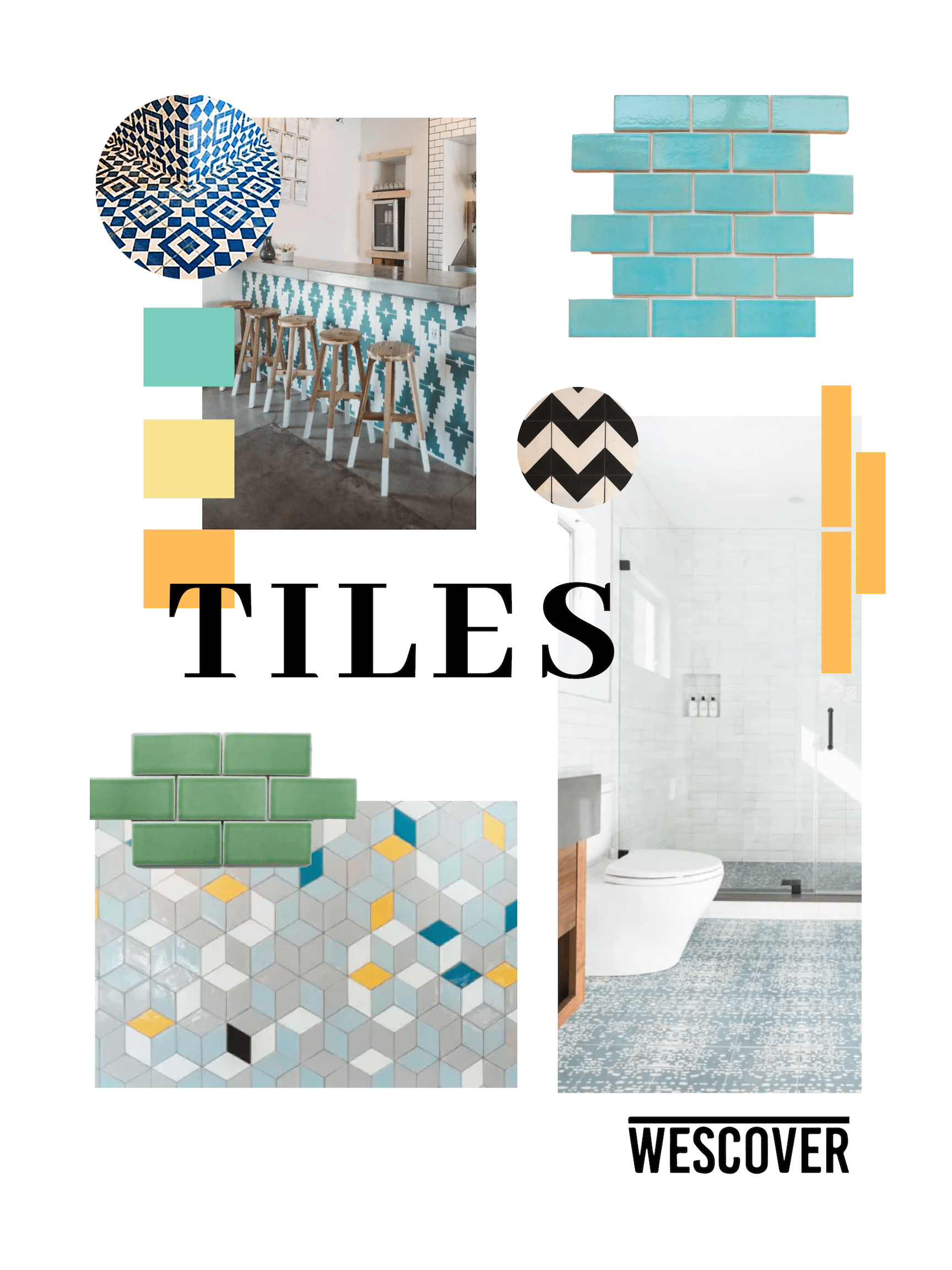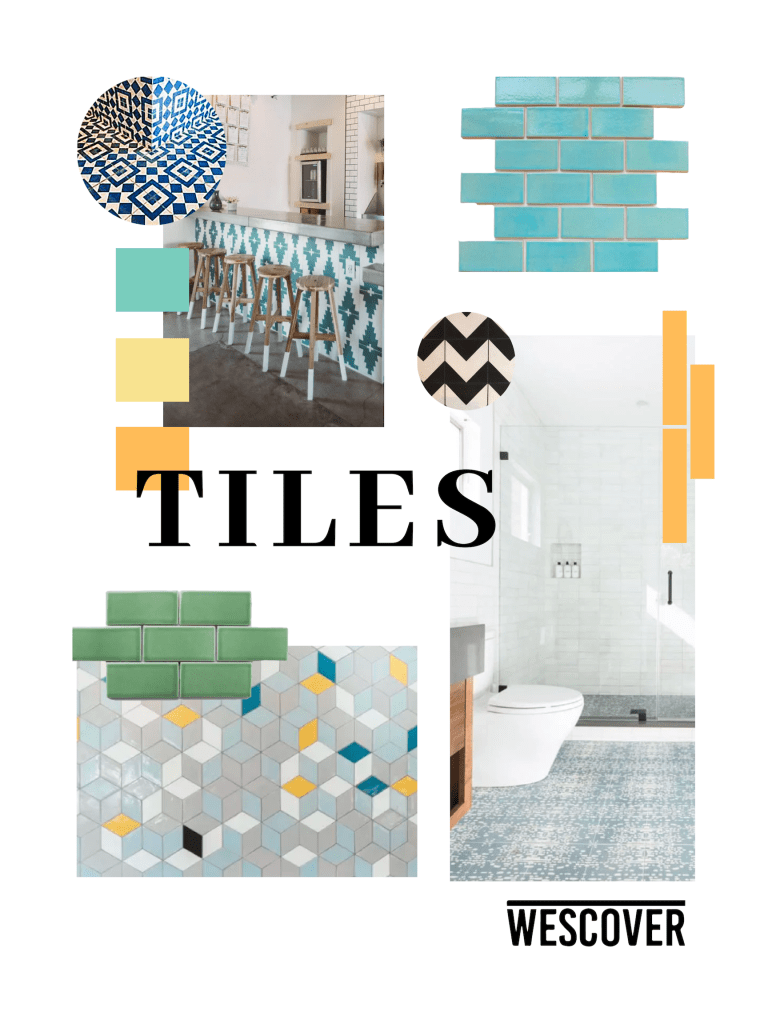 Why Unique Tile?
Unique tile is one of the simplest and most versatile design features you can add to your space! Whether you're dreaming of a sleek subway tile kitchen backsplash or a Parisian black and white hex tile bathroom, there are tiles to compliment every style and function. This makes them the ultimate decorative material for any surface! Even better, these small ceramics are durable and their colors don't fade or wear off like paint! They're easy to keep clean and sterile too, making them ideal for the kitchen and bathroom. We're sure that the more you learn about our favorite unique tile, the more you'll want it in your space! Not sure which tiles are right for you? This collection of tiles will be your guide and will give you serious inspiration for decorating a new room or how to use tiles to refresh an existing space!
We've explored unique tile before, but these ones take the cake. Ranging from bright and bold to dark and intense, we can't get enough of the variation! And it doesn't stop there either, our Creators have tiles in several different shapes, sizes and textures too. You don't have to be an expert interior designer to use tiles in your home or space, and they're sure to impress! We've put together a list of creators that all have their own unique styles, but if you don't find a tile that's just right for you, don't worry! This is just a taste of all the tile work on their Wescover maps. We love to incorporate tiles from all sorts of different Creators all over the world, so we're sure we have something for everyone. Take a look at our favorite unique tile and breathe some new life into your space!
1. Large Hexagon Tile
Hexagon tiles are not only beautifully designed, but the unique shape takes them to the next level compared to traditional square cut tiles. They will also bring a playful element into your space by adding a little extra pattern. We love these hex tiles that have been installed in such a stunning and creative way! clé tiles shares, "Wrapping up summer with this unique floor and wall combination Lido House by Grace Blu Interior Design featuring our radar tile in two colorways mixed with some solid cement hexes. Note the deft integration of tile with the wood floor and walls." The decision to include the tile on both the floor and wall is a great way to carry the design throughout multiple parts of your space! It's also a great focal point of this room.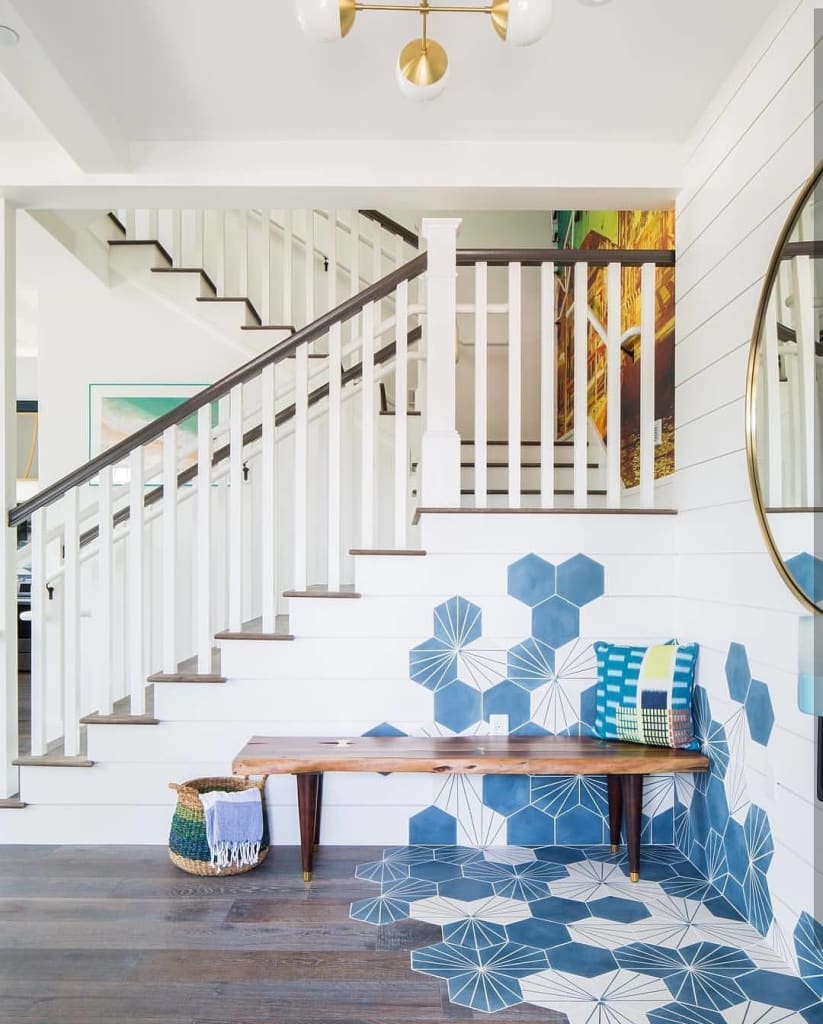 2. Sea Green Parquet Tile
This French "Parquet Pattern" is traditionally a geometrical and angular mosaic of shapes (like herringbone tiles). It's another innovative way to lay tile, and it's anything but boring! Arranging regular square shaped tiles in unique ways is a wonderful method and adds an extra layer of charm and personalization to a space. It also creates a fun vibe that guests will surely notice! We love Fireclay Tile's take on the pattern in Mister Jiu's restaurant in San Francisco, and these deep sea green tiles make this already refined space feel exceptionally elegant and imperial.
More tiles by Fire Clay Tiles >
3. Chevron Pattern Tile
Feeling some love for Art Deco lately? These chevron patterned tiles made by Cement Tile Shop for Noon All Day café in San Francisco give it's floor a retro feel that will take you back in time and offer serious Great Gatsby feels! The light and airy feel they bring to the café's floor is perfect for putting you in the mood for Noon All Day's delectable pastries and cakes. It's such a simple design addition but makes a world of difference! These unique tiles add a ton of sophistication and a classy aesthetic to this gorgeous space, taking its style to the next level with minimal effort.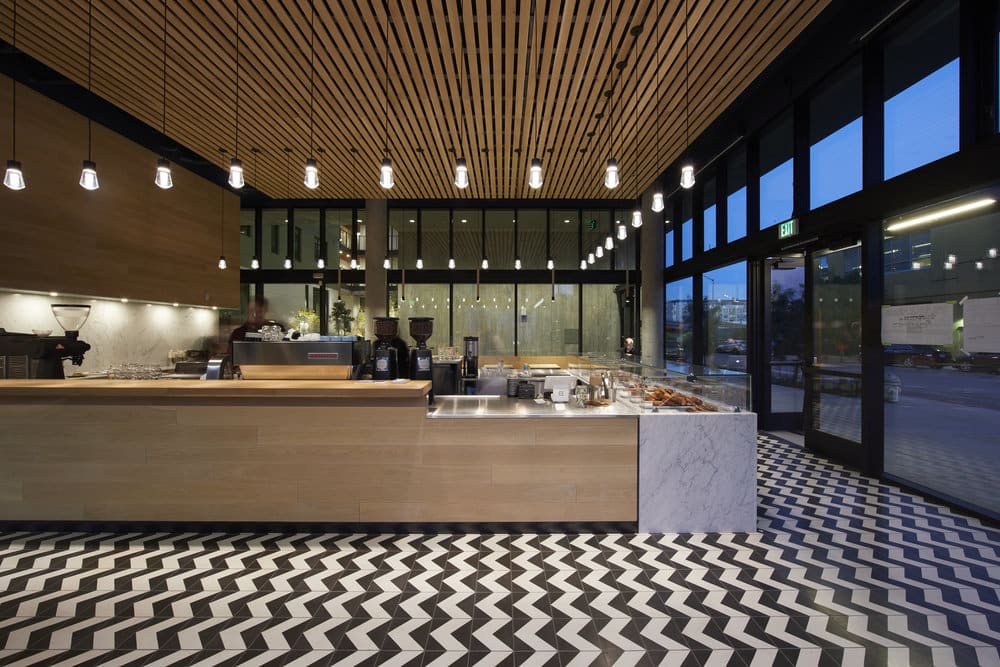 4. Encaustic Cement Unique Tile
Cement tiles are the most popular medium of tile, but that doesn't mean they have to be ordinary! These New West tiles by clé tile really give this space a Modern Western meets SoCal feel. It's true, "the clé new west collection of cement tiles is a collection with roots in the wild, wild west, but with a vibe that's everything new." These can be seen at JuneShine bar in San Diego, under a bar and countertop. Areas like these are often under-utilized and left as empty blank space, but under the bar or on the countertop is a great opportunity to artfully add tiles and turn wasted space into a stunning accent and focal point!
6. Classic Pattern Unique Tile
You can never go wrong with a classic pattern tile, and this blue and white unique tile is a great example of a simple style that can be incorporated into any design. We love how this design makes this bathroom floor feel so eclectic and clean! The creator says, "This pattern is made from a sketch I made in a sketch book in art school – which I found much later while I was working on the Kwoma collection of patterns. The Kwoma collection of patterns is inspired by the shield artwork of the Kwoma tribe in Papua. the shields decorate the ceilings of royal or significant structures in their villages. The Omaha Kinship is the way heritage and lineage is measured by the tribe and I like to think of each dot as an individual part of a large lineage." With a backstory as genuined as the tiles themselves, we're sure they'll be a lovely addition to any space.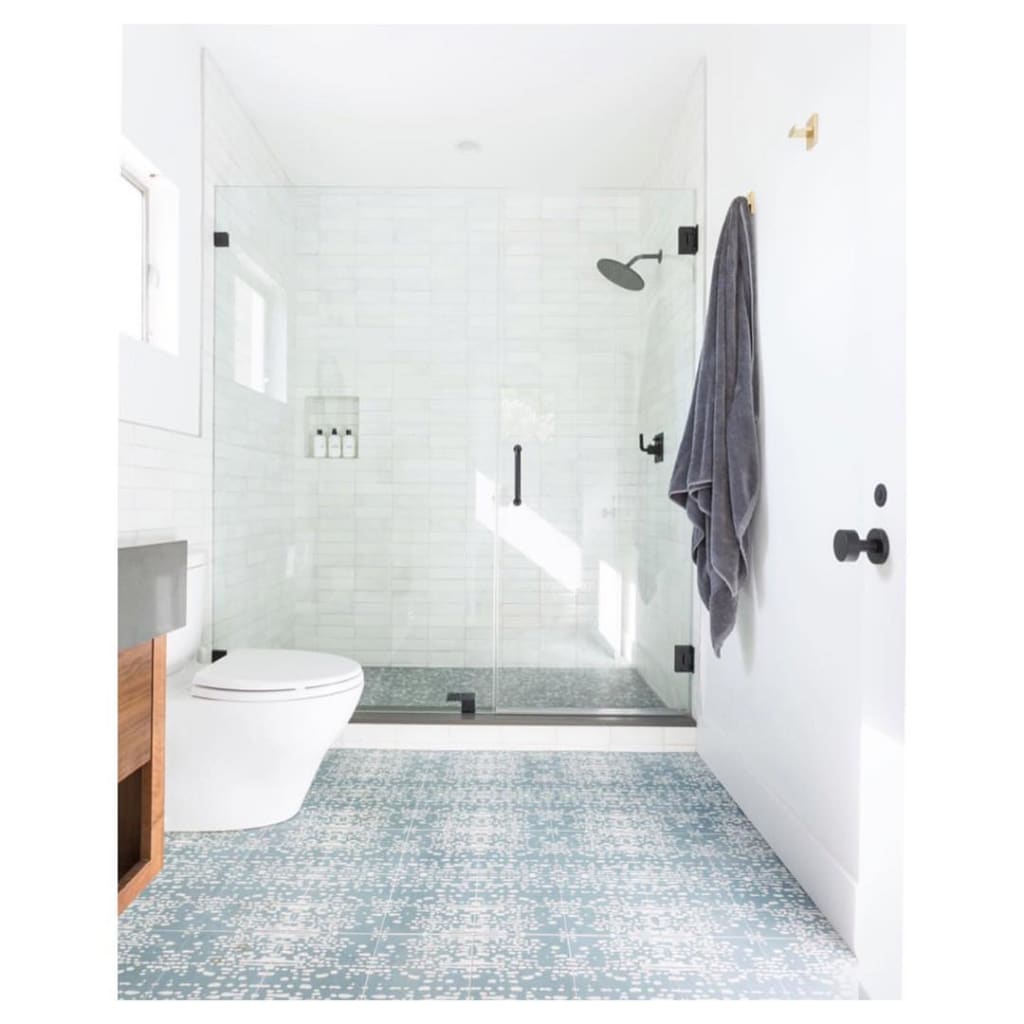 7. Bold Geometric Tile
The colorful, bold shapes of this unique tile gives you something to look at while you sit on a stool sipping your delicious coffee! If these tiles don't catch your eye, we don't know what will! Geometric tiles are a hot trend at the moment and it's no surprise as to why. These tiles add such a fun and playful element to this space and really brighten up their environment. They'd work beautifully in a hip restaurant or a cool game room! The sky is truly the limit with these versatile and exciting tiles.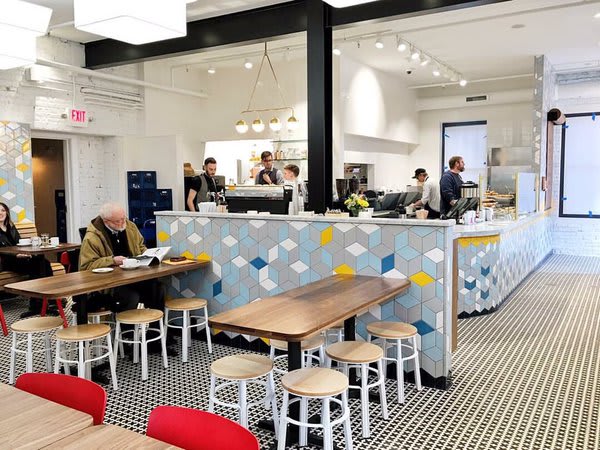 More Designs by Mercury Mosaics >
8. Moroccan Inspired Tile
Mediterranean inspired design is one of our favorite trends of the year! These geometric Fez Cement 928 B tiles are part of Granada Tile's Moroccan tiles from their Echo Collection, and they definitely don't disappoint! Another example of bold geometric shapes, their intricate patterns offer a taste of Morocco that mixes traditional craftsmanship with contemporary roots. They work wonderfully as the floors Break Room 86's restaurant Los Angeles and also add fun illusions, creating a speakeasy vibe. Granada Tile's Echo Collection features similar tiles to this in multiple color variations including cerulean blue, red, orange and green, so if you love these patterned tiles but also want to add some color to your space, make sure you check out their Creator page for more unique tile!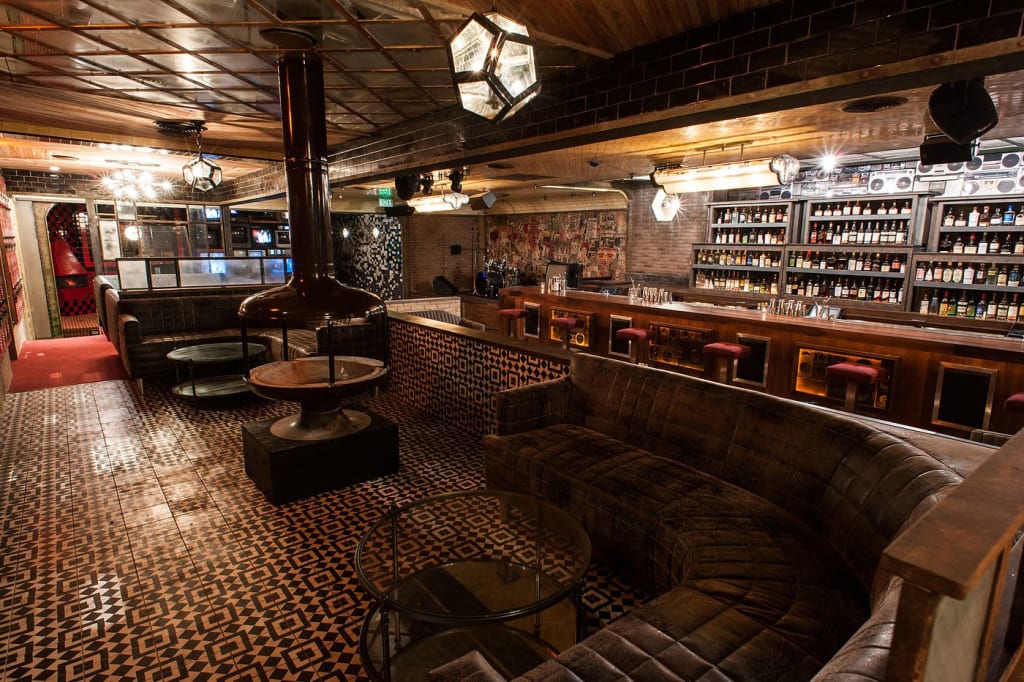 More Designs by Granada Tile >
Unique tile is a fundamental to modern and contemporary design! They're a simple way to upgrade an existing style and will easily elevate your space to the next level. They're also one of the most versatile options for decorating a room! There are endless options and combinations as well as different ways to lay them, so you can customize them and make them entirely your own. If your bathroom floor, kitchen backsplash, or any blank wall or ledge needs a refresher, head over to Wescover and find the perfect unique tile to suit your style!