Touring San Francisco's Vibrant Street Murals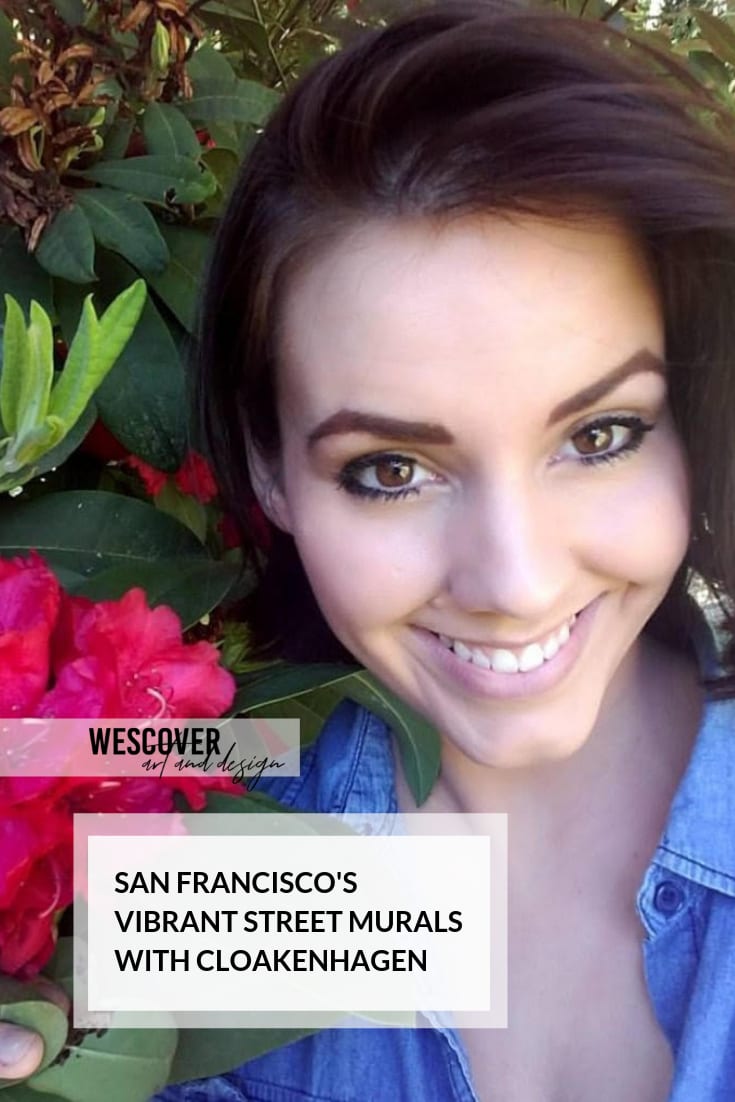 We've invited Lauren from the lifestyle blog Cloakenhagen over for a guest post. She shared with us her top murals from around San Francisco, which we know is tough to narrow down! SF is a city that lives and dies by its art, and we're so excited to peek through Lauren's favorites.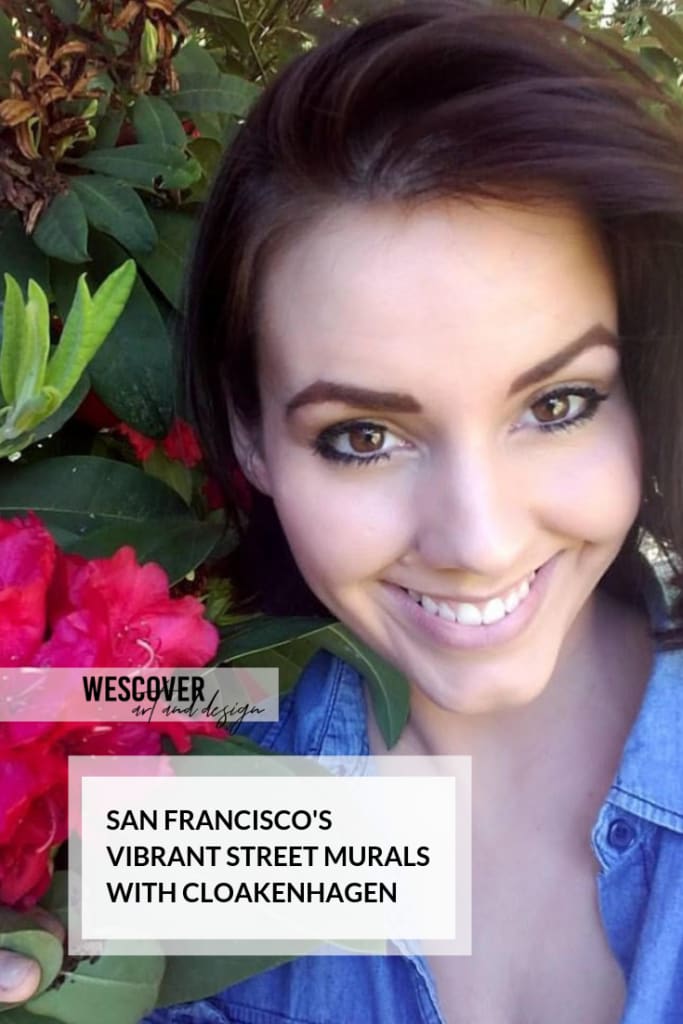 The purpose of art is to take us on a journey, to help us explore the world through the eyes of others. And while art can make us feel many things, my favorite is the sense of wonder. Experiencing something rare and unexpected in our everyday lives is such a beautiful thing! This especially apparent when I'm discovering a new street mural. Street murals immerse you in art outside of traditional venues; what distinguishes these murals is that the architectural elements of the space are perfectly blended into the design itself.
Several cities have established themselves as street mural destinations, and there's no better example than San Francisco! San Francisco is renowned for its cultural diversity as well as its distinct stamp on art, architecture, food, and music. The city's eccentric style makes it the ideal stomping ground for artists and visitors alike. So together let's take a tour through this amazing city and experience art like an SF local!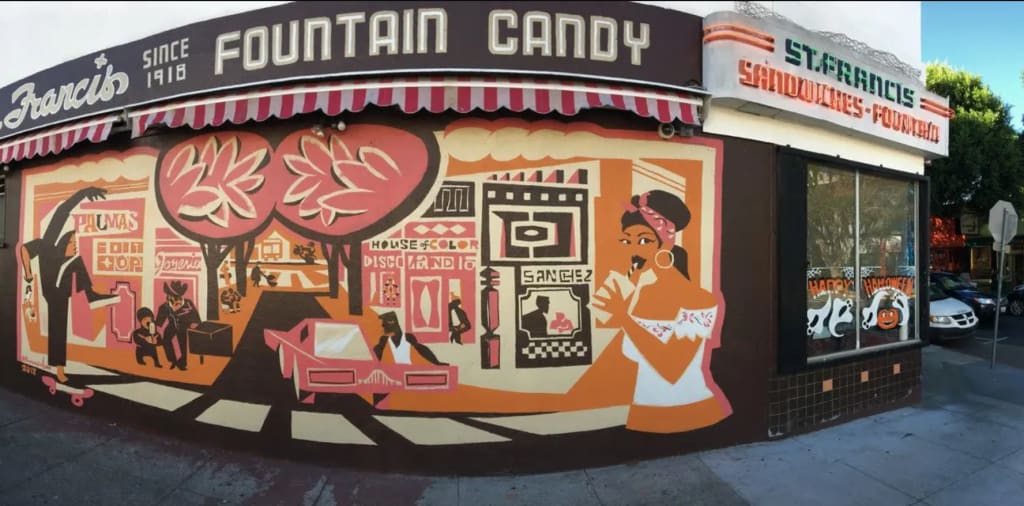 This street mural reflects the innovative and creative spirit of San Francisco perfectly. Brian Barneclo created this piece on the St. Francis Fountain, SF's oldest ice cream parlor, in honor of their 100 year anniversary. Its bright and bold hues thoroughly capture the heart and heritage of its neighborhood, on 24th Street in the Mission, San Francisco.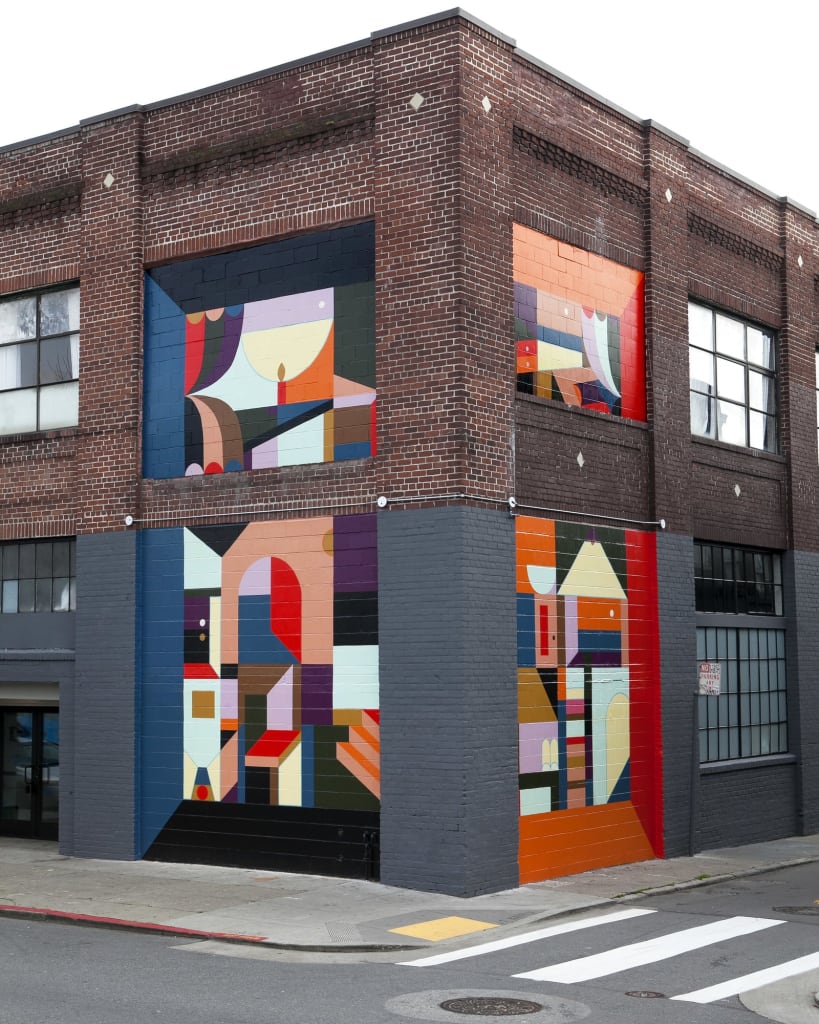 The prolific work of artist Muzae Sesay is exquisitely showcased with this piece. The dimension of colors and shapes makes you feel as though you're peering inside a living story. This street mural was painted in collaboration with San Francisco's Museum of the African Diaspora, and the Society of St. Vincent de Paul-San Francisco, whose mission is to break the cycles of homelessness and domestic violence. Located on 8th St. and Howard in San Francisco.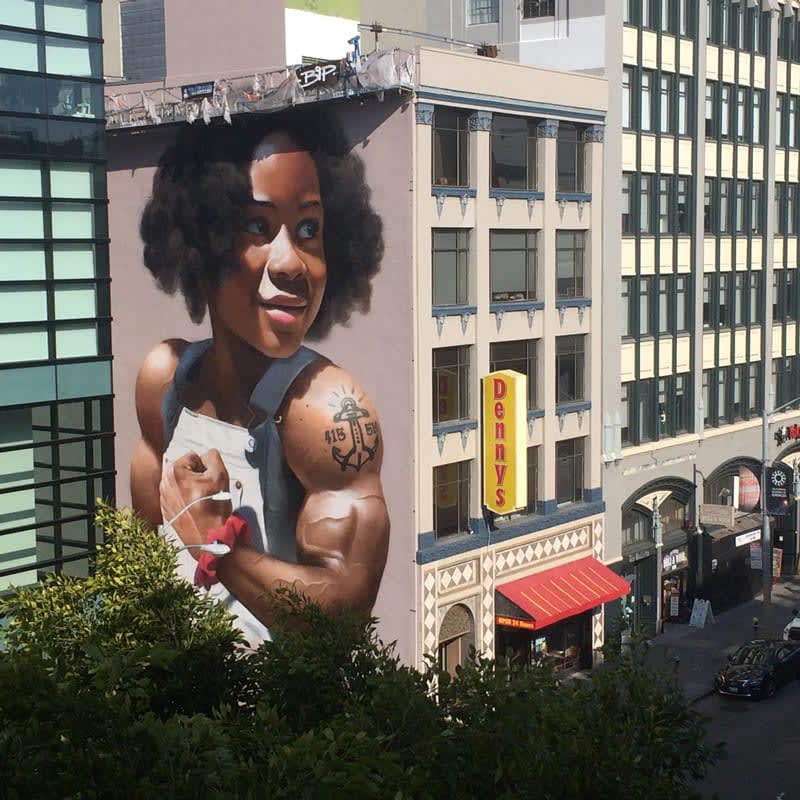 Featuring a young girl with unnatural strength, this 5-story mega mural is a tribute to local Bay Area women. Created by the anonymous and revolutionary muralist BiP, this moving piece inspires onlookers to have the courage and resolve to succeed. Located at 816 Mission Street, San Francisco.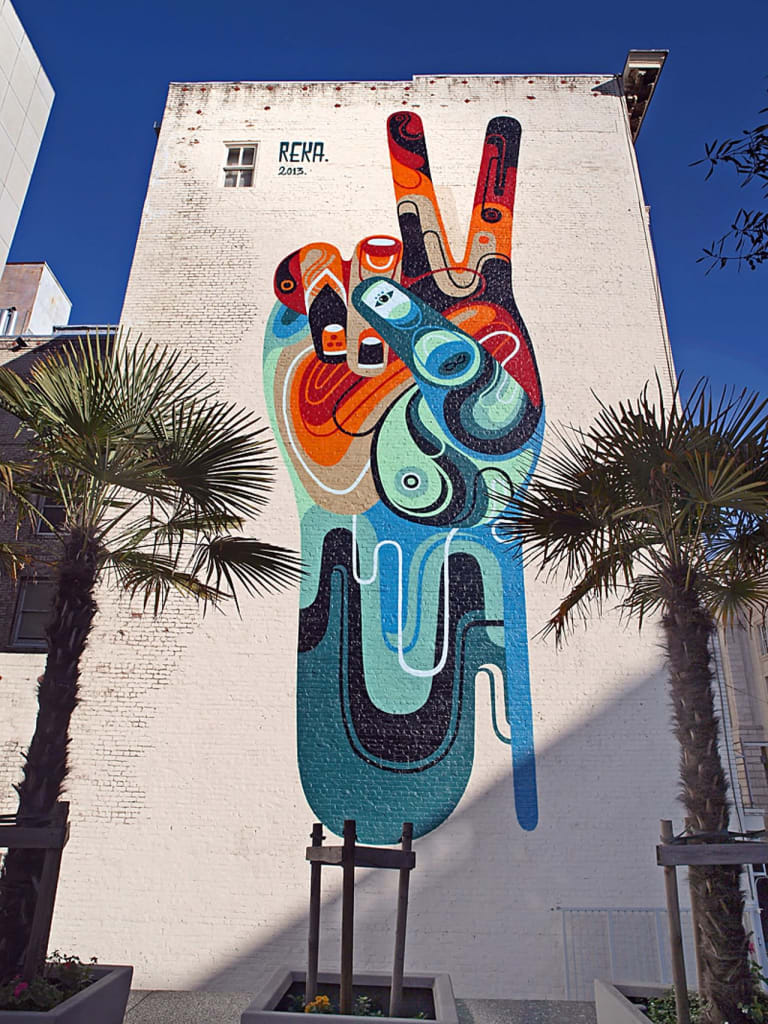 Contemporary artist James Reka's Peace mural features an explosion of color and striking design, personifying San Francisco's hippie culture. Emulating the vibes of the city itself, this painting portrays the harmonious attitude of goodwill towards your fellow man. Located on 154th McAllister Street, San Francisco.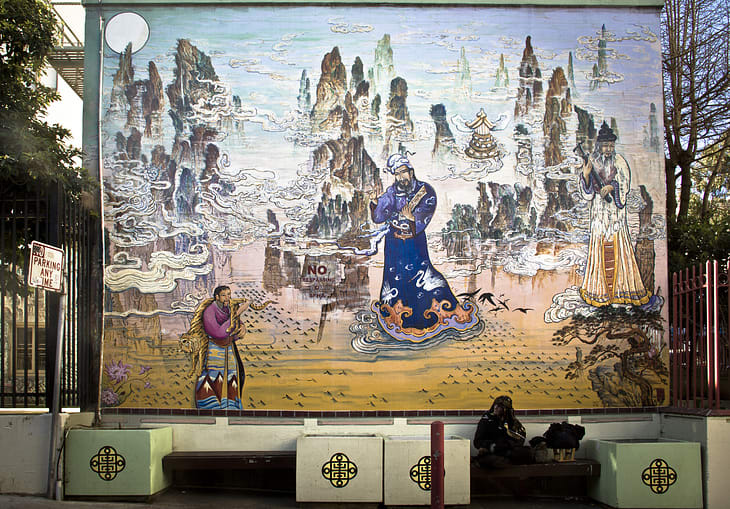 Visionary artist Josie Grant created this spectacular mural by drawing on spiritual and mystical themes. The mural is a gorgeous homage to the Asian style of artwork. With ethereal imagery and exquisite attention to detail, this street art is cherished by locals and tourists alike. Located at 711 Pacific Ave., Chinatown, SF.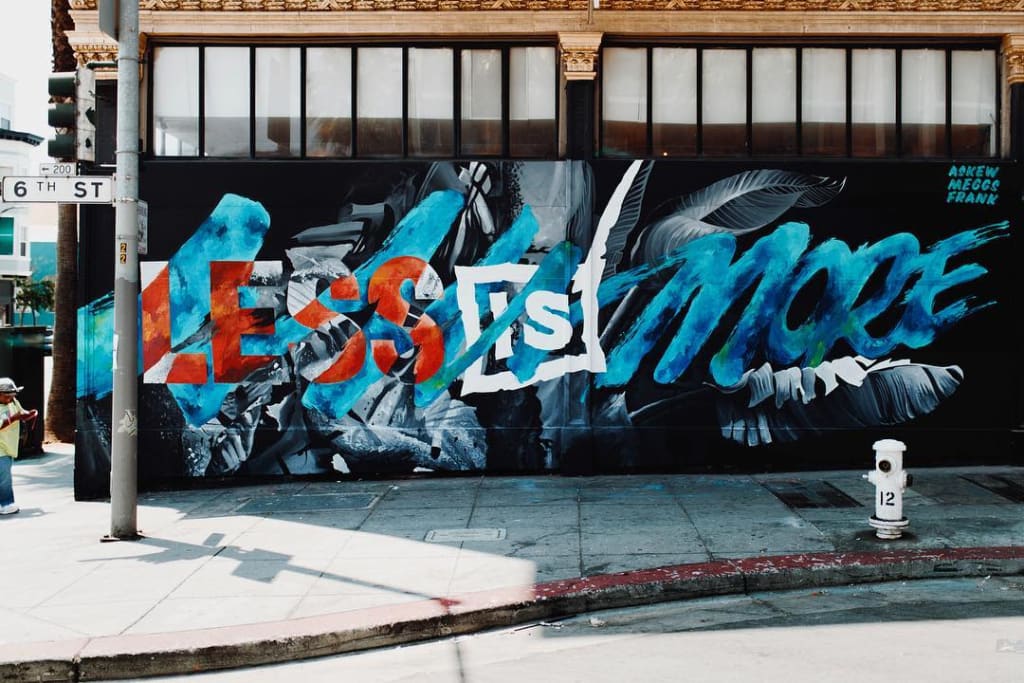 Exploring the ideas of mindfulness and conscious consumption, progressive artist David "MEGGS" Hooke used technicolor hues to make this wrap around street mural come to life. Its bold colors and chaotic style blends brilliantly with its simple message. 'Less Is More' is a vivid and thought-provoking piece of art. Located at 1000 Howard St, San Francisco.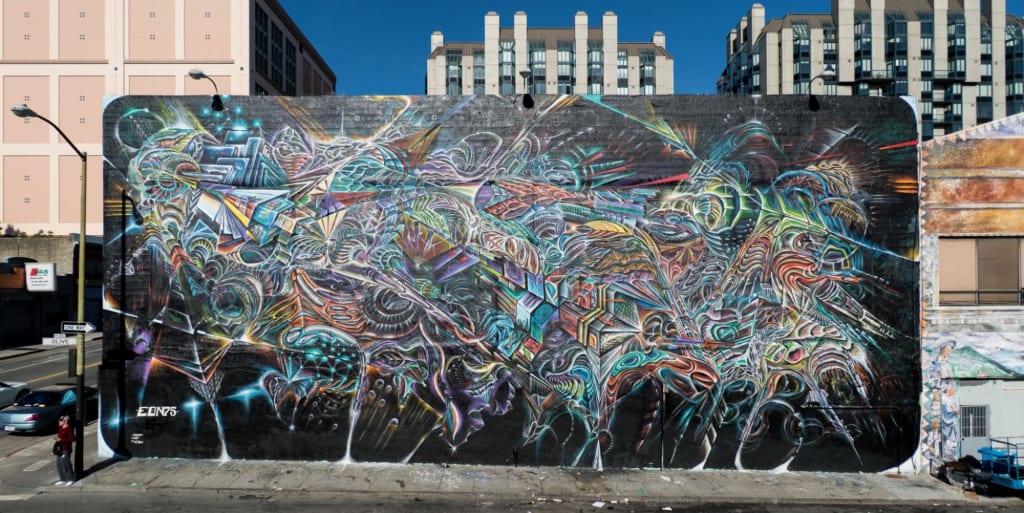 An aerosol artist like no other, Max Ehrman's street art takes you on a visual journey. You could stare at this mural for hours and still find new details to be awed by. Inspired by nature, this work features free-flowing organic form that captures your gaze and ignites your imagination. Located at Mitchell Brothers O'Farrell Theatre, San Francisco.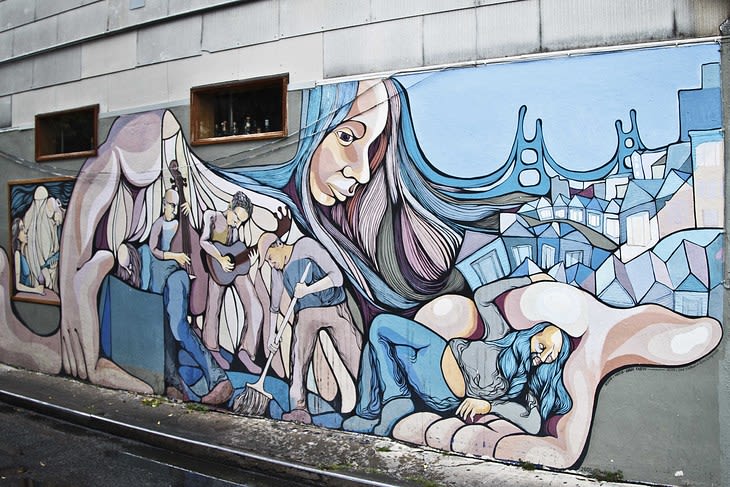 Signifying the strength needed in any community, this gorgeous mural is a visual statement of how we can give empathy and compassion to one another. Artist Andre Karpov created this stunning scene as a touching homage to the SF locals as well as the city itself. Located on Valencia Street, San Francisco.
I hope these murals sparked a love for San Francisco's thriving art scene. There are so many wildly talented artists who've given the city its artistic flair. Check out Wescover's design map for more incredible street art across SF and the rest of the world! — Cloakenhagen