Creators in Quarantine: Insights and Advice from Artists & Designers
Despite being uncertain about their futures, our International Community of over 10,000 Creators continues to inspire us. They're doing what they can to ensure their businesses come out of this crisis: they're investing in themselves, their work, and putting their creative footprints online. We're tapping into the wisdom of artists and designers to learn about their experiences and how we can all make it through this together.
Undoubtedly it's a challenging time for small businesses of all kinds. We're rooting for our Creators: creative entrepreneurs ranging from the independent artist to small studios of designers. When we asked how the COVID-19 crisis may affect Creators long term, LAMKAT told us, "This entire experience has been so humbling and should be a reminder to everyone not to take things for granted. We have been so fortunate to make an income off of our passions and this pandemic has exponentially brought that to my attention. Outside of the obvious cleanliness changes in our day-to-day, I will never forget how lucky I have been up to this pandemic with how steady art work has let me live my dream life." On a similar note, Hagop Belian rightfully suggested "It is a good time to get organized and get rid of things that do not serve us anymore. I mean this on all levels. Mind, body and soul."
Challenges Small Creative Businesses are Facing During COVID-19
The pandemic is affecting Creators in different ways depending on what you make, who you employ, and what you had planned for the spring. For muralist Hagop Belian the challenge is keeping projects afloat, "Since I am mainly focused on interior murals and private commissions, all my projects have been pushed forward to May, and some cancelled." Muralists ware also figuring out what to do now that major mural festivals and design shows have been postponed, "The main challenge that my business is facing is postponing a mural festival. Because of this gap in work we have needed to restructure quite a bit. Coordinating with artists, business owners and the city has been a challenge" said muralist Elliot Trent Thompson.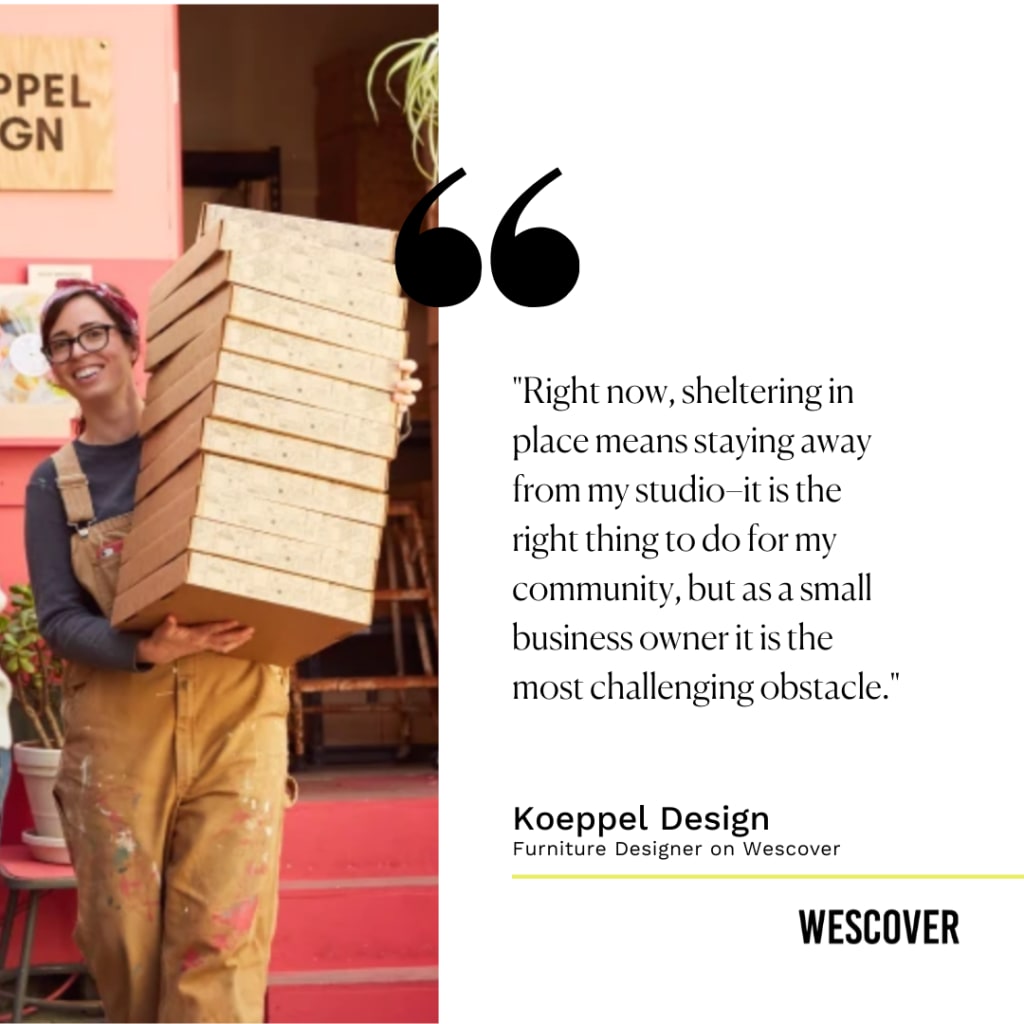 Design studios are in a precarious and complicated position because these studios often work hyper-locally and employ their own team of Creatives.  Top of mind are design studios nearby like Koeppel Design whose products are designed and manufactured by craftswomen in San Francisco. Founder Kate Koeppel told us, "Right now, sheltering in place means staying away from my studio- it is the right thing to do for my community, but as a small business owner it is the most challenging obstacle. I can't ship in stock products or produce new products- so there will be a lot of production work and shipping to catch up on as the shelter in place order is lifted." They have to consider both their business and well-being of their employees and collaborators— in addition to the messy production challenges of getting products finished and out the door. 
We're hearing the same challenges from Creators around the world. Another female venture creating local, sustainable products is Mexican studio Caralarga, "We usually do all of our production in our workshop, so we're currently working from home and carrying out all of our work separately. We're used to working in the same space, asking each other questions and receiving feedback, which we're now trying to do online. We're also facing the challenge of uncertainty as to what will come from this complicated months, but we're making a return to the simplicity we love and to the basics we believe in." They all need support whether they're our neighbors or Creators we admire from afar. 
What can consumers do to support Creators?
Our cities would not look or feel the same without our local creator communities. Design creates our local landscapes and impacts us all —whether you are decorating your own home or love going out to design spaces like restaurants and hotels. There are so many ways to help creative businesses come out of this crisis. So if you appreciate unique art and designs it's time to share it!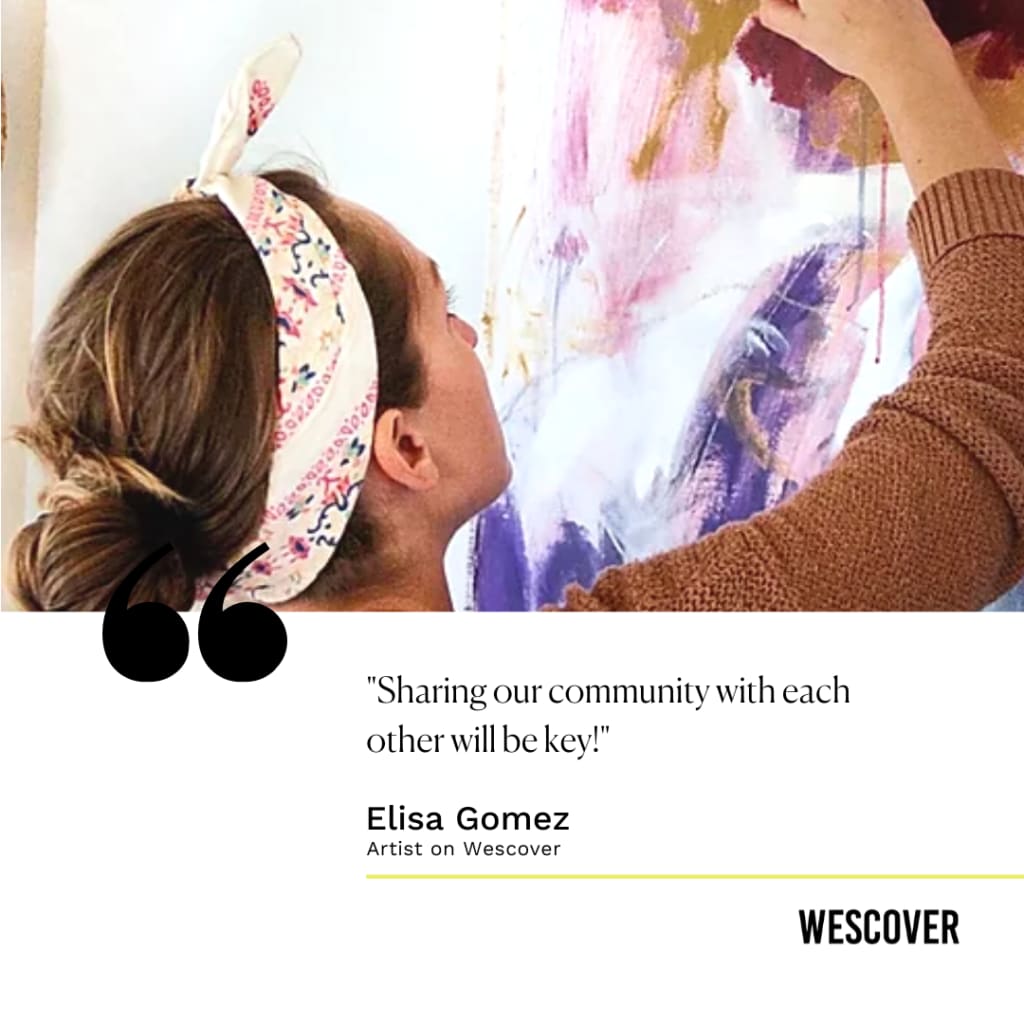 Buy or Commission from a Creator – Whether you're looking for a gift to send or decor for your own home, there's a creator out there making it! Instead of buying from a mass retailer, look for products made by Creators first. The most direct way to support a Creator is to be a customer— you're bound to find something more unique to love too. 
Spread the Word – Tell your friends, family, and community to support Creators. Share the artists, designers, and creative spaces you love. "Sharing our community with each other will be key!" says Elisa Gomez. "Share out artists they love to anyone who will pay attention. Push for their local governments to help local artists" said LAMKAT.
Send an Encouraging Message – We can all make an impact with a few kinds words. While we may not be able to buy from EVERY Creator we love, we can send a quick message to our favorite artists. Shy? Don't be. Creators are some of the nicest people you'll meet and a little encouragement goes a long way. "Just reach out and say 'how are you'. It's easy to feel left behind during this social distancing, it's nice to hear from people! –Elisa Gomez
Strategies Artists & Designers are Using to Generate Business
Across the board, artists and designers are changing priorities. They've come up with creative campaigns and innovative strategies to help their businesses persevere through this crisis. They were quick to share creative ideas and tips to get through the crisis while having fun.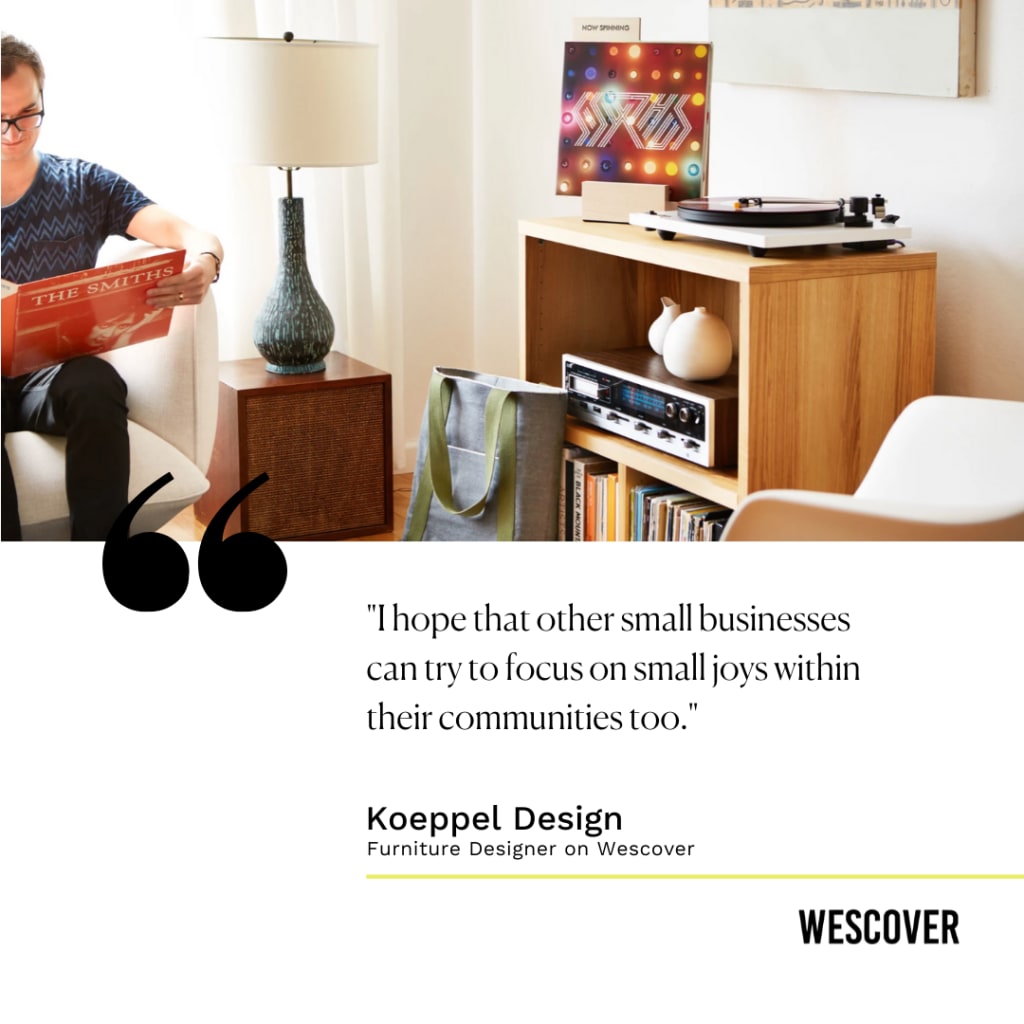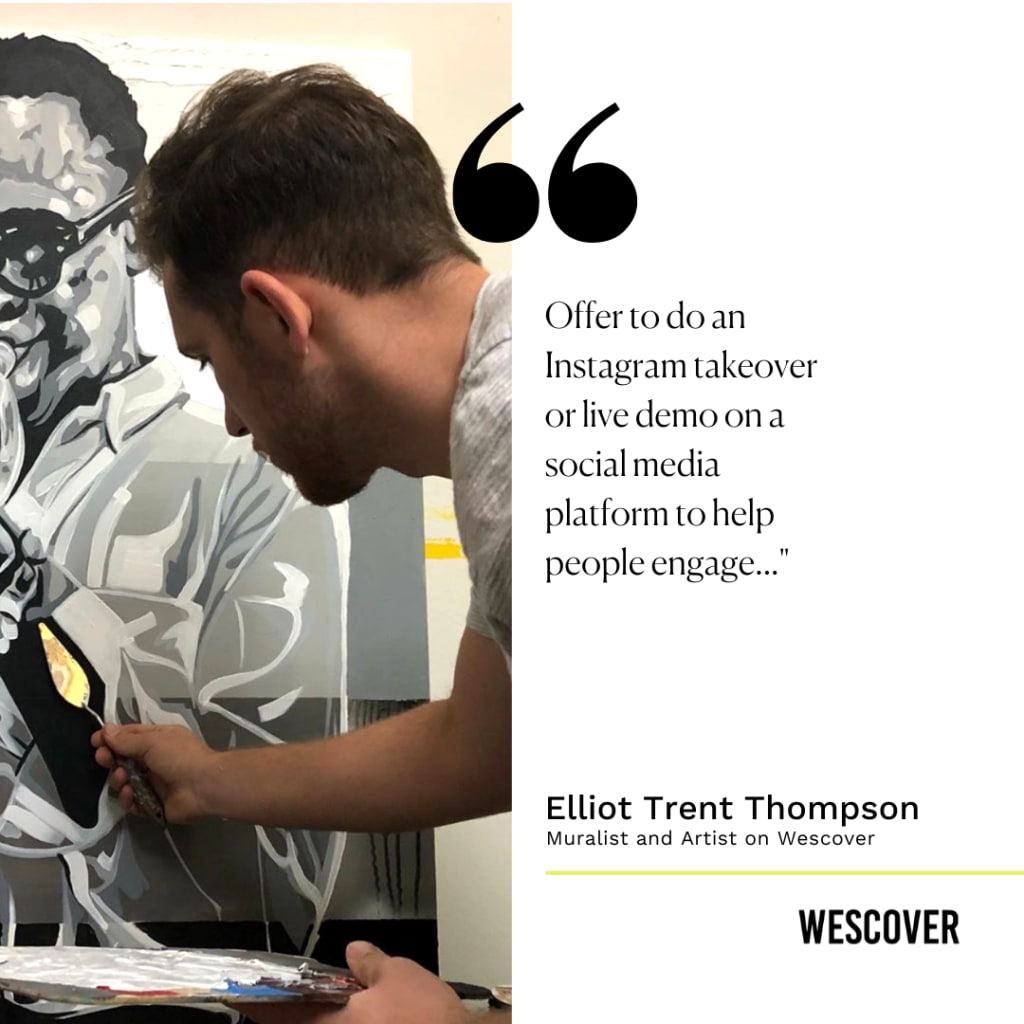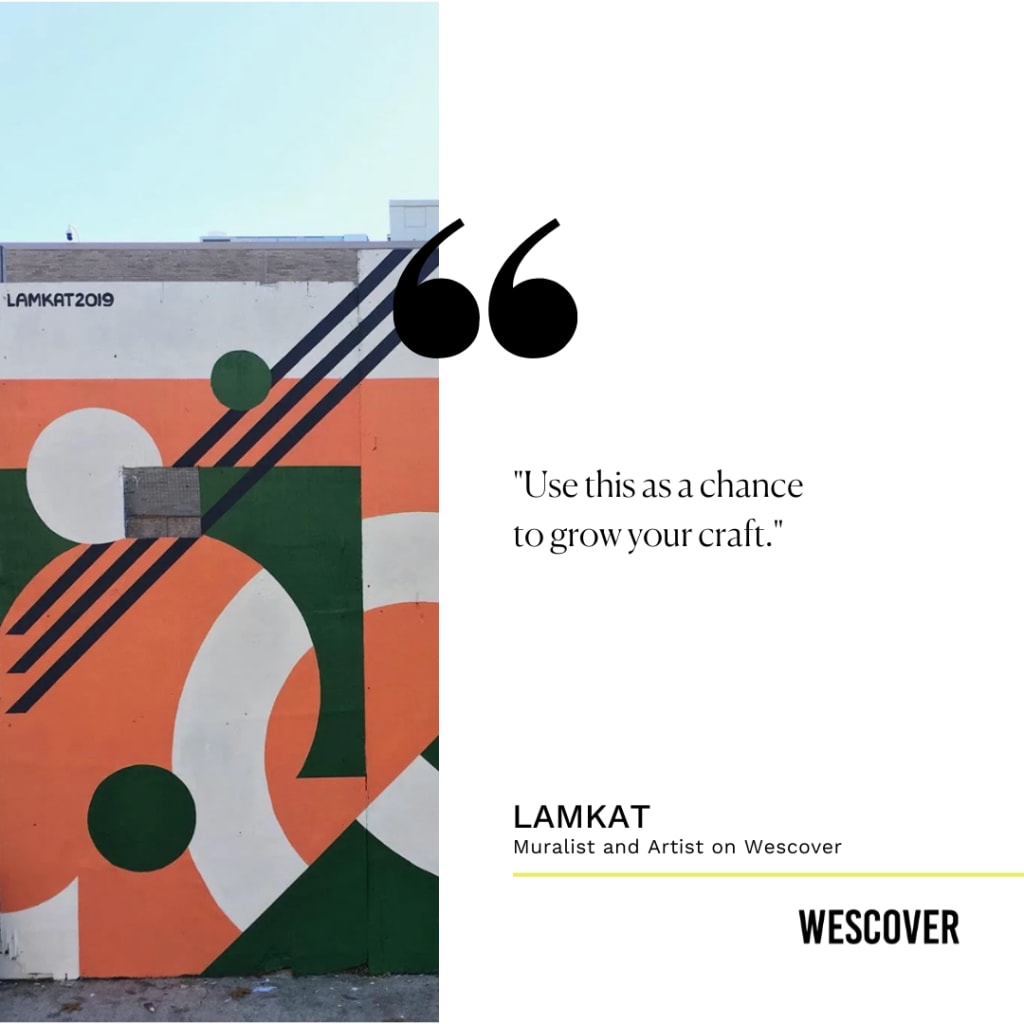 Change Up Pricing & Payments – It's a good time to check in with your dream artists and designers— their work may be more attainable than you think! Denver based painter and muralist Elisa Gomez, is offering payment plans which will enable new buyers to commission a piece without having to worry. She encourages other artists to keep selling their work and creating,

"Don't feel bad putting your work out there and still offering your services and asking people to participate with you and create with you. Since we all are quarantined inside right now it's a great time to be working on your creative practice"

says Elisa. 

Like LA based Lighting and Furniture Creator Atelier de Troupe who announced that they'll be offering a quick ship lead time of 4-6 weeks for a grouping of their collection. 
Create Digital Content – "I am focusing on creating positive, playful and calming content for my business right now. There is so much fear and anxiety out there right now, I hope that other small businesses can try to focus on small joys within their communities too." says Koeppel Design
Collaborate on a Campaign – "Find a business with a good following that is hurting due to the current climate, maybe a restaurant, merch brand, or retailer. Offer to do an Instagram takeover or live demo on a social media platform to help people engage on their platforms. This will hopefully provide a win-win, allowing you to promote your work to a new crowd and give their customers and incentive to engage." says Elliot Trent Thompson, "During this time, I am creating concepts and plans for future shows and events. If I have any down time, I'm trying to capitalize on that by pursuing some new concepts and pushing myself creatively.  This is a great time to work on pushing your fan base by supporting your community."
Offer Virtual Design Help – "We're offering virtual meetings as well as product knowledge sessions for all clients" said Fireclay Tile. They give design help for all kinds of clients, "We make each and every piece of tile by hand for your project. We offer free design services for homeowners, a program for residential trade professionals, and dedicated commercial support for large projects."
Stay Busy – "I can accomplish a lot from home. As long as I have a  room and a surface to work on, I can get into a flow. I am working on a new body of work, so my main focus is fully directed towards completing that" says Hagop Belian, 

"It seems that these times are all about going inward and creating while documenting the process. Staying busy with creating keeps my mind from freaking out about things I have no control over and makes me feel productive." 

Keep Creating – "I would offer up this time as an opportunity to start playing in mediums you aren't accustomed to—use this as a chance to grow your craft." said LAMKAT.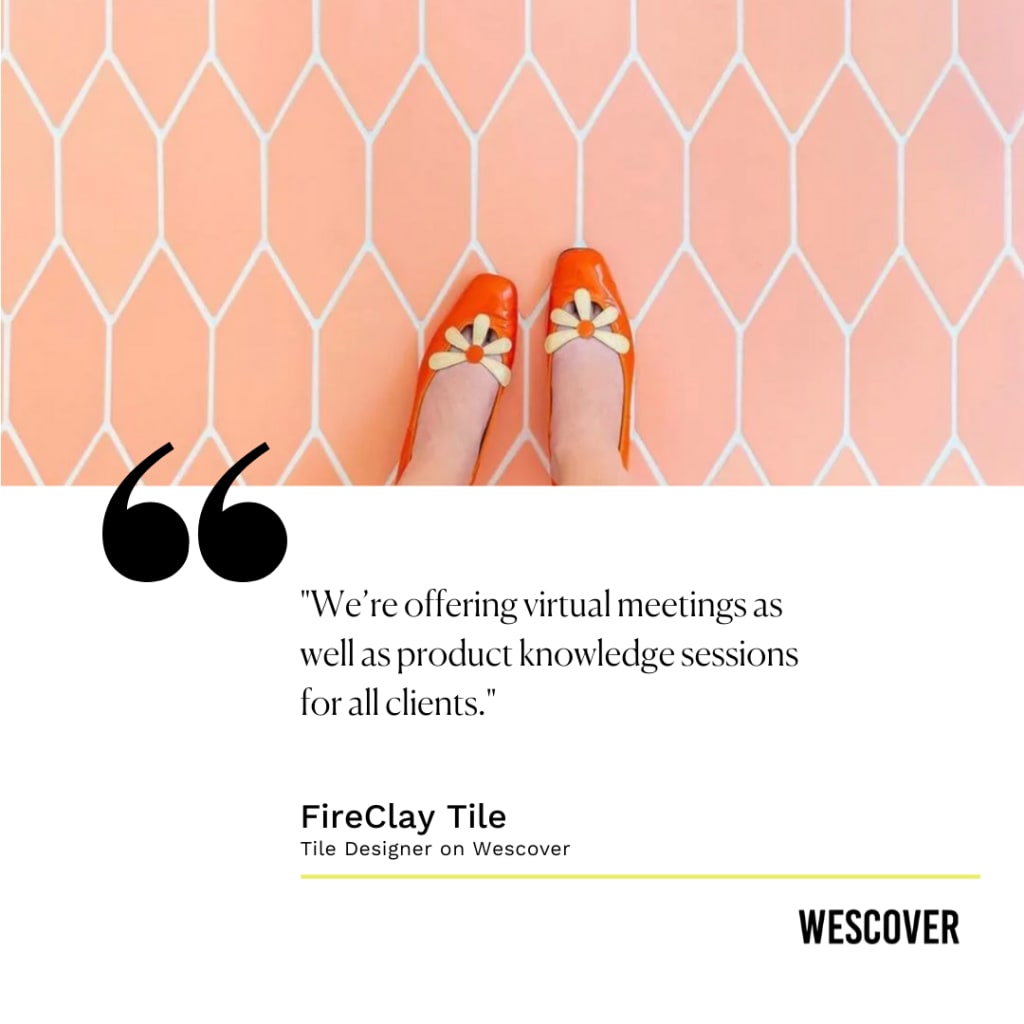 We shouldn't be so surprised to see them adapt so quickly— they're full-time professional creatives affected with an eye for innovative solutions!
How Creators Can Forge (Digitally) Connections
We're so inspired by how Creators are finding unique ways to connect with fans and their creative community during this time. Many have been connecting, sharing resources, and hope that they'll get through it together!  Here are some ways they are staying connected: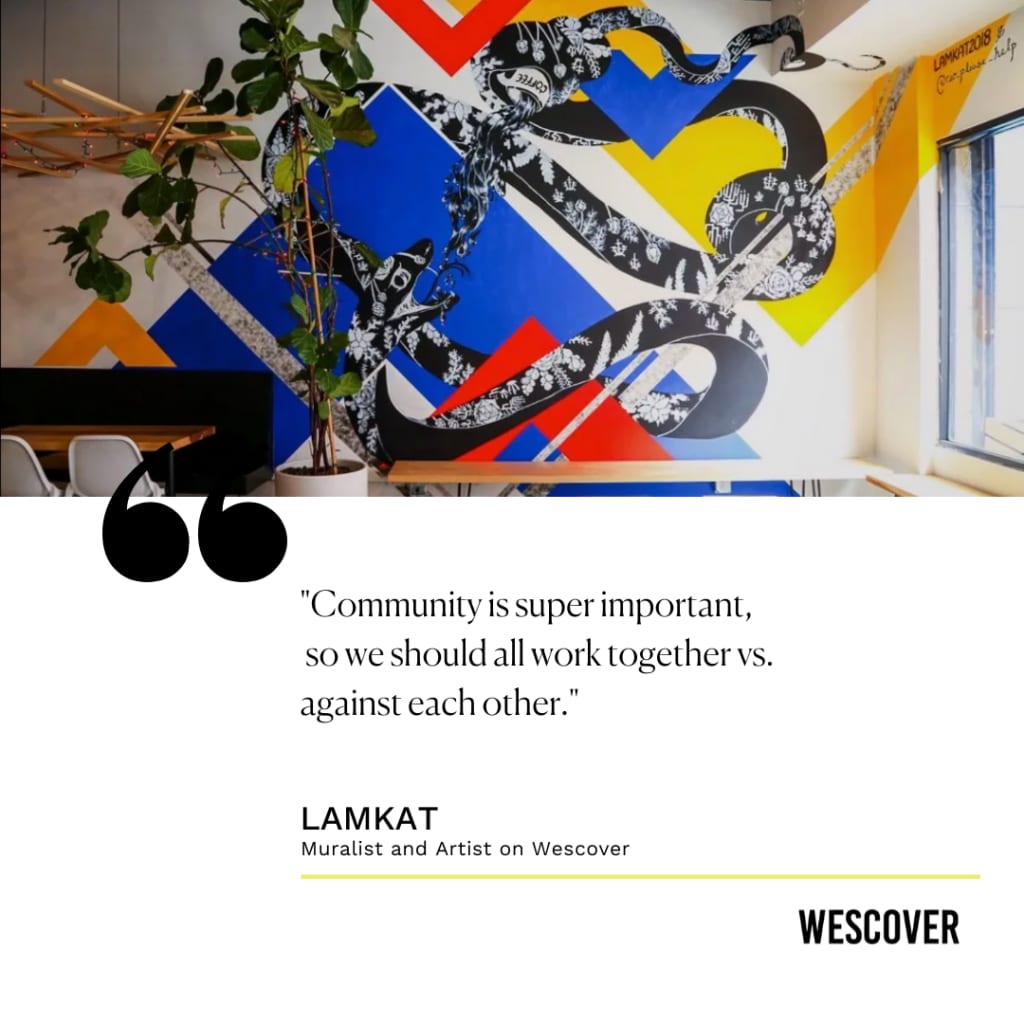 More resources, emergency grants, and more information for Creators:
Watch her thoughtful and encouraging video here:
https://www.instagram.com/tv/B-QF9MHJ_qU/
We want to hear from you next…
Wescover Community, we understand the challenges that come with this time, and we are with you. We are sending you virtual hugs and we hope that your loved ones are staying healthy, safe, and well.
Please share your experiences, ideas, resources and inspiration by emailing social@wescover.com  or message us @wescoverapp on Instagram!