How to Get Discovered Online: Wescover's Guide to SEO for Artists & Designers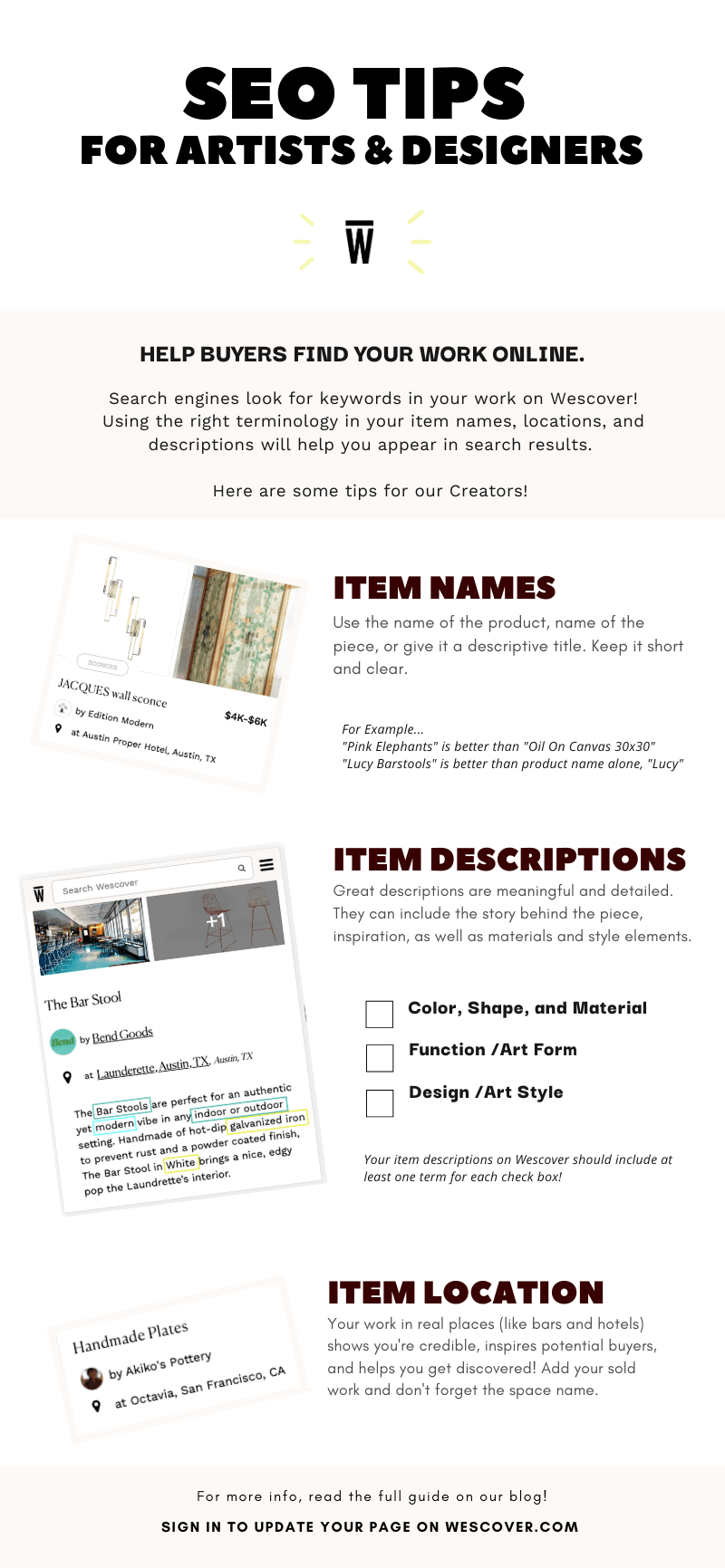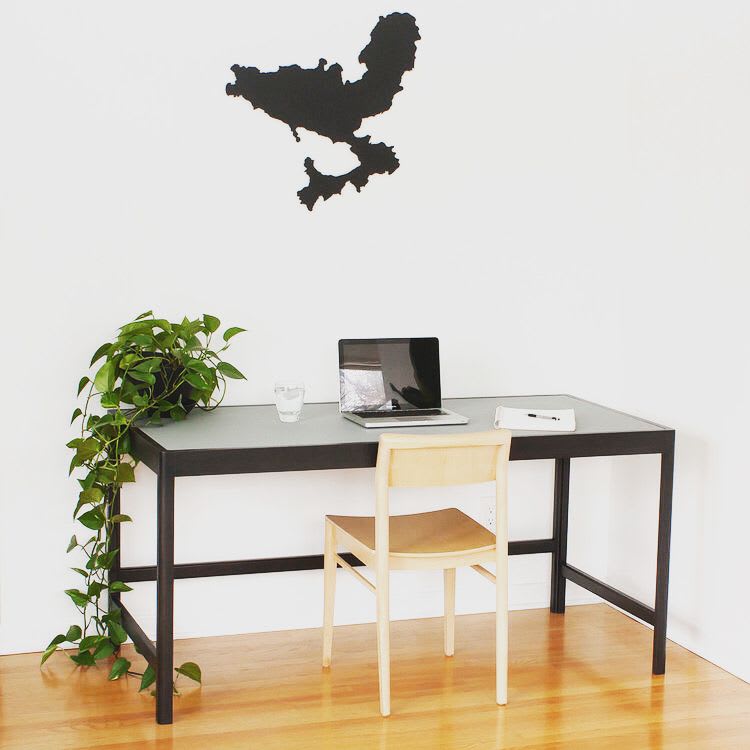 We're ready to start updating!
Custom desk by Foris in Toronto >
More and more Creators are investing in their online businesses. It's a great way to catalog your work, define your brand, and connect with new buyers around the world! Yet, artists and designers shouldn't have to be digital content experts to get found online. 
There's a lot to navigate in the realm of digital marketing from how to establish a brand to how to make your past work function for you. Whether your goal is to sell a line of products or land your dream commission, we want our Creators to get the most out of the time they spend online. Luckily, the Wescover team is here to help! As a technology company, Wescover is backed by savvy investors (they know the next big thing when they see it!) and we are early collaborators with Google Lens. Everyone involved in Wescover is dedicated to helping artists and designers succeed! So we wanted to take a moment to share what's going on behind the scenes and share some tips for our Creators.  
Here are some SEO basics that can help you get discovered on Wescover and via search engines like Google!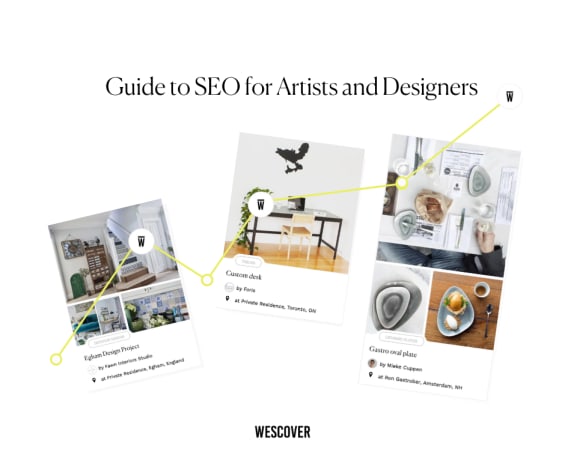 What is SEO? The Right Terminology Helps You Get Found Online 
SEO stands for Search Engine Optimization. This is important because when someone types a term or question into a search engine, like Wescover's search bar or Google, the website looks through all the content it has access to and tries to match the search with the most relevant data. 
Using the correct terminology in the right place will help you appear when someone is looking for you or what you make! You want to make sure you're using the proper terms in your item names, locations, and descriptions so your work comes up when someone searches online.
SEO Optimizing Items Makes You Appear More Often Across Wescover
We've been working to make sure interested buyers can use Wescover's search engine to find unique work! When they're searching on the site for something or someone specific, Wescover takes all of that information and tries to match it with the search term. 
For example, if we're an interior designer or home buyer looking for a specific item, we may search for a combination of words on Wescover like "Black Macrame." Using the right terms makes your work appear instead of being filtered out because it doesn't have the term "black" in it. 
Items on Wescover Get Discovered in Google Search Results
For example, we may encounter an element of art or design out in world that we want to know more about! If we go out to dinner and love the plates, we'd Google, "Who made the tableware in Octavia San Francisco?" Great SEO makes sure the original Creator, Akiko, gets credit. 
Examples of Items on Wescover with Great SEO Tagging:
Furniture: Bend Goods uses the description to share great keywords that will help their bar stool get found. Writing a straightforward, detailed description of the piece itself like Bend Goods is excellent (they also added pricing and order details!). Make sure to talk about your process and concepts if you'd like, but always include a concrete description of your work. Great terms include "handmade iron bar stool," "modern bar stool," "modern iron furniture," "powder coated finish," "handmade furniture," and "handmade white iron barstool."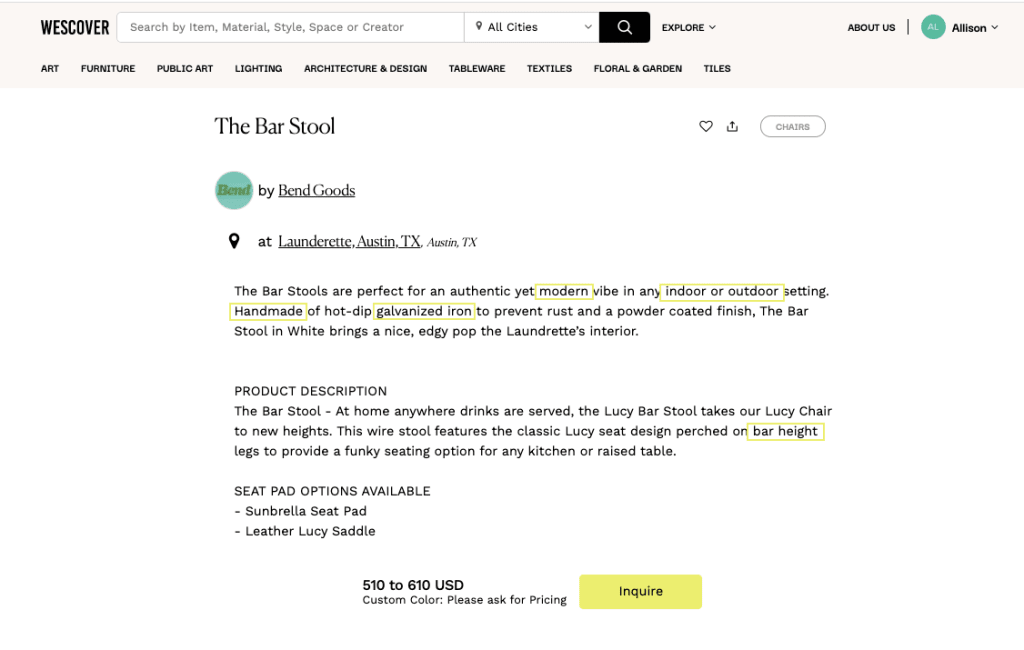 Artwork: Melanie Biehle did a great job of giving her paintings meaningful titles and interesting descriptions. She naturally describes the subject, style, and her inspiration which incorporates keywords like "geometric shapes," "relaxing blues," and "watercolor."  In addition, she has a great descriptive name for the piece!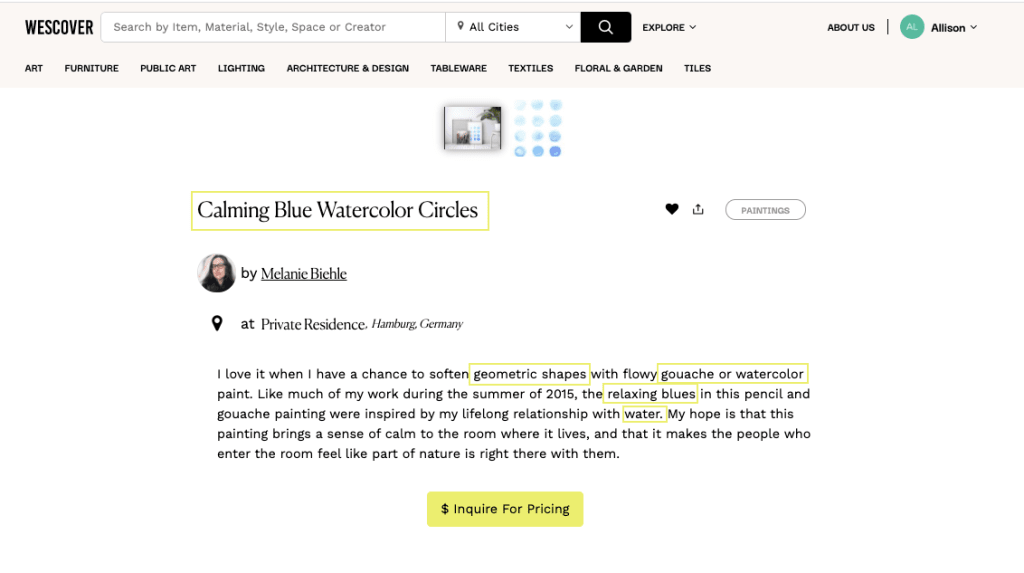 Tableware: Mieke Cuppen's Gastro Oval Plate has many SEO key phrases right in the beginning of its description so anyone in the market for "organic grey stoneware plates" or "stoneware dinnerware set" will find her work.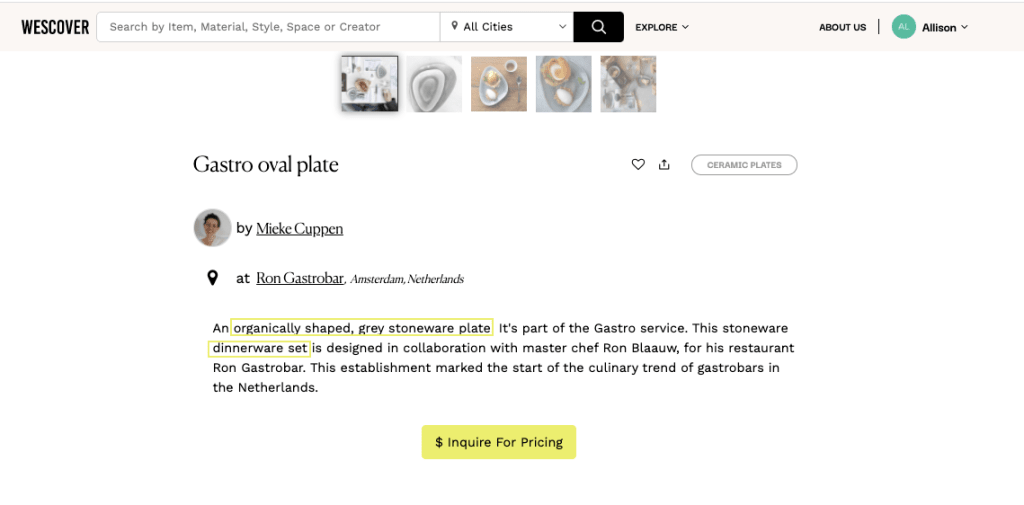 Wall Hangings: Felicia Gibson's "Vessels" wall hanging has great descriptors like "linen wall hanging" and "teak."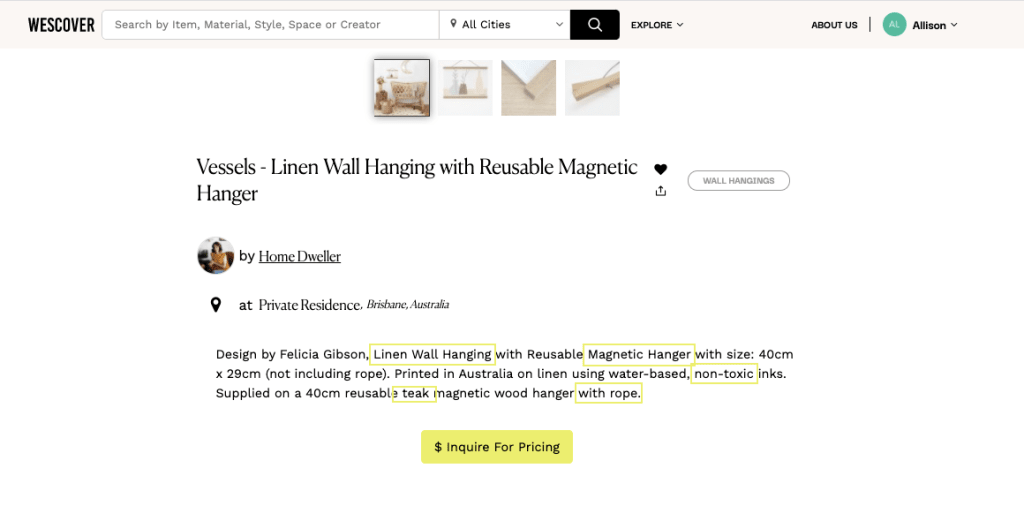 Interior Design: The description by Fawn Interiors Studio description is exciting to read and full of useful keywords. They describe the style, method, and rooms so users can find them, like "boho-luxe," "sustainable," and "home office." They also wrote it in a way that shares the design story and process which is great to read as a potential client!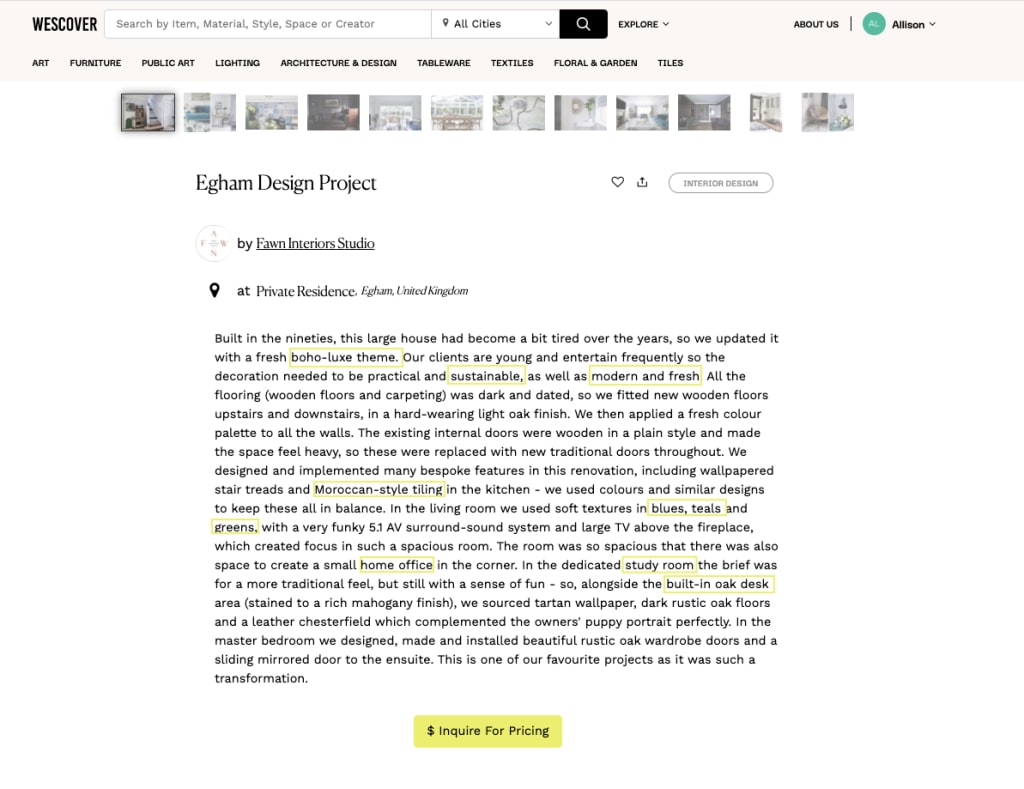 How to Start SEO Optimizing Your Posts on Wescover
Search engines look for keywords and terms in your: item name, description, creator and name of the space. Our Engineers say, "Keywords are used to more efficiently guide users to objects they are looking for. This information will help lead users to what they are looking for more accurately… it's important to describe items accurately enough for users to find what they want." 
1. Item Descriptions
The most important place to include keywords is in your item description. Great descriptions are meaningful and detailed. They can include the story behind the piece, inspiration, as well as materials and style elements. 
Describe the object/work in detail (don't copy paste your bio— this is for the Creator description on your profile). Great descriptions include at least one term that describe each of the following:

Color, Shape, and Material 
Design/Art Style
Function/Art Form

Avoid keyword stuffing and be human! Too many descriptors make it clunky and not interesting or engaging to read.
2. Item Names
Give the item a name that's genuine and descriptive. In product names include function and something more specific to the particular item. Item names are different for every creator type. For furniture makers, calling your Item Name the "Stanyan Bar Stool" is a great fit while for a painter, "Mystic River Watercolor" is better than "#21 3×3 Watercolor," which is not as descriptive or unique. 
3. Check for Accurate Locations  
On Wescover it's important to include a clear and accurate location for all your work. There are three types of spaces to look out for and to make sure you have them correctly located for our map. 
Public Spaces – Ideally you have a lot of sold works shared in-context of real places like bars and hotels! For these "public" works, always include the space name.
"My Studio" – Are you also sharing works that are not sold yet or pictured in a staged room? Make sure you give your studio or showroom as the location. 
Private Homes – While they can't go see the piece in person like at a restaurant or hotel, showing your work in-context of private homes can inspire potential customers.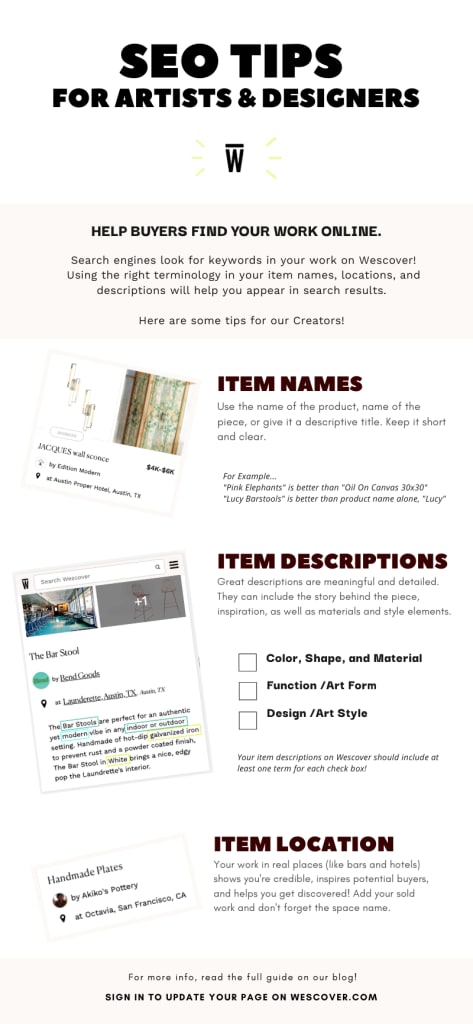 We hope these tips will help our Creators with their online businesses!
Ready to update your work and add new items? The sooner the better! Search engines have to 'crawl' webpages and text— which doesn't happen immediately. So start on your keywords now to get ahead! And, as always, our Community Team is here to help Wescover Creators and answer any questions!