5 Things to Look for in a Concrete Coffee Table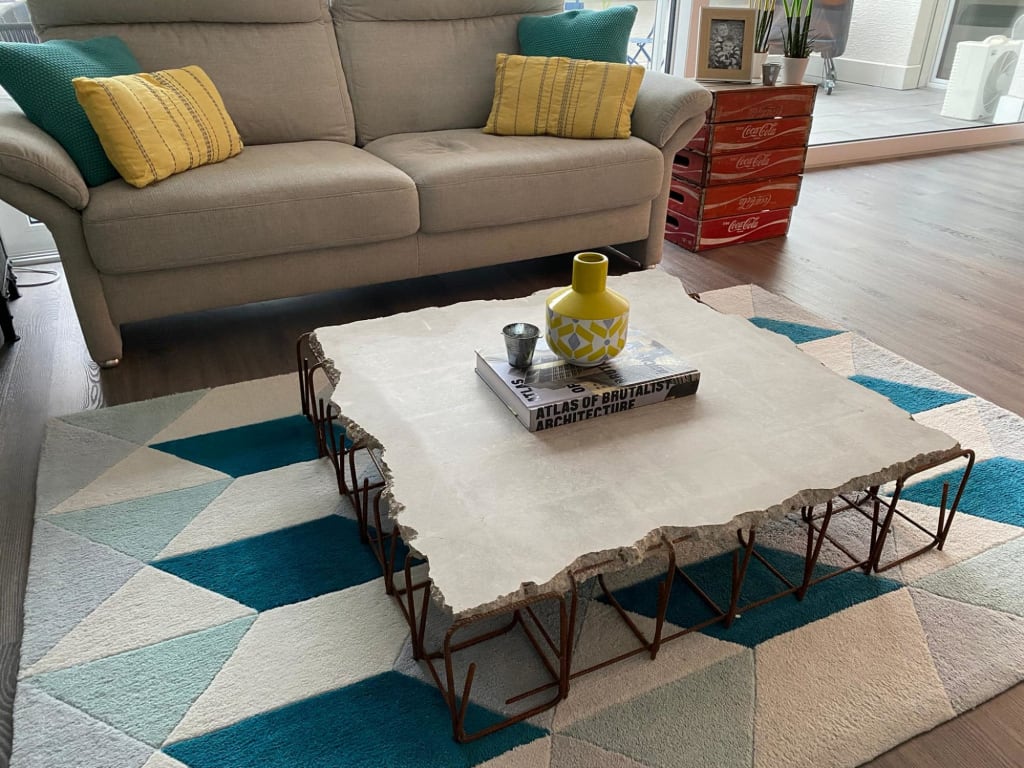 Danielle Amir-Lobel, Editorial Manager
October 7, 2021
A concrete coffee table is a handmade, cement piece that will add a natural, industrial feel to your living room or family room. They are often made out of grey cement that has been cast and handcrafted and include integrated pieces of steel to build the functional form and contribute  to their industrial look. These conceptual pieces of furniture are multifunctional and can feature bespoke designs per custom requests. They are a perfect purchase for anyone seeking experimental and unique furniture pieces.
Wescover Creator, Stephan Schmitz, who is based in Prüm Germany is convinced that old wood and construction timber is not a waste product. He incorporates these upcycled materials into his furniture and adds concrete and metal into his designs to give them a unique, industrial look. He loves building things and seeks to reflect the spirit of society in his creative designs. We asked Stephan to provide the Wescover community with insights about what to look for when shopping for concrete coffee tables.
What does the cement table creation process look like?
My creation process always begins in my thoughts. My creative thought process is always different, and sometimes it takes months until I have built a table that resembles one I designed in my thoughts. Sometimes, to stimulate my creative process, I go to the workshop and look at all of the various materials I have. Then, I begin forming a picture of a table in my thoughts, and I subsequently begin building it. Basically, I do not use any predetermined plans unless a customer requests a specific table from me. In that case, I create a hand-drawn depiction of the custom design. Otherwise, if I want to build a table later, I can make a handskizze (in German), or a rough, freehand sketch.
What tools are used to make a concrete coffee table?
To make a concrete coffee table, I need to use large tools like a saw to create the formwork for the concrete. As concrete is very difficult to cut, I need to use a specialized saw to shape it. After creating the form of the concrete, I employ smaller tools like hammers and screws to create my designs and pliers to prepare a mixer for the concrete.
Do concrete coffee tables stain?
The concrete coffee tables I create cannot stain. What can stain, though, is the rusty steel I incorporate into my designs to create a rustic and industrial feel in my pieces. I prefer to leave the materials raw, reflecting my past work in carpentry. If customers wish to avoid this natural rust, though, I also create sealed tables per customer request. Overall, concrete tables are very durable and stable, so you can put almost anything on them. 
How heavy are concrete coffee tables?
Due to their material nature, concrete coffee tables are often heavier than your average coffee table, but they vary greatly based on shape, size, and design. The last concrete table I built weighs about 45 kg (100 lbs), and the heaviest table I have built was a dining table made of concrete and oak that weighs about 200 kg (440 lbs). Given the weight of these tables, people often wonder how I manage their delivery. Either I deliver the tables myself, or I hire a transport company. For deliveries to the U.S., I work with a German shipping company, and this shipping normally costs about €1,600 (around $1,860).
How much does a concrete coffee table cost?
Like many other aspects, the price of my concrete coffee tables varies based on the materials incorporated, the size of the table, and the amount of time and effort I need to input into the creation process. The price of my coffee tables starts at about € 2,500 (around $2,900), and the most expensive table I have worked on thus far was priced at € 12,000 (around $13,940).
If you are looking for a unique, conceptual table for your living room or family room, we recommend you check out Wescover's collection of concrete coffee tables. Finally, remember to visit Stephan Schmitz's page to see more of his innovative, industrial, and extraordinary designs on Wescover!