9 Distinctive Leather Chairs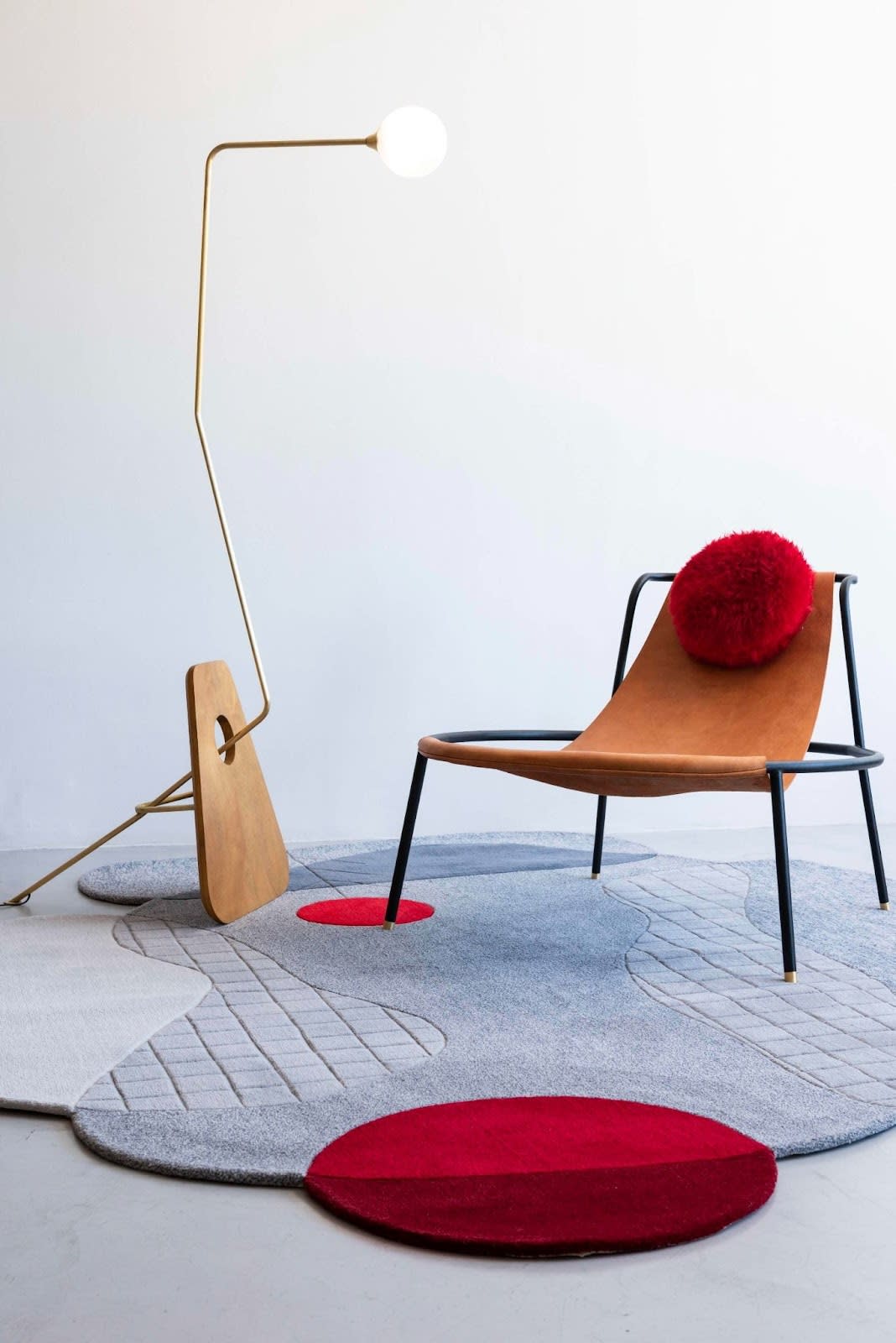 Few pieces of furniture are as versatile as leather chairs. Leather has been a prime, luxurious, natural material for ages. The timeless, classic feel of leather chairs can add beautiful, cozy tones to any space. The warmth of leather chairs not only invite company, but indulge cohesiveness with any decor type. Wescover has a special place in our hearts for leather chairs, so we wanted to share our favorites.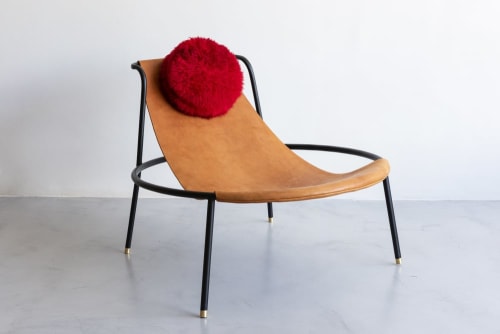 This stunning leather chair lends its flare to the "art" in functional art.
The seamless, round design brings together elements of modernity, class, and a clean, vintage feel. The cool-to-the-touch sensation of the leather on this piece gives you calmness while remaining elevated and chic.
Giacomo Tomazzi Studio brings the style and effortless class of Brazil to any home in the world. Their quality is top notch, and their furniture will allude to class in any space. On top of all of this, Giacomo Tomazzi Studio offers an exclusive Wescover Trade Member Discount.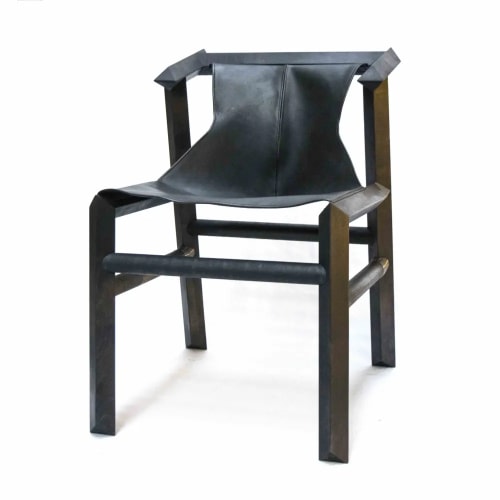 Black leather chairs are here to stay, and have stood the test of time throughout interior design history.
The clean, dark edges on this piece draw one's eye to the geometric angles. This highlights the sculpt of the arm chair beautifully, bringing together the senses of sight and touch. 
Espina Corona's work features one-of-a-kind 3D printed joints. In a futuristic way, their pieces aim for sustainability, structure, and innovation. Silicon Valley tech companies are in love with Espina Corona's angular features, and their ability to bring the tech world to the interior design world.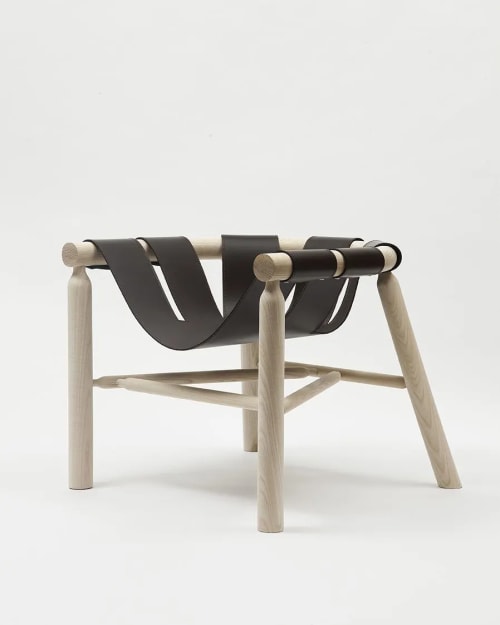 This unique leather chair boasts comfort along with a modern, contemporary feel.
The spacious seat combined with the high quality leather makes for a resting space unlike any other. The muted tones make this piece timeless, and ensure it will fit in seamlessly with any decor. "Purity" is a word Adentro uses to describe their work, and we concur. Adentro also offers a Wescover Trade Member Discount.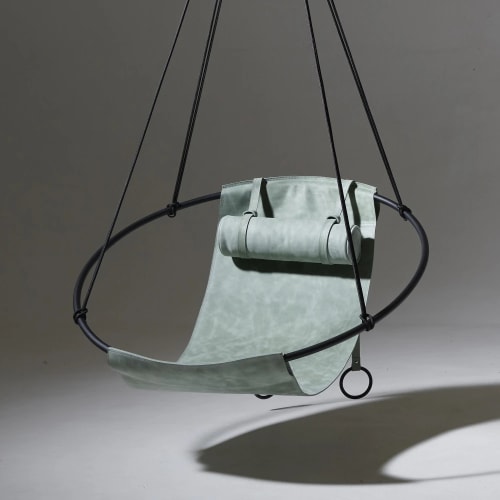 Looking for another unique chair?
This Sage Green Sling Chair by Studio Stirling is a welcome addition. In addition to their Wescover Trade Member Discount, their pieces are quaint and stylish. The sage green color will emulate hues of the outdoors, being reminiscent of the ocean waves. The suspended element will leave one gliding in comfort, and never wanting to get up. 
Studio Stirling specifically develops their furniture for both indoor and outdoor use, bringing a whole new level to exterior design. Swinging, gliding, or just relaxing has never been more beautiful or comfortable. Aesthetics are not lost here – adding this armchair to your space and filling it with green hues will make for a monochrome dream.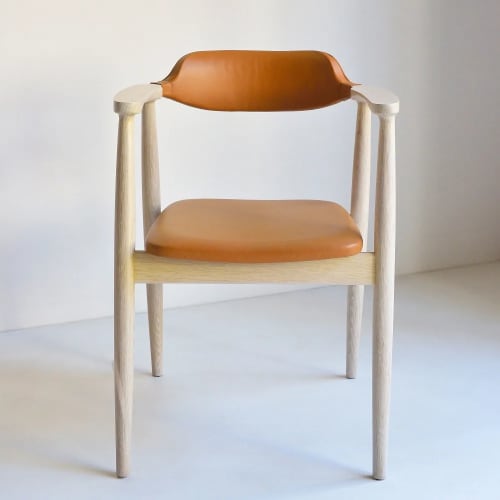 HACHI Collections is known for having clean, light designs.
The same is true for the Dining Arm Chair in Seiren Oak. Whether you're looking for a gorgeous matching set adorned with high quality leather, or a single accent chair that's classic looking, HACHI has exactly what you're looking for. The burnt orange umber tones mix perfectly with the bright oak. This set will pair well with any decor, and brighten up any room. HACHI Collections also offers a Wescover Trade Member Discount.
The size of this Edwin XL Leather Chair isn't the only thing grandiose about it.
Besides the beautifully crafted leather, Coolican & Company ensured the finest quality all around with this piece. Also available in custom colors and materials, these chairs are made to last. Featuring brass and peg reinforcements, this piece has the style, comfort, and size you're looking for.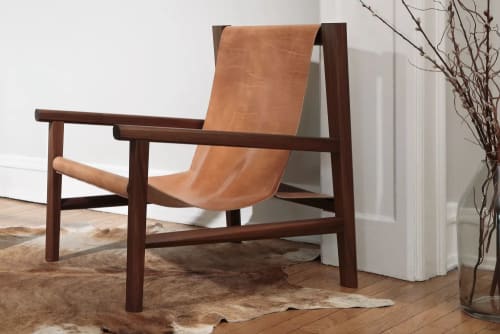 Love the luxurious feel of leather, but want something a little bit slimmer?
Look no further than Alicia Dietz Studio. This Horween Leather Sling Chair will invite you to cozy up, without adding unnecessary bulk to your living space. Invigorating, warm hues wrap this piece with a feel that reminds you of Autumn. 
That's exactly what Alicia Dietz Studio based out of Richmond Virginia is known for. Along with warm, inviting tones, Alicia also inspires innovation in the design world. Woman-owned, and veteran-owned, the proof is in the design. This creator pours her heart and soul into her work, and we think you'll feel it too. Don't forget her Wescover Trade Member Discount!
Another favorite of ours from Jover + Valls is their Set Chaise Lounge & Footstool.
The simple, yet elegant design evokes feelings of class that can only be exuded by leather. A piece that is truly timeless, this set combines aged brass steel and black vegetable leather to create the perfect lounging experience. Jover + Valls also offers a Wescover Trade Member Discount to fellow artists.
ARTLESS, also offering a Wescover Trade Member Discount, builds gorgeous, geometric furniture.
Taking advantage of every angle, the X1 stool is the most versatile piece there is. From every viewpoint, this piece reminds one of the beauty of geometry. ARTLESS brings their architect background with them into their designs, crafting the perfectly balanced pieces. 
Leather is one of the most classic materials there is.
In addition to being comfortable, it is versatile in many different ways. We have also curated a hand-picked Leather Seating Collection you're sure to love.
One of the reasons why we love what we do at Wescover is all of the wonderful creators, designers, and artists that we get to work closely with. To see more, check out our creators who specialize in furniture. Truly masters of their craft, all of Wescover's creators bring their unique abilities to the forefront, guaranteeing quality with every piece.
Can't get enough? Browse All Seating on Wescover.