Sustainable and Socially Conscious Decor by Formr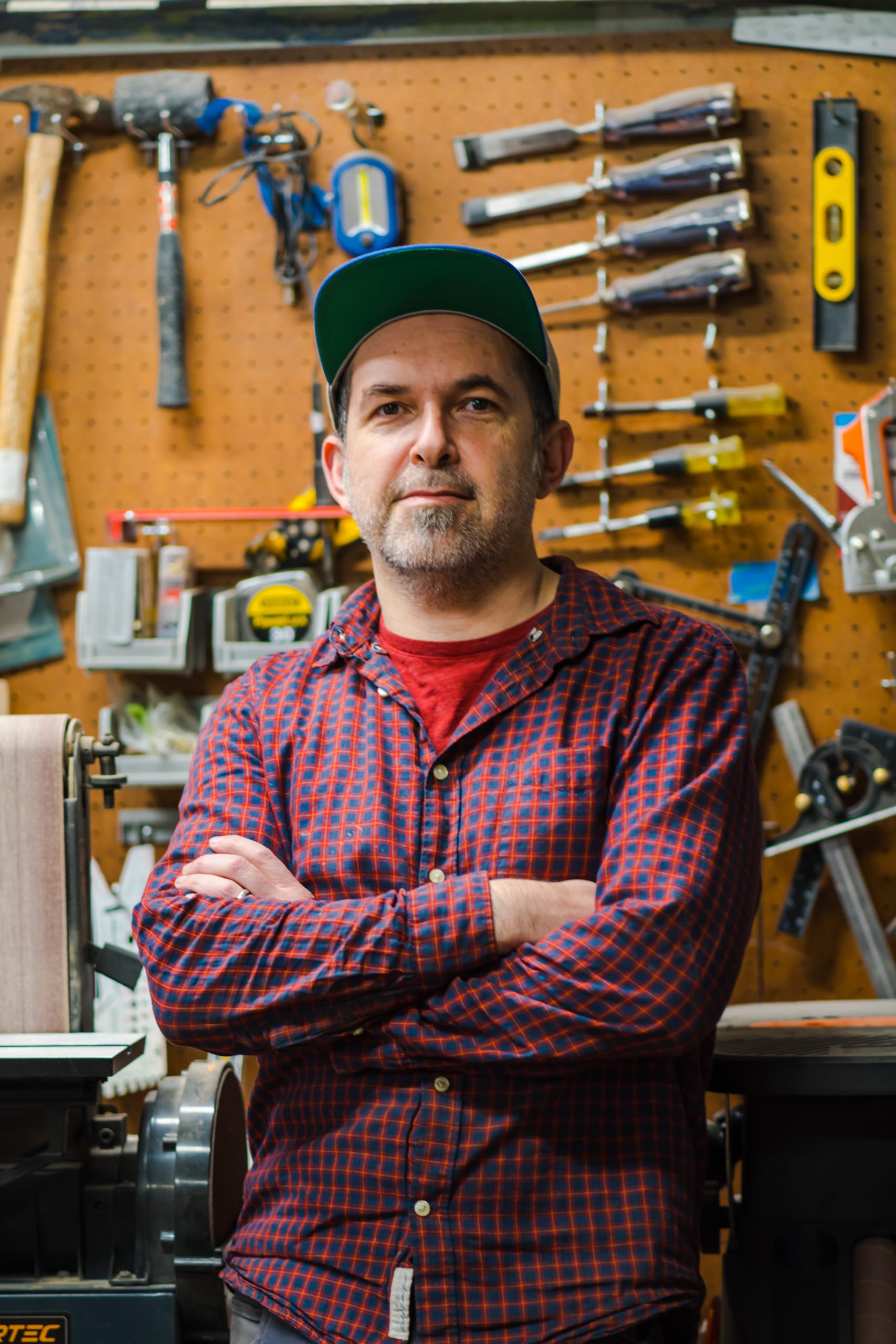 Based in San Francisco, Formr is tackling two of society's most challenging issues: environmental sustainability and recidivism. We sat down with the founder of Formr, Sasha Plotitsa, to learn about how they create their unique sustainable and socially conscious decor.
What inspired you to start Formr?
When people ask me, I tell them there's a long story, then there's a longer story. So I'll give you the long story.
I studied industrial design in college, and then after that went off and did a bunch of different things that were not industrial design. Then fast forward to five years ago, I decided I wanted to go back to do industrial design, but I wanted to create a business model that somehow gave back to the community. I did not know what that looked like, but I was doing all this research trying to get inspired by looking for something that resonated with me.

One day I was on Instagram and I came across a post of a coffee table, and I thought, 'Well, maybe I can make furniture, but how do I make it socially responsible?"
I was in this sponge mode, trying to figure out an idea. I thought about my past career in interior design when I would show up at the job site and see piles of debris getting hauled away every few days. My idea was to create relationships with contractors and access their material construction debris instead of it going to landfill. But I also wanted to go a little bit further than that, because I just felt like the reclaimed look has been around for a while.
I started thinking about the workforce and people who'd be making the furniture. And that's when I thought, 'Who is an underserved community that needs an opportunity for employment?'
I thought about people that are coming out of prison that are trying to start their lives over again. They have a lot of obstacles finding housing, finding shelter, finding employment – even just getting an ID is a challenge. 
I thought I can provide employment for folks that are formerly incarcerated and that's how the two social pillars came about for the business model. 
Then I started coming up with designs and prototypes. A couple of years in, after everything was figured out, I hired my first employee and got a space and decided, okay, we're going to launch this thing.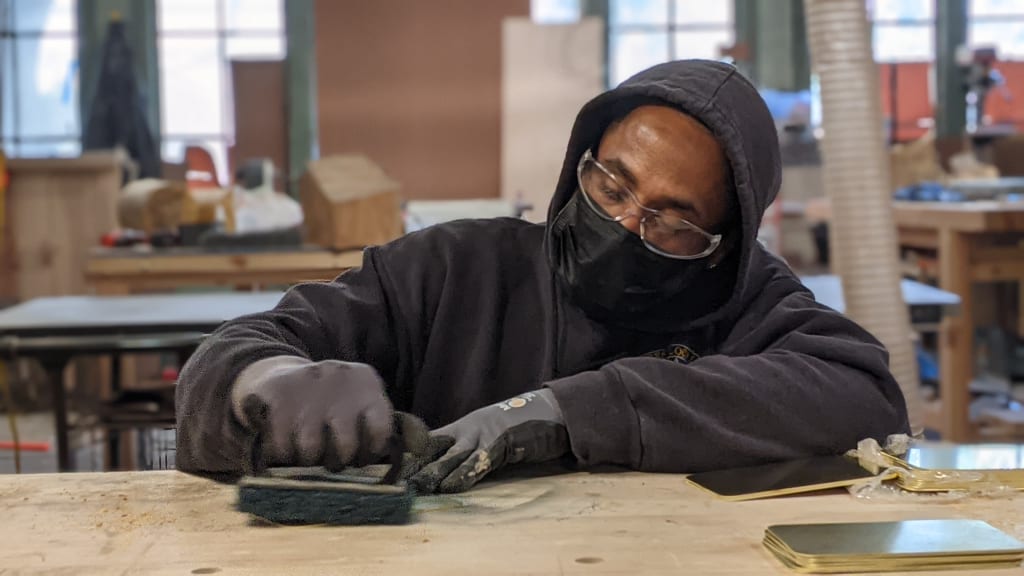 What products did you start with when it came to working with construction waste? What does the creation process look like?
We launched with about twelve products, and the medium is actually a key factor in deciding on how the products evolve. For example, when I was creating the business model, I thought about all the scraps and all the cut off lumber pieces of 2 x 4s that we'd be working with. So I decided, to avoid it looking like it really was pieced together with a lot of little pieces, we would paint everything. Basically our process was to clean the material, which means we needed to pull out nails and screws. After that, we laminate the pieces together, start fabrication, and put a skim coat of putty over it to give it a finished, consistent look. After that, we prime and paint it. There was this whole labor intensive process around it and we'd have maybe ten different colors that we used. It was very time consuming, and the end result was not something that resonated for me and for customers. 
I think to some extent, it just looked like we're hiding something in the material and it did not look like there was a story there. It's hard to explain, but basically we decided to get away from that and expose the actual material. We went into a new direction of either keeping the natural look of the material or we char the wood, and that creates a really cool and interesting texture where pops the grain out. I'm really excited about this new direction that we're doing. 
But back to the question of the designs. When I'm thinking about new designs, I'm always thinking, 'okay, what's the material that we work with?'
Almost all the material we work with is lumber. 2x6s, 2x8s, etc. so we'll cut it down, laminate it together, and then start working with it. Some of the pieces we have are directly made out of just one 2×4. 
For example, we have this product called The Cool. It's an eyeglass holder. And that's one 2×4 that we carve out to make a notch for the glasses. 
 A lot of the time, the material itself, the size, thickness, and shape dictates which way we go with it. The other thing is, every few months we try to add new products to the collection. We just released a tabletop collection of cheese boards, serving platters, and different items that are more targeted for the dining and kitchen space.
When it comes to sustainability are there any other practices that you try to incorporate into your work other than working with construction waste?
We try to use everything in our product and I'm actually trying to focus more on using small scrap material. We have a couple of products right now, there's the Mr. Hook coat rack and the Skyline Shelf, which are a whole bunch of little scraps glued together. That's a direction that I really want to focus a little bit more on. 
When we have even smaller scraps or pieces of wood that, for whatever reason, we can't use, we end up donating it to people who need firewood or are doing bonfires. And then we obviously generate a lot of sawdust, and that gets donated to a farm where they use it for bedding for horses, I believe, and other purposes. Despite that, we still have our bins full with material, but those are some ways we push sustainability even more so. 
Do you do custom work often?
Periodically we get inquiries for customizing our collection but more so it's doing something new. For example, we worked with MMclay and did some displays and tables for them. We don't do a lot of customizing, but definitely that's something we can do.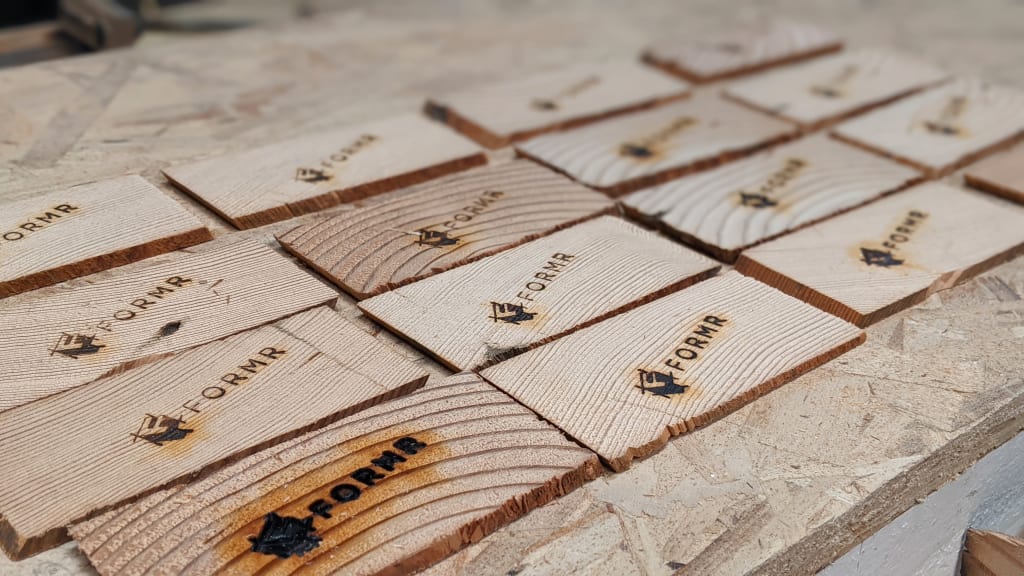 What has been the most fulfilling part of running your company and the journey you've been on so far?
I would say having a positive impact on people's lives, specifically the workforce and the awareness that we're bringing to the two causes. That has been super fulfilling. 
I think both causes that are part of our mission are top of mind recently. The environment, recidivism, and mass incarceration are very relevant subjects and so hopefully we're getting more awareness around it. People are seeing us and sending emails and letters in support. 
Hopefully we're opening some eyes to potential behind people and the material. We don't have exclusivity on the business model, so anybody can theoretically do what we're doing as far as creating these opportunities. I hope people will do that and maybe take some inspiration from what we're doing. I think that's the most fulfilling. Building something from scratch and growing it is super exciting, scary, daunting and there are a lot of different emotions around that, but it's generally positive stuff.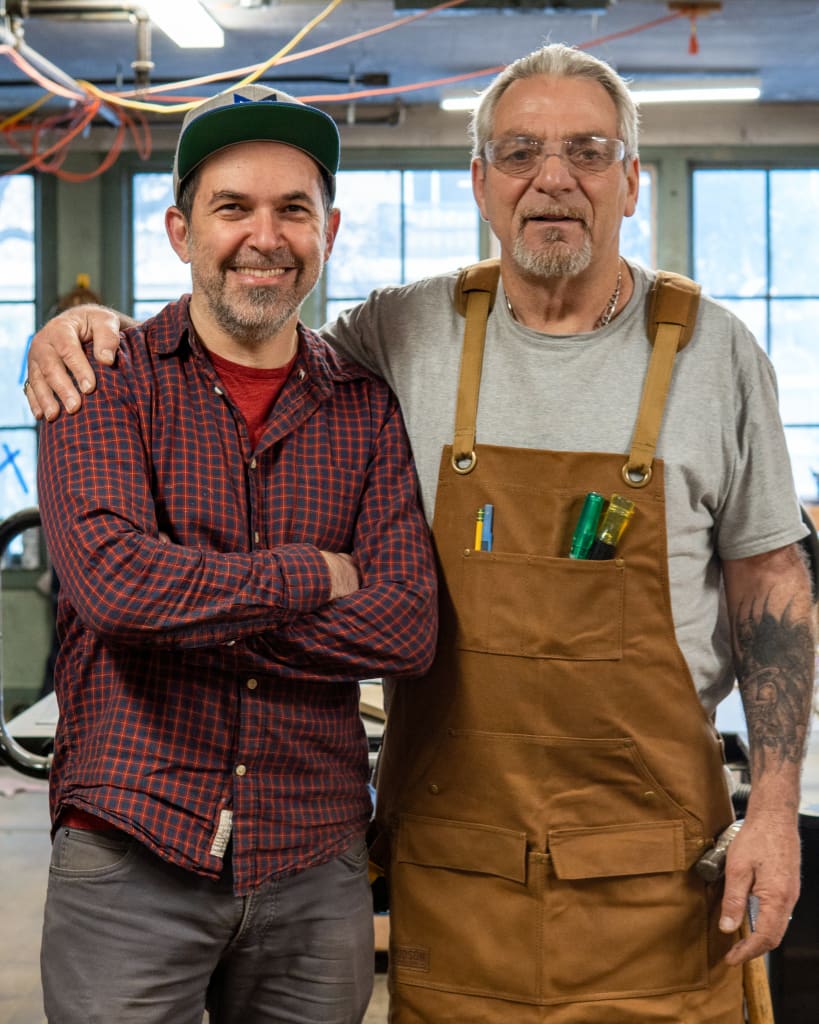 Thank you again to Sasha for telling your story, and dedication to not only Wescover, but the future of sustainable and socially conscious design. Explore the full Formr collection  featuring  now available on Wescover.