Unique Coffee Tables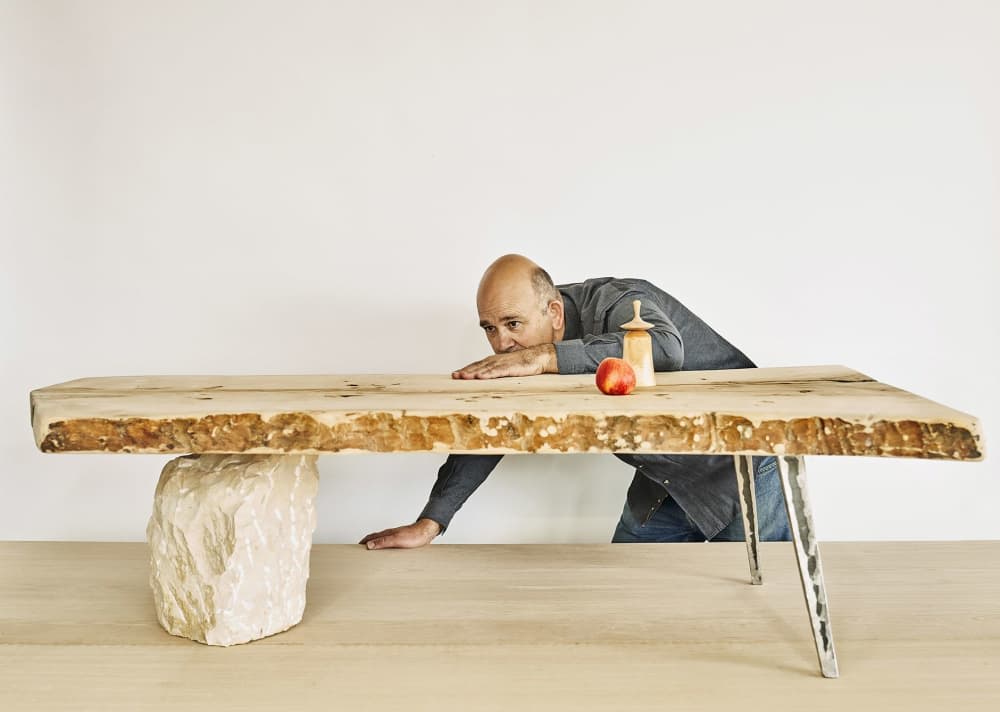 A unique coffee table can complete and elevate any seating area. To tie your space together, you'll want a coffee table that's interesting, functional, and blends in seamlessly with decor. Here are some of Wescover's top picks for unique coffee tables that could be the perfect centerpiece for your room:
Showtime Rattan Coffee Table by Oggetti Designs
The Showtime veneer features rattan strips and coco twigs inlaid side by side and covered with a waterproof resin. Repeated sanding and resin layers give this material a lustrous finish that is unusual and coveted. This unique piece is imported by Oggetti Designs from the Phillippines, where it is handmade with craft and patience.
Ledge Coffee Table by Simon Johns
Simon Johns merges human design and nature in his artful furniture, handmade in the woods of southern Quebec, Canada. The Ledge Coffee Table is made of solid ash with a black glass top and a mirror-polished base. Layered hand carving makes the solid ash resemble crumbling stone inspired by natural cliffs. 
Lotus Coffee Table by ETAMORPH
The Lotus Coffee Table draws inspiration from the extraordinary structure of a water lily. Like the leaves of the aquatic plant, the table tops can be held at different levels and overlapped to create different compositions. The 3 table tops, available in stone or solid wood, are masterfully crafted to get the thinnest edge and a shape that recalls the perimeter of the lotus' leaves. The table comes from ETAMORPH, a New York City-based boutique design and fabrication studio specializing in custom furniture, lighting, and sculptural elements for high-end interiors.
This handmade table is inlaid with hundreds to thousands of nails of various diameters that are cut flush with the table surface and polished. The result is a beautiful pattern of shiny dots of various sizes. The table is created by Peter Sandback, who has been hand-making furniture in his rural New Hampshire shop for 25 years.
Brutalist Style Coffee Table by Vandenheede Furniture-Art-Design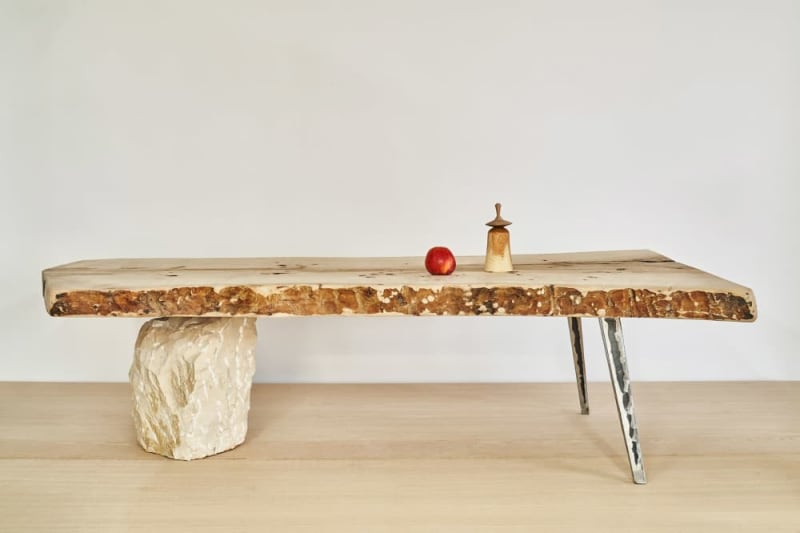 This unique coffee table is made of ash wood, hand-carved stone, and steel legs. It features a spectacular piece of rare wood. Its creator, Jean-Baptiste Van den Heede, is a cabinetmaker-designer and academically trained artist whose unique designs of national and international prestige have earned him several awards in avant-garde furniture.
Antler - White Quartz Coffee Table by DFdesignLab - Nicola Di Froscia
With its sculptural silhouette, the elegant Antler coffee table offers an abstract interpretation of the interwoven features found in nature. Contrary to its delicate look, it is made of non-porous, stain-resistant quartz stone with a seamless appearance that blends in effortlessly with any interior space. This unconventional coffee table is handmade in Italy by DFdesignLab, which has specialized in marble work since 1965.
Winston Coffee Table by Alabama Sawyer
Alabama Sawyer designs modern, environmentally sustainable products from fallen trees in the Birmingham, Alabama area. The Winston Coffee Table features unique, local lumber and is created in collaboration with resident Birmingham metal artists, imbuing this round wood and bronze table with richness and tactile pleasure. The ultra low sheen urethane finish makes it durable yet natural-looking.
Colonnade Bench Table by Pfeifer Studio
A cluster of columns serves as the foundation for an elegant oval-esque top on this handsome bench table. The graceful, modern design is perfect for sitting or use as a low table. Hand formed, shaped, and sanded by artisans, graining and cracks inherent to the wood further enhance its natural character. The work exemplifies Pfeifer Studio's passion for exceptional materials, superior craftsmanship, and quality.