Swing Chairs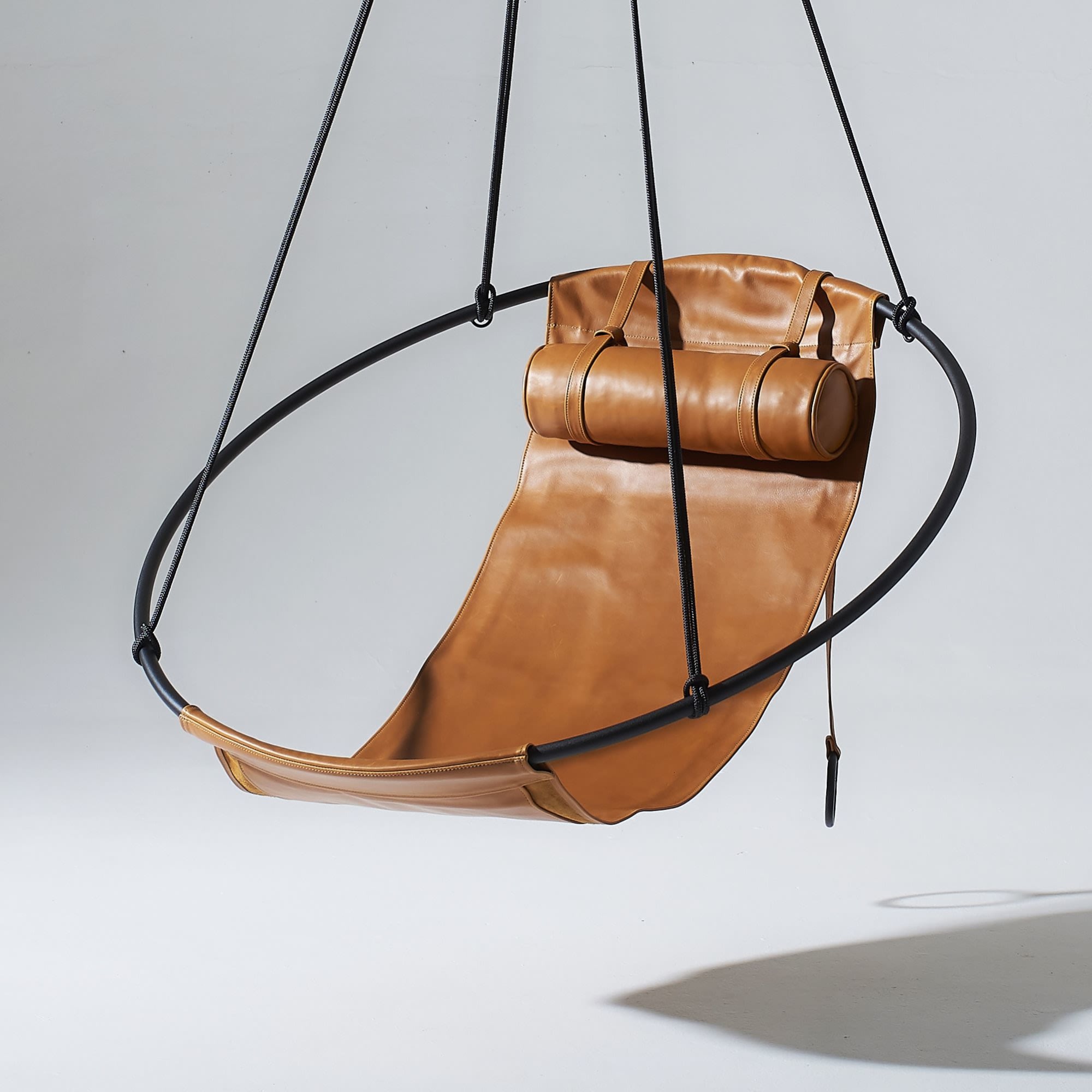 Swing chairs are fantastic indoor or outdoor seating options that add a playful or meditative touch to any space. They are unique pieces that combine comfort and functionality with beauty and character. Here are some of our favorite swing chairs for your living room, office, porch or other space!
Swing Model no.1 by Iwona Kosicka Design
Displaying a simple round shape, this charming swing chair easily adapts to a variety of contemporary decors. It is created by Polish designer Iwona Kosicka, who fuses craftsmanship and new technologies, carefully choosing the highest quality materials while ensuring sustainability.
Gray 6-Seater Swing Table by SwingTables
A unique hybrid of a swing set and a table, this set is functional and one-of-a-kind. This swing table features a beautiful Claro Walnut live-edge slab and a gray powder-coated frame. It provides the full functionality of a traditional table while offering movement, which can help you concentrate or bring out child-like joy. Los Angeles-based Creator studio, SwingTables, produces various models with customizable finishes, wooden materials, and seating occupancy (two-seaters, four-seaters, six-seaters, and eight-seaters). You can buy the same one as comedian, Kevin Hart here!
African Leather Sling Chair in Hidden Hills by Studio Stirling
This understated hanging chair has a circular frame with sheets of soft leather to create a sleek, sexy, and comfortable experience. The chair's clean lines and lightness make it a perfect fit for any interior space. It is handmade by Studio Stirling's craftsmen using beautifully colored pliable leather that is soft to the touch, creating a feeling of serenity and joy.
 Studio Stirling makes various models of this iconic chair including: an outdoor version, an embroidered version, a green cactus leather version, an angular shaped version, and more! Browse some of their versions below!
Swingy In Chair by Linda Vrňáková
This hanging indoor rocking chair is meant for relaxing, resting, and deepening your inner peace and well-being. It features certified massage balls and is specially designed to enhance your relaxation. Linda Vrňákováwas' designs are inspired by her own need to meditate and relax in a gentle swinging motion that benefits the body and mind.
Kwelga Swing Chair by Innit Designs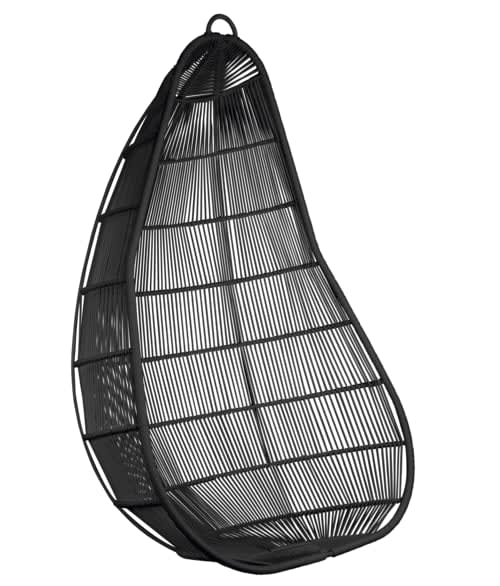 The Kwelga Swing Chair is in keeping with Innit Designs' outdoor/indoor aesthetic. The nest-like construction is open and airy yet private for those wanting to retreat into their own floating world. It is great for any size of space and is built to withstand the elements.
Big Basket Chair by Studio Stirling
The Big Basket Lounger has an organic shape that creates a cozy feel. The pattern detail is inspired by nature. It is simple and striking in its visual appeal and is designed for comfort and relaxation in indoor or outdoor spaces. Each one is made by hand and comes from Studio Stirling, which has been recognized globally for its luxury, handmade swing seats, hammocks, and loungers.
Island Day Bed by The Rustic Hut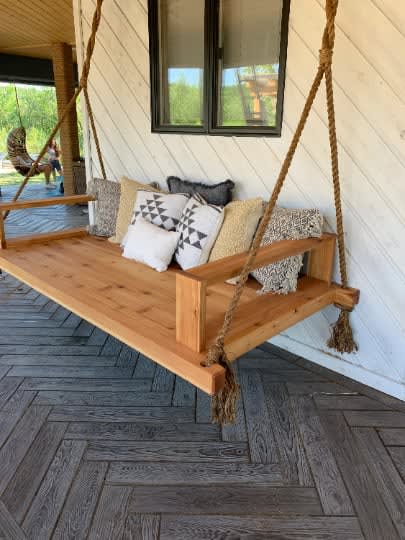 This beautiful swinging day bed, built out of cedar wood, is warm, inviting, and timeless. It is perfect for relaxing on a deck or patio and gathering the family together. It is from The Rustic Hut, a maker of sustainably sourced, hardwood furniture.
Julianna Woven Black Hammock With Wood Spreaders by Limbo Imports Hammocks
This boho hammock embodies beauty just as much as relaxation. The Julianna hammock is handwoven from 100% soft cotton with delicately hand-carved rustic wood spreader bars. It is adorned with handmade tassels with wooden beads that add a modern element. This hammock is ethically handmade in El Salvador by Limbo Imports Hammocks' skilled artisan team.