Artisan Made Textiles by Studio Variously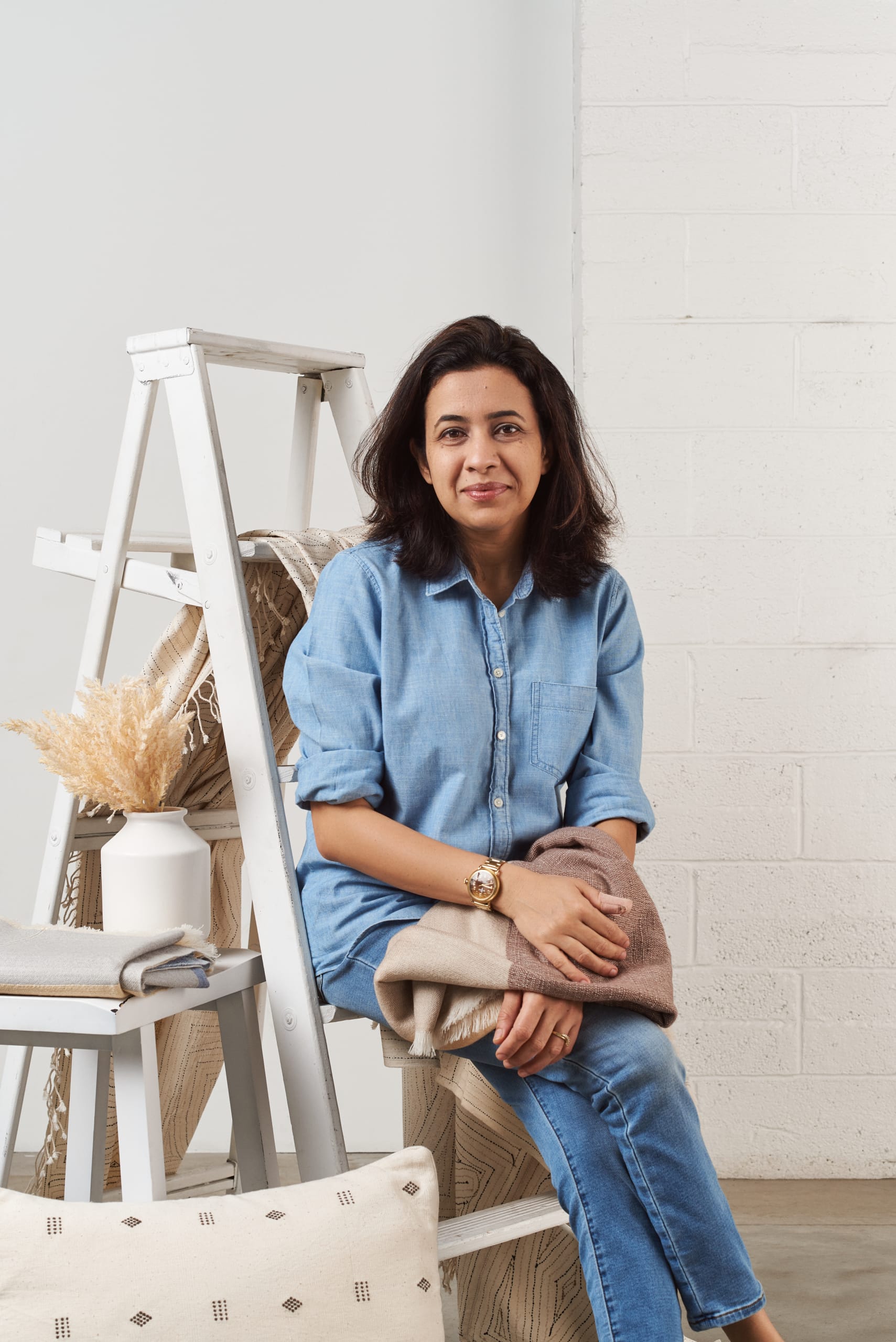 Studio Variously creates sustainable modern luxury textiles ethically made by artisans using ancient techniques. We sat down with their founder, Anjali, to learn about how she first got her start, her focus on sustainability, and much more.
How did you first get into the textile space?
My background is predominantly in fashion and retail design. I've worked a lot with metals, ceramics, and textiles across different jobs and projects.
While pursuing my education and working with design studios in India and Italy, I got to interact with materials for diverse projects and for different retailers and buyers. For a few years, I worked on a lot of seasonal collections—the traditional cycle of spring, summer, and winter. It was a very rigid structure of churning out collection after collection.
Then, there were a few years where I was on the public space side doing installation-based projects. I was dabbling with artisans, factories, and the whole supply chain and production. At the same time, I was working with handloom weavers, potters, and metalsmiths. That's how I found a deeper connection to the artisan way of doing things.
When you face issues of overstock or dead stock, you analyze wastage and the materials that are used for large-scale productions. So when the time was right for me to start my own company, it was a very conscious choice for me to start it from the inception in this particular domain because of all the past experiences that I've had in the industry. That added a lot of time because I had to do all the research to figure out the correct suppliers and people to work with, especially since I'm concentrating on natural materials and eco-friendly dyes.
How did working with artisans and seeing commercial waste inspire you to launch your business?
I was born and raised in India and I've traveled extensively to remote locations there for various projects. There's a heritage and lineage of textiles and all the different stories that can be communicated through this medium. But there is a constant threat of these traditional crafts dying and depleting at a fast rate. There's always cheaper goods that can be made by machines and large-scale factories.
But I found a deeper connection with the way of telling stories through textiles and by exploring techniques that were sometimes 500 or 700 years old and that maybe only two or three families were able to do. I learned that we can combine artisan work and sustainability. That's what I'm trying to do right now. Every day is a learning process in regards to how we can do it better and improve.
What kind of products do you create?
Right now, I predominantly create textiles for home spaces. I create a lot of throws and bedspreads. There are rugs as well—accent rugs and medium-sized area rugs. Pillows developed organically for me and are pretty extensive as a line.
This year, I'm actively working on tableware, napkins, and table linens. It's exciting for me to connect textiles to food because I love to cook.
Besides this, I work with interior designers for custom projects with hotel spaces.
Where do you draw inspiration from for new designs?
I keep refreshing my mood boards to reflect people's tastes today. What are the shapes, patterns, and proportions that people are drawn to? It's more about what you get attracted to rather than what's in and out of trend. 
I also think of how I can create a more calm, serene space. Minimalism is something I get attracted to organically. Geometry is something that I've loved for many years. So I look at a lot of artists whose work involves a lot of movement and playing with proportion. 
I'm always looking at other people's work, not just in still shots, but in movies, music videos, etc. I'm looking at different movies and seeing new ways of enhancing spaces. Any visual medium really helps me, even traveling. That's what I'm culturally looking at.
How do you practice sustainability in your work?
The first priority for me in sustainability is ensuring that these clusters of artisans have a sustainable livelihood for a long period of time. The idea is that when we put something into production, it is a piece of furniture that is not just out of production in a few cycles. We want to keep making it year after year, improving it's quality or enhancing certain colors.
It takes a lot of time for the artisans to complete the whole process. Spinning the yarn, setting up the looms, and weaving can take about four months. I also have to be conscious about the environment that the artisans are working in. Sometimes there's a drought and sometimes there are floods. In monsoon season, production is halted for two months in India.
I cannot meet the traditional production cycles of spring/summer and fall/winter, so I like to create products that are more classic. Sustainability starts from the design. 
A lot of pre-production planning occurs before anything is produced. We test out products from the point of view of quality, heat, washing, etc. We spend a couple of months minimum on that pre-production stage. Then comes the element of using natural materials. So sustainability starts from the paper where you create the design and continues untill the final product is received.
What are your most common commission requests and how do you typically work with designers?
Throws have been a very common commission request for me. For example, one designer really liked a particular throw. We converted it into a bedspread and that got commissioned for a 40-room hotel, Soho House Austin. That was a phenomenal project to work on because we want to add scalability to these artisanal textiles. 
I have done a whole tableware linen collection for a hotel at a resort in New Mexico as well. We had all the table linens and napkins hand woven. 
I'm constantly working on concepts and swatches, so I have a large design archive that I can offer to designers for their projects. They might pick out a particular print or weave or a combination of both. We can always translate those designs to different areas and pieces. 
It's exciting to work on real-life projects that have a big public presence. People from all walks of life are living in these spaces and using our pieces. It is an art form, but it is highly functional as well. 
What has been the most fulfilling part of running your company?
When you visualize something, see it in your hand, and then it's finally bought by somebody and you see how they respond to it, that's one of the most satisfying feelings as a creative person.
On the other hand, as an entrepreneur, it's about creating a livelihood in a very sustainable way for the artisan clusters that are involved. There are a lot of women and mothers that are involved in my production. That is very big for me. As a working mom, it's a very good feeling that there are more people like me involved in this chain. 
Thank you to Studio Variously for telling your story, and dedication to not only Wescover, but the future of ethically created decor.