Spalted Maple Furniture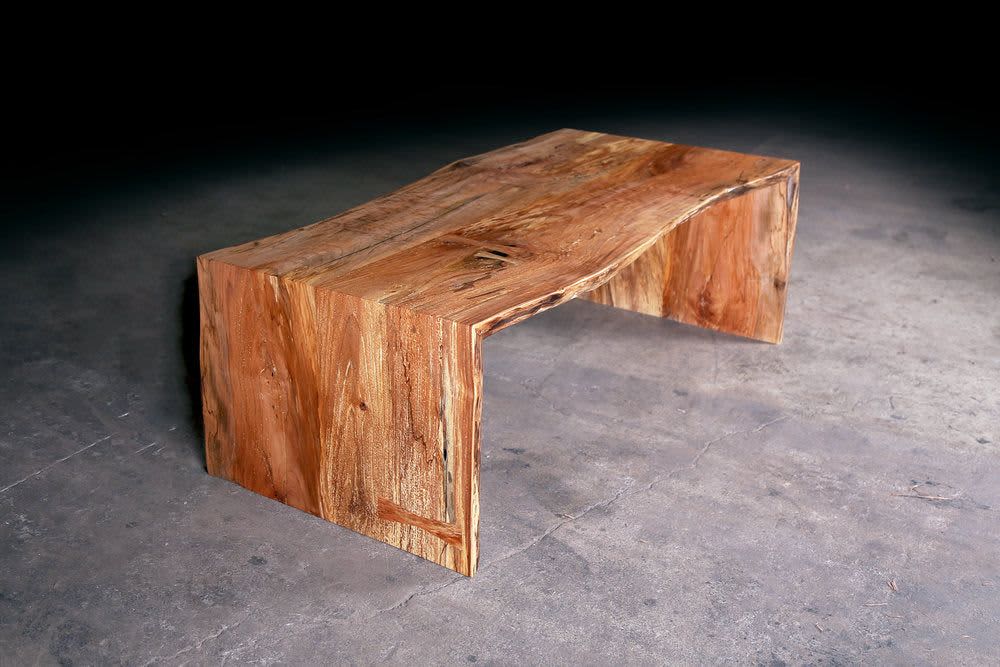 Spalted maple is a unique natural material with dark veins that creates captivating furniture. Each piece of spalted maple is one-of-a-kind and adds a touch of sophistication to any room. Here are some beautiful furniture pieces that will incorporate spalted maple into your space.
Spalted Maple Ottoman Foot Stool Table by Hazel Oak Farms
This table is designed to fit over the top of your ottoman or footstool. It's created using a single slab spalted maple top with a clear satin finish. The table is handmade by Hazel Oak Farms, a company that values simplicity and purpose, as reflected by its minimalist design style.
Duet Coffe Table(s) by Iannone Design
This piece pairs a higher table made of a natural-edge, spalted maple slab with a lower table made of solid wood boards. Together, they form a harmonious and versatile piece perfect for any living room. It is handmade by Iannone Design out of hand-selected natural wood.
Custom Made Spalted Maple Live Edge Sofa Bar Table by Good Wood Brothers
This spalted maple table is carefully handcrafted and is a beautiful addition to any entrance, hallway, room, or bar. The live edge offers a style that fills a room with elegance, warmth, and comfort. Good Wood Brothers is a family business started by brothers Victor and Alex, who are passionate about handcrafting custom wood products.
White Spalted Maple Dining Table Set by Hazel Oak Farms
This table set features a custom white, distressed farmhouse table with a spalted maple top. The set also includes five chair and a bench also topped with spalted maple for seating. It is handmade and designed to last a lifetime by Hazel Oak Farms. The company salvages American hardwood trees and turns them into beautiful pieces of art.
Spalted Maple and Walnut Serving Board Japanese Tea Tray by SjK Design Studios
This spalted maple serving board features walnut inlays and a natural live edge camellia wood base. This design adds a unique touch to any home with clean sophisticated lines. SjK Design Studio combines consciously sourced local materials with traditional Shinto woodworking skills for a warm contemporary look.
Waterfall Maple Coffee Table
Spalted Maple and Mozambique Wine Cabinet
This wine cabinet is made of solid spalted maple with a book-matched, waterfall Mozambique top with brass inlay throughout. The cabinet features adjustable shelves and soft close hinges. It's created by Donald Mee Design, a custom wood and metal fabrication studio.
Spalted Maple Dining Table 325 by KC Custom Hardwoods
This Spalted Maple table provides a modern feel to a classic wood species. The star of the show is the ultra-wide plank maple top. The edges are straight-cut and paired with a sleek base to provide a modern aesthetic. The wood is sourced ethically and sustainably from the Kansas City area by KC Custom Hardwood.
Vase in Spalted Maple and Black Walnut by Patton Drive Woodworking