White Oak Tables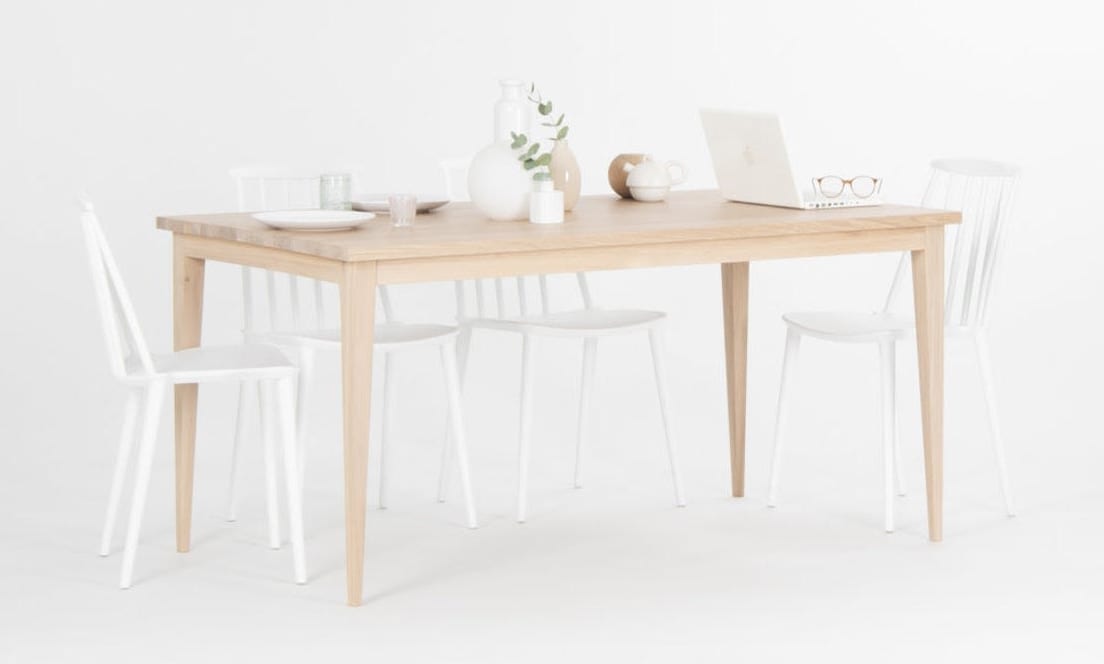 A white oak dining table or coffee table adds a soft natural beauty and modern feel to any room. These tables make an excellent centerpiece for your dining space or living room, blending seamlessly with any design style. Here are some of our favorite white oak tables.
Round White Dining Table with Solid Oak Legs by Mo Woodwork
The design of this table combines classic white with the warmth of solid wood. With its distinctive, milled-edge design and slender silhouette, this table fits effortlessly in any dining space. It is made in Mo Woodwork's workshop with natural materials and conventional carpentry techniques.
Betty Table by Oxford Street Furniture
This round coffee table features a stunning splined top and a sturdy steam-bent base. This table is designed to complement any living space and last several lifetimes. It is designed, built, and finished in-house by Oxford Street Furniture in Austin, Texas.
Custom Made Spalted Maple Live Edge Sofa Bar Table by Good Wood Brothers
The Belfry Coffee Table blends traditional joinery with mid-century styling, making it the perfect addition to any living space. The slight under bevels on the floating top provide a unique elegance. Oliver Inc. Woodworking handcrafts this table for functionality and longevity.
White Spalted Maple Dining Table Set by Hazel Oak Farms
This timeless table is elongated, slim, and low. Its simple, modern shape brings warmth and sophistication to any living space. It is made with beautiful natural woods and quality craftsmanship by ARTLESS.
Sunrise Modern Dining Table in White Oak with a Grey Finish by Alabama Sawyer
Alabama Sawyer designs modern, environmentally sustainable products from fallen trees in the Birmingham, Alabama area. This modern dining table uses a sunrise base to play off the unique wood grain of a range of urban hardwoods, including walnut, pecan, and other finds. The clean lines of the steel base support an intriguing live-edge tabletop.
White Oak Round Dining Table by Hachi Collections
Spalted Maple and Mozambique Wine Cabinet
This white oak coffee table is made from small slabs with blue epoxy accents in a classic round design. The wood was sustainably harvested in the Pacific Northwest. The table is handcrafted and made in Portland, OR by Black Rose WoodCraft.
Farmhouse Dining Table by Mo Woodwork
This simple, classic dining table is made entirely of solid oak. The minimalism of the design combined with the bleached oak color creates a raw yet elegant look. Mo Woodwork is known for its unique, high-quality products with beauty hidden in simplicity.
Shaw Coffee Table by Tilt Shift Design
While the above image is a walnut top and blackened steel legs, the Shaw Coffee Table also comes in a white oak finish option. Regardless of wood material, his cantilevered coffee table gives a contemporary look to any living space. Tilt Shift Design combines modern materiality and old-world craft to create functional art that performs as well as it looks.