Natalia Enze: Behind the Creative Journey of Tapis Rouge's Head Designer
Step into the world of Natalia Enze, the brilliant mind behind the exquisite designs of Tapis Rouge. In this exclusive interview, we dive into Enze's background, her creative process, and the unique elements that shape her work. From her architectural roots, to her passion for finding inspiration in global travels, to Tapis Rouge's commitment to sustainability and the careful material choices that ensure both quality and eco-consciousness. Join us as we uncover the misconceptions, the fulfilling moments, and the unwavering dedication that make Natalia Enze an exceptional force in the world of design.
How did you get started in the design industry?
I graduated from the University of Architecture as a Master of Architecture. And I was fortunate enough to work on large private projects with an experienced architect from the very beginning. Our studio was quite small, but the level of projects was really high. The experience of the first five years taught me to be accurate in every single thing: gathering information, dealing with clients, designing and especially in finding inspiration. Later on I've decided to work independently.
How did you become an expert in your craft?
The core of the project is to create the right atmosphere. While searching for objects, I travel, remembering details and solutions in different parts of the world. A small antique piece can provide a finishing touch to the interior. Another important thing is working with artisans, craftspeople, and artists from around the world to make bespoke pieces.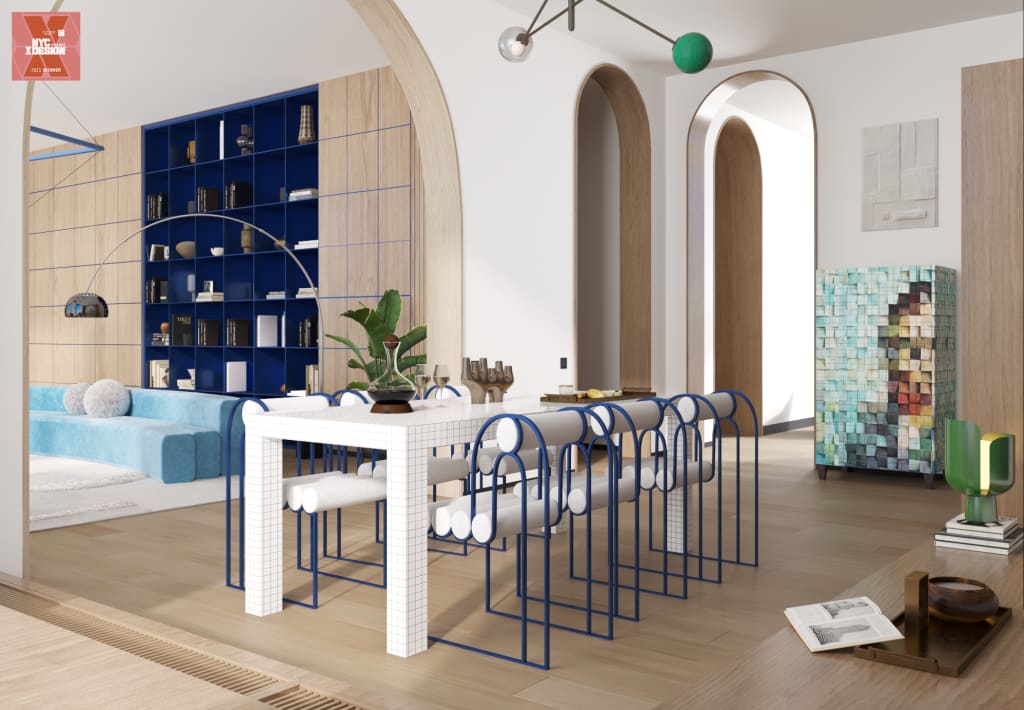 What does your creation process look like?
After the first meeting with a client, I create worlds in my head. It's like a film storyboard – with each frame I see more and more details and nuances. Then I make several sketches by hand, usually using a thin black marker. On the next step I collect a collage of objects, palettes and materials. Finally I make an assignment for a 3D visualization. For the client, I prepare a presentation of multiple options at once, to be able to compare and choose. The rug is already presented in the first sketches and collages. This is because it gives a large spot of color and pattern. The rug centers the room and creates a dialogue between objects.
How does your work come to life? Tell us something interesting about your creative process.
I prefer to add a bit of history and a bit of humor to projects. I once did a nursery in a house. It was for a little four-year-old girl. I was interested in incorporating drawings from vintage fashion magazines into the design of her room. I bought Elle magazines at a flea market in Paris, then I framed vintage children's dress patterns and hand sketches. These pictures made the room look so light and entertaining. The yellowed paper and vintage graphics in thin gilded frames created an unconventional interior.
"The rug centers the room and creates a dialogue between objects."
Which interior design styles does Tapis Rouge work in?
Tapis Rouge has an extended catalog including archival rugs recreated from historical designs and formulas. Tapis Rouge's color palette allows to combine standard color schemes, while sophisticated contemporary thread shades give you the opportunity to express the moods according to the trends. Tapis Rouge attentively worked with my sketches and helped me to figure out some interesting production details to fully express my idea. Current trends in the design world are explicitly represented in Tapis Rouge's latest collections- Tratto, Elettrico, Abstraction.
Tapis Rouge's Latest Collections
What has been the most fulfilling part of your role?
You know, it is always pleasant to work with professionals who are open to new, sometimes crazy ideas, who can accurately and, last but not least, quickly make drawings, collages, visualizations of the rug itself as well as the product in interior. The chance to check the color combinations on the screen is very important for the designer's work too. I also want to highlight the strengths of the designers' skills in the Tapis Rouge team.
How do you incorporate sustainable practices into your work?
The world today no longer tolerates a careless attitude towards ecology. Climate problems have demonstrated for everyone on Earth that it is necessary to save resources and pay attention to the protection of nature. Clients are aware of the quality composition of furniture, rugs, paints and coverings. Especially in rugs, it is possible to use natural fibers and natural tints without any risk.
How does one care for your creations?
When ordering rugs for a project, it's very important for me to understand how each object is going to be used. If we are designing a children's room, we immediately use hypoallergenic materials and fibers – silk, bamboo silk and cotton. If the project requires high durability and fire-resistance – we certainly use wool in the rugs. In general, each project requires individual material decisions. For example, natural silk gets destroyed in the sunlight, but it does not provide the odor in wet rooms like in bathrooms. Architects are taught to understand the materials and the possible ways of their implementation.
What's a misconception about your craft or industry?
The biggest misconception concerns the repetition of the design from project to project. It is believed that if an architect has his own style, he will repeat his solutions. That's not true. The architect grows with his client. Each new project – new solutions for a new space, a new family or a new philosophy. Each year brings new trends, combinations of materials, colors. A professional architect learns continuously and puts his knowledge into new projects.
What's your favorite room in your home? Would you mind sharing a picture of it and sharing what you love about it?
I especially I love the living room. I love deep sofas and armchairs so I can climb in with my feet, recline, and place books, albums, and a laptop next to me. I like big TVs and good acoustics. Antique accents, like the 18th-century coffee table I brought from China to Florence, where I actually bought it in an antique gallery.

One of my apartments is in an old house dating back to 1910. The lighting in the apartment always has a cold color of shadows, because the windows are facing north. I painted an iceberg rug for this place, which looks like ice water. I admire the shades of ice in the daylight. I cannot stop admiring the craft possibilities of the artisans who made my rug idea come to life together with Tapis Rouge.
Is there anything else people should know about?
I think it's necessary to be firm with clients, but at the same time help them to feel comfortable with decisions they were unsure about. With those decisions in which they trusted my professional view.