The Natural Harmony Collection by The Iron Roots Designs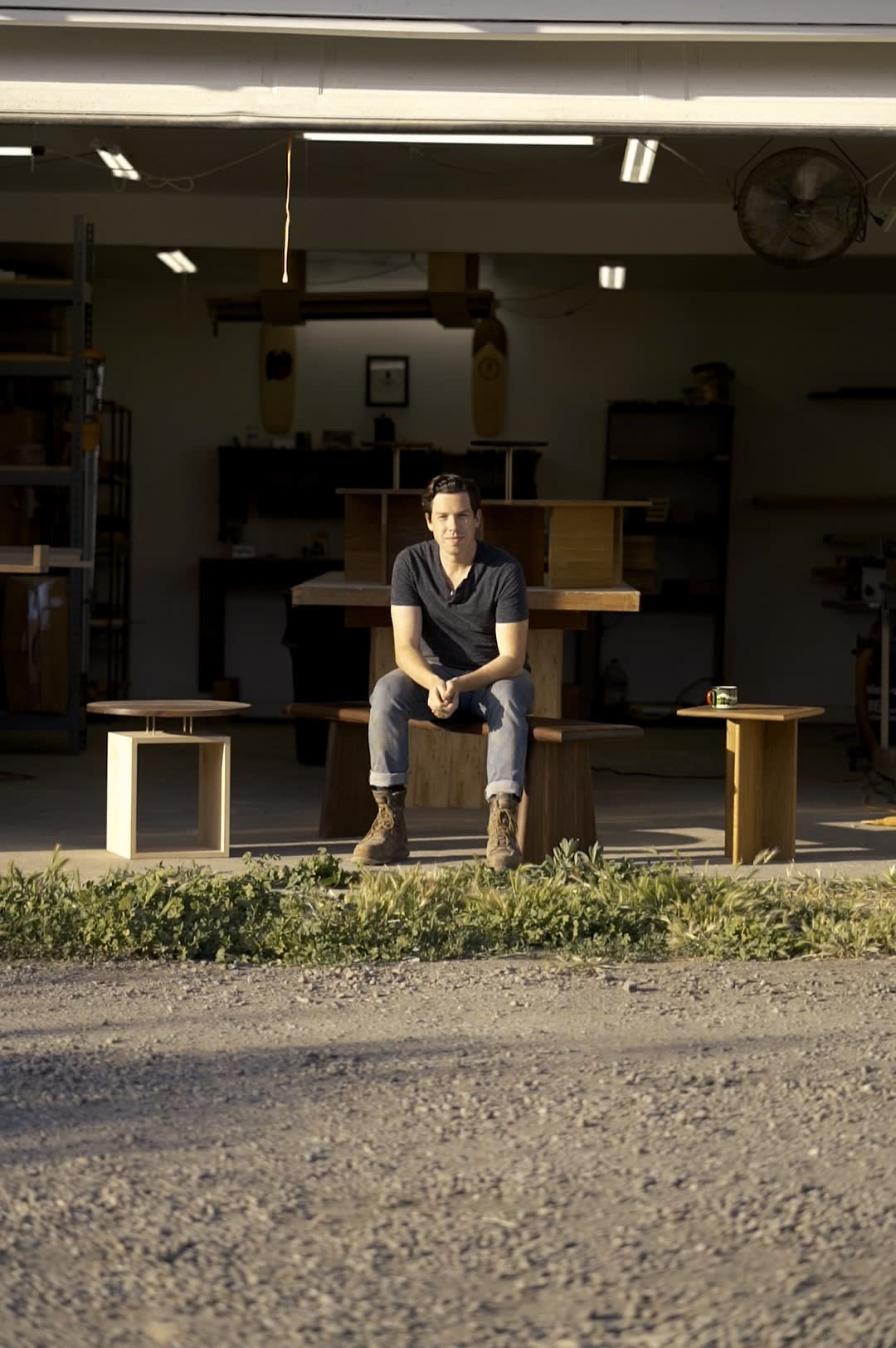 Phillip Stone is the founder of the San Francisco based woodworking design company, The Iron Roots Design. We sat down with Phillip to learn about what inspired his latest collection, his focus on sustainability, and more!
What inspired you to start your company?
I started The Iron Roots Designs 10 years ago in search of sustainable craftsmanship rooted in integrity. I saw too many products on the market that looked good from afar, but lacked quality upon inspection. I wanted to build pieces that my customers could believe in and trust. Pieces that look at ease in any home or style while still drawing eyes and starting conversations.
What were the first products you created?
Ten years is a long time and a lot has changed in my design style, but our Bicycle Taxidermy was my first design and one of the first things I ever built. It's a play on a Picasso piece called "Bull's Head". A bicycle seat and handlebars assembled to resemble a Longhorn. I took it a step further and made it a way to display bicycles as art  itself. I'll never forget the exciting feeling of cutting the first wooden plaque into shape and seeing the vision come to life. I gave that first Bicycle Taxidermy to my close friend as a gift, but since then we have built over 2,000 with some being installed in luxury hotels, lodges, and cycling cafes all around the world.
What inspired your latest collection?
Our "Natural Harmony Collection" is our ambitious, brand-defining celebration for our 10 year anniversary. The aim was to be all at once beautiful to look at, a seamless fit into any home, and to proudly last for generations. I think most people agree that the best strategy for sustainable living is to make and buy things that endure. That means stepping away from fads and making commitments to the look of your home. We're doing the same thing in our San Francisco workshop. Crafting furniture that will last as long as you'll have it. Our beautiful hardwood will form a warm patina in the sunlight of your window while the well-considered design and materials will transition from conversation piece to heirloom.
What is your favorite design from your latest collection?
I design all the products so it feels like choosing a favorite child! A lot of ideas stayed in my sketchbook and many didn't make it past prototypes. The collection took 7 months of daily work to ensure that what we take to the photo studio is the crème de la crème. That being said, our "Century" Console Table is the one that kept me up at night. It's a mid century shape using a minimalist expression. I love the openness and slightly disguised symmetry.
What does the creation process look like?
Our process starts and ends with three founding philosophies. Always handmade, always ethical practices, always solid wood. Cutting corners probably would make me more money, but I'm proud of what we create everyday and that's worth more.
 So we start with the highest grade of hardwood bought from a local mill only a mile from our San Francisco workshop. I always say that in furniture, you can write the speech, but the wood does the talking. So our job is a lot easier when the wood is as good as it gets.
  We keep a very spartan workshop. Only the tools that are constantly in use. Everything is done by hand (no CNC) so that our work has a human touch. I'm ok with automation in other parts of life, but I don't see a place for it in woodworking.  Trees are like people: it's our unique qualities that make us authentic and special. Our differences are part of our essence and that should be celebrated. You'll see that authenticity in the wood and the way we crafted it.
At the end of the build process, we generously apply a combination of natural oils and waxes to bring out the color, figuring, and luster that comes inherently from the chosen species of hardwood.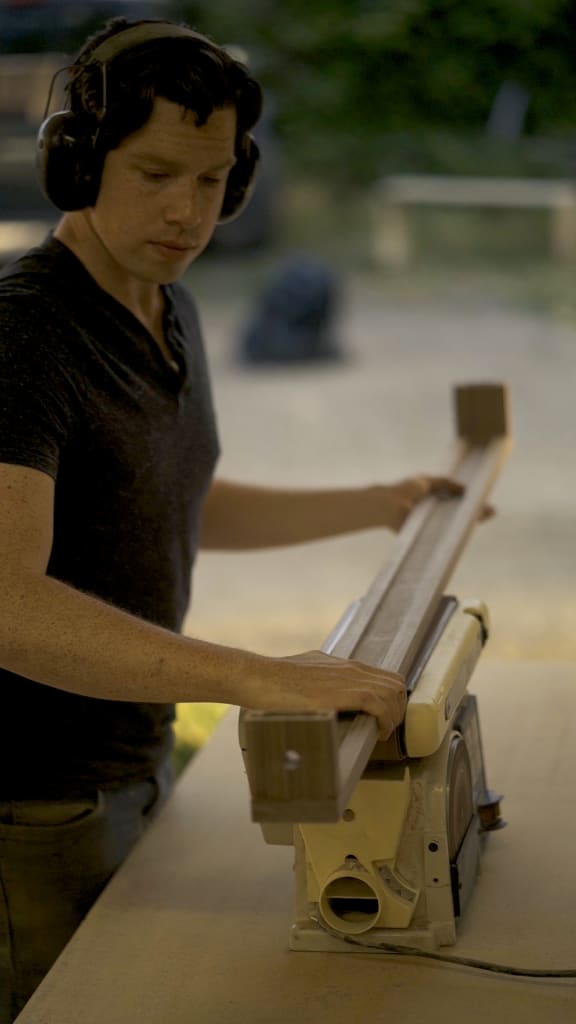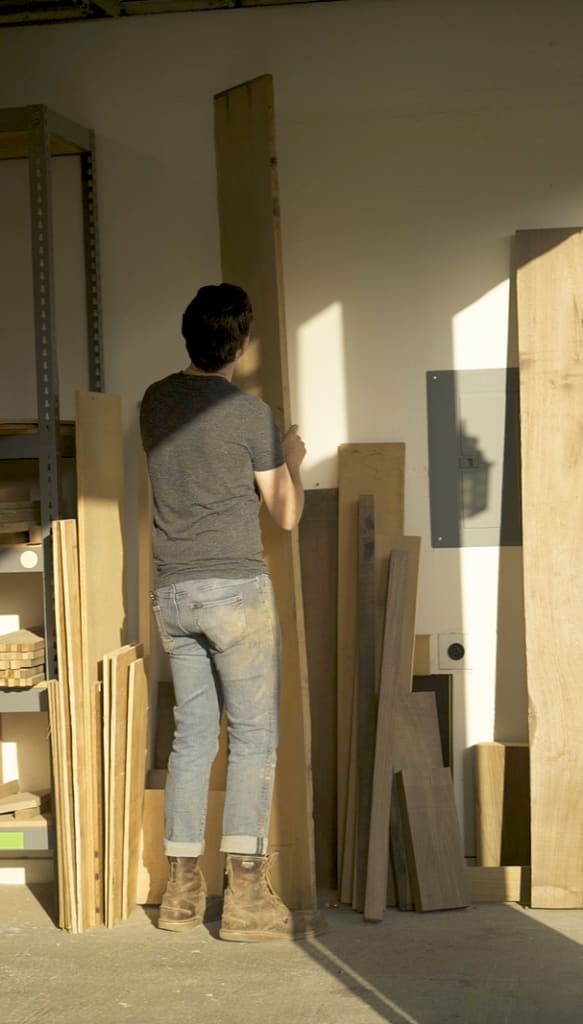 What are the most common requests for custom pieces and what does the customization process look like?
We take custom requests on a case by case basis, but it's normally architecture firms requesting a custom idea in large quantities, or interior designers requesting tweaks to our dimensions or a specific hardwood. I would say come to the conversation knowing that we take custom requests only if the idea is similar to our design style.
What has been the most fulfilling part of running your company?
The freedom of it. Before I created The Iron Roots Designs, I hated the feeling of having one boss who decides my success at a company. I love the meritocracy of owning your own business. The work we do proves ourselves and creates success. And after 10 years of proving ourselves, it's an honor to still be woodworking for a living. It's not for everyone, but I'm so much happier working 12 hours a day for myself than 8 hours for someone else.
How do you incorporate sustainable practices into your work?
As I said before, Ethical Practices are one of the founding philosophies of the company and sustainability is a key part of that. We buy sustainably sourced hardwood, we use "zero waste" woodworking techniques, we recycle constantly, and craft products that will last a lifetime. I love trees both in the ground and in my workshop so we regularly donate to reforestation organizations like Trees for the Future so that our work will only have a positive impact.
Is there anything else people should know about?
I think a final thought would be to please continue to buy from small or local crafters. If you're on Wescover, then you probably already have that in mind. The irony in mass produced furniture is that most of the price goes to corporate structure and not the piece itself. Buying from smaller companies and makers cuts out a lot of overhead which means what you pay is going towards the material and build quality. Plus a piece with a story will always be cooler than the bragging rights of a big brand.
Thank you to Phillip Stone for telling your story, and dedication to not only Wescover, but the future of sustainably made furniture and decor.