Wescover at NeoCon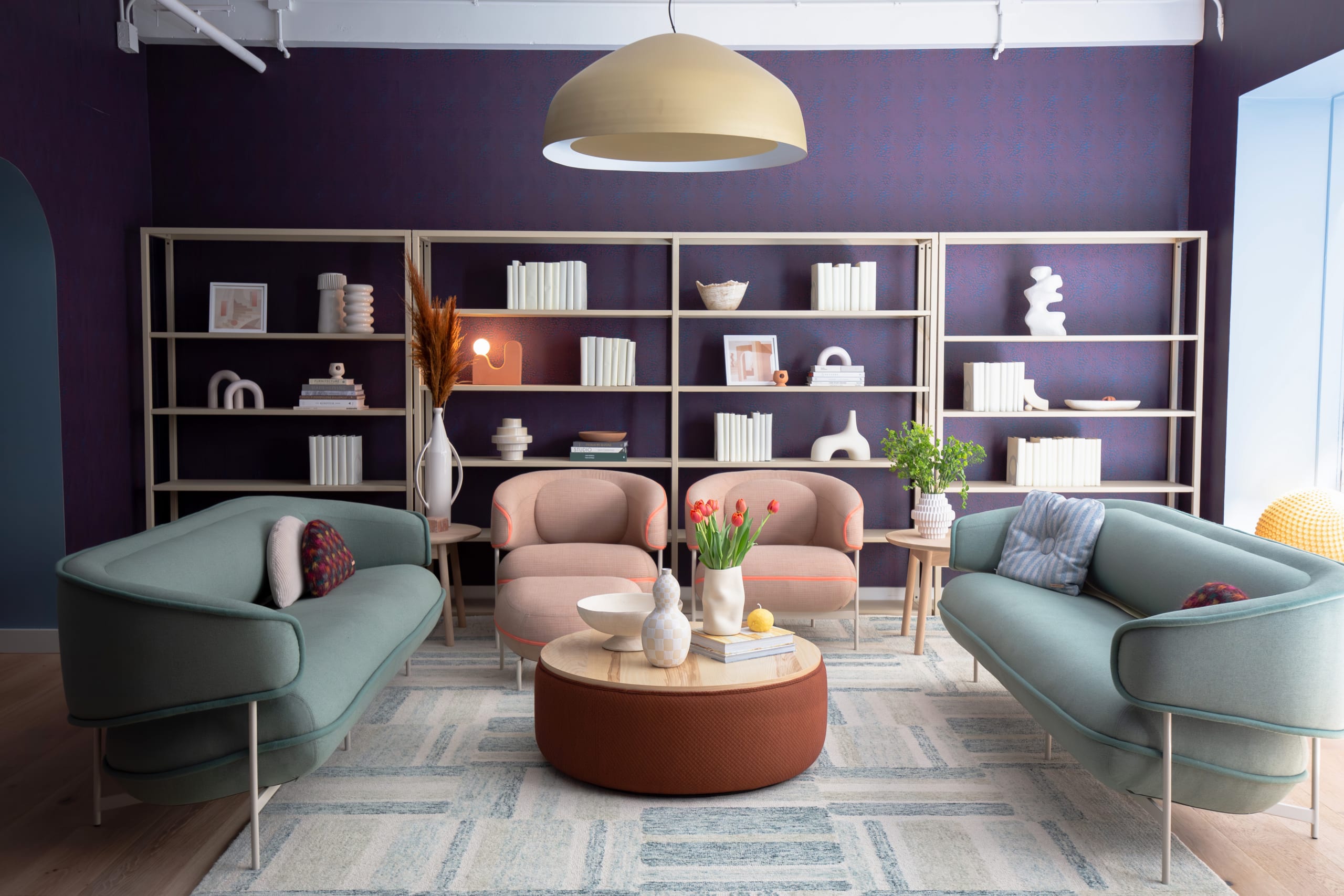 This year at NeoCon we teamed up with Hightower, a leading workspace furniture design and manufacturing company, to accessorize their award-winning Chicago showroom in collaboration with Casey Keasler from Casework Interior Design. The showroom took home the IIDA award for the best small showroom this year. From fine art to lighting, explore the full collection of pieces featured in the showroom!
Fernathyst by Sienna Martz
This unique wall hanging sculpture adds a vibrant pop of color to any space. Made by Sierra Martz with upcycled fabric and recycled polyester filling, this soft sculpture is one-of-a-kind.
Torre Table Lamp by Algo Studio
This stunning, geometric accent lamp is handmade by Algo Studio, designed in collaboration with Momostudio. A part of their Escalones y Escaleras collection, the Torre Table Lamp explores architectural typologies and their symbolism seen through memory, mixing past, present and future.
Knitted Floor Lamp by Ariel Zuckerman Studio
Centerpiece Bowl by Pretti.Cool
Pretti.Cool creates products that are both fun and practical. This concrete catch-all bowl is the perfect centerpiece on a dining or coffee table.  The pieces are made from recycled materials with colors integrally mixed into the concrete, resulting in each piece being unique.
Helix Vase 4 by niho Ceramics
Iris Table Lamp by lightexture
This beautiful brass lamp transforms its form and the atmosphere in a room by changing its light direction and projections. lightexture designed the Iris Table Lamp to create both a circle of textured golden light on the surface below, and a warm, indirect light that shines upward.
"Glissando" Slide by Candace Luter Art & Interiors
This hand-built sconce consists of ceramic coils that cast a dramatic sunburst pattern, and a stoneware and terracotta backplate that adds warmth. while the glow is punctuated by the exposed light bulb Created by SIN, the Ray Sconce references the rays of light that radiate from the sun.
Explore more styles within our Hightower x Wescover collection on Wescover!