Creator Spotlight: Danielle Hutchens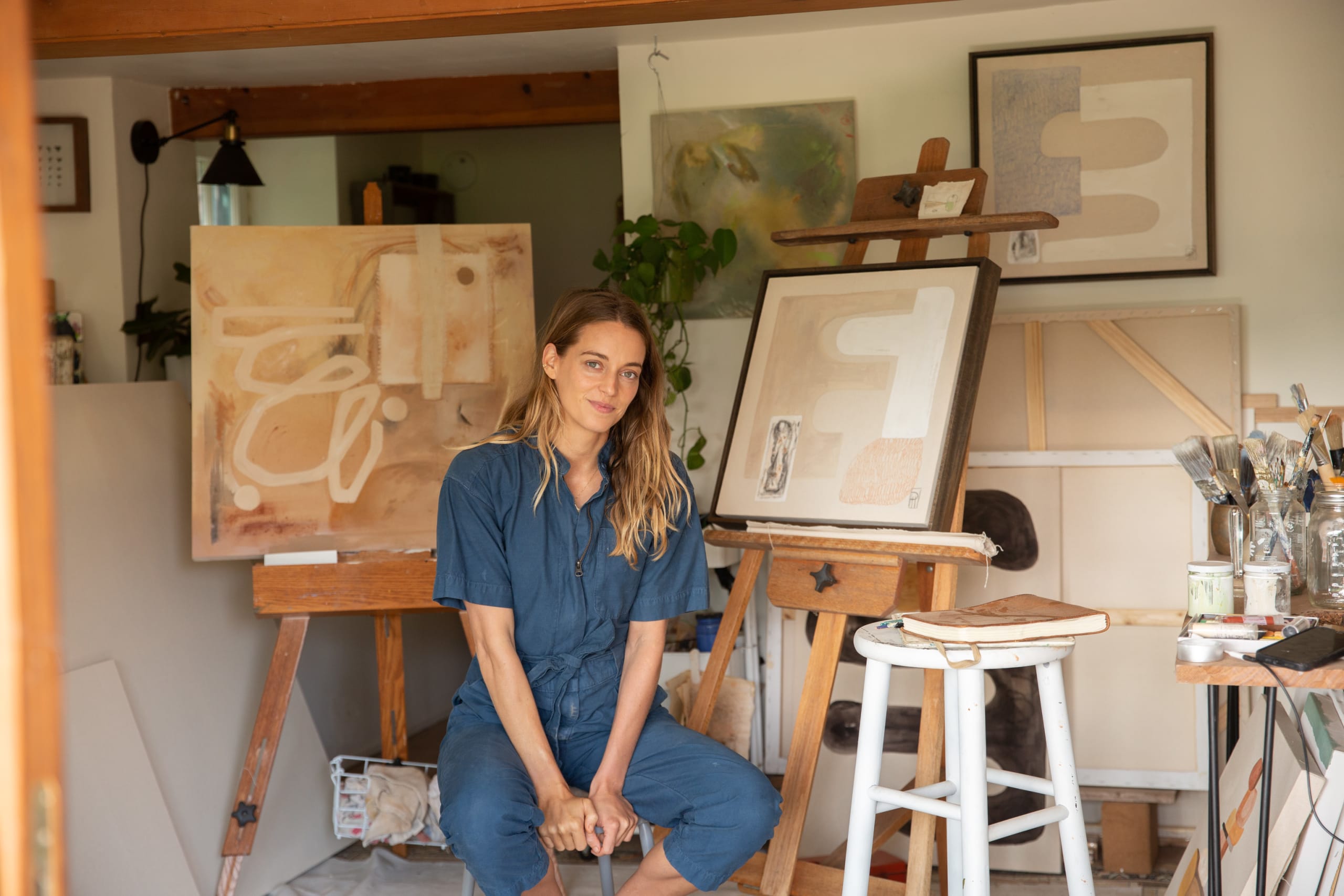 Danielle Hutchens is an artist living and working in Topanga who creates paintings and ceramics. We visited Danielle's studio to learn about how she got her start, her inspiration, and what she's most looking forward to.
What was your career journey to get where you are now?
For the majority of my career, I was in graphic design. I loved it because I like to interpret someone's story and turn it into something visual, similar to a commission. But I was getting tired of spending my days behind a computer. 
I started taking an intro to ceramics class once a week with my best friend as a way to see each other. Our brothers gave us classes for Christmas. It was fun and It was teaching me a lot. I was using my hands and it was reminding me why I love making art and how I feel when I work with my hands and interact with something physical. I just fully committed to it after that. 
I started doing ceramics after my design job. I would be there from 6p.m. until midnight. I had a fun teacher with an open and community-focused space, and I felt that flow state when time flies. I just kept wanting more of that. 
I started carving out time to paint and to revisit what I went to school for. I was doing art in the morning. In the past, it would be something I would do at night if I had time and wasn't tired. When stuff started to shift, it was because I was consciously prioritizing art. It came first in my day and in turn my life.. 
What are some of the primary inspirations and materials in your work?
I take a lot of inspiration from the nature around me, and I try to infuse it into my materials. For some of my natural pigments, I hike and collect stones on the beach or in the canyon and grind them up into powder pigment and those become my paints.
Whenever I travel or spend time outside, I'll sketch or pull shapes from what I see around me. I don't always have a place for those shapes yet, but sometimes, even a year or two  later, I'll stumble upon one of those sketches and it will turn into a piece.
Do you like to work on one piece at a time or develop full collections?
I love to do full collections. Letting it unfold and working on multiple pieces at once keeps me energized and flowing. If one piece is not coming out the way you want or gets stuck at a stage, you can turn to another and continue creating. And the cool thing is, after a couple of month you see an entire collection with a developed story that you didn't even notice was building the whole time.
What's special about the process of doing commissioned work?
I love hearing someone's story, interpreting it, abstracting it, and turning it into art.  I get the chance to connect with someone and then reflect back to them something that they can then connect with—in a way thats unique to them.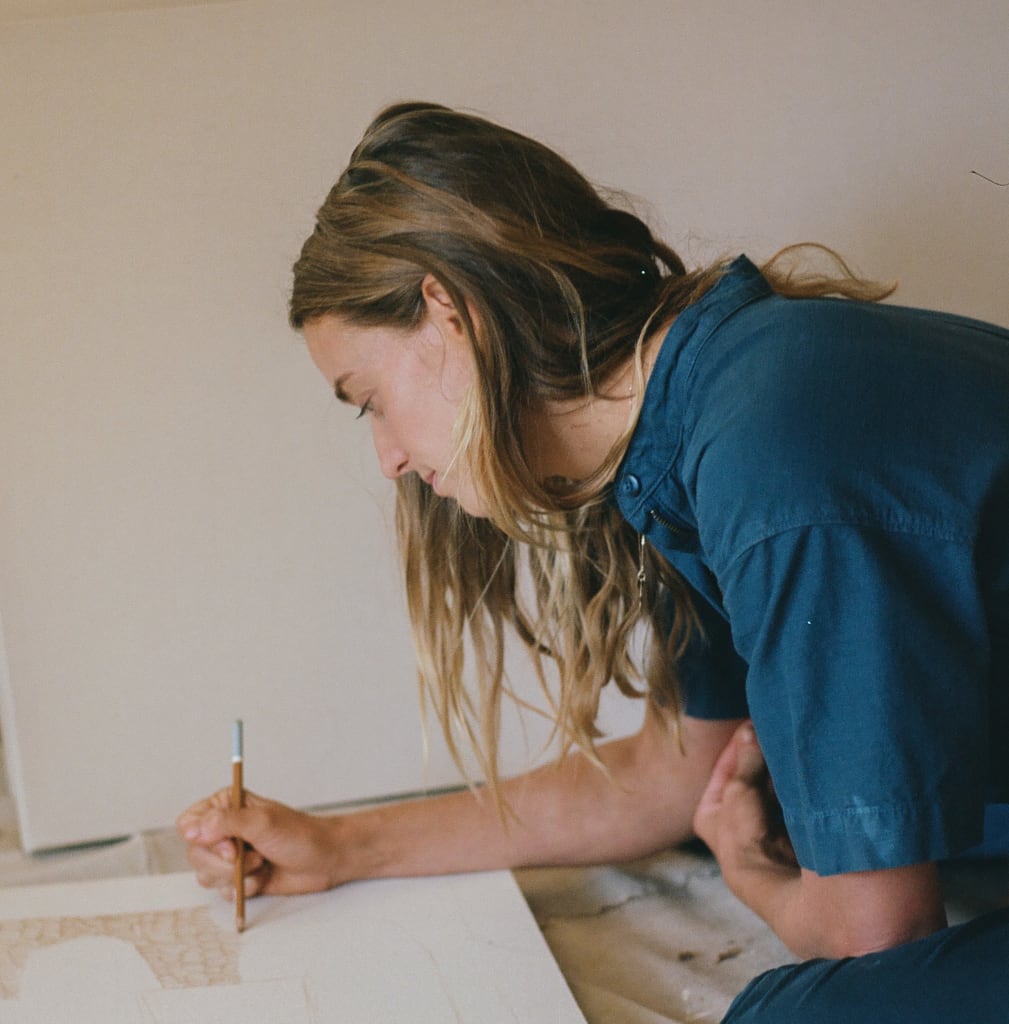 What is something you're looking forward to doing or something you're excited about for the future?
I really want to go to new place geographically and spend some time collecting stones with a deeper, darker color palette (more cool tones, blacks, purples, etc.). I'd be interested to see how my work changes with different pigments. Plus I'd love to incorporate more clay into my paintings. That would  go hand in hand with sourcing different pigments, clays, and clay bodies from new regions.
In the future, I hope for an opportunity to create an entire body of work in an inspiring space that's not my own. It would be a fun experiment to change my setting for one body of work and one collection. 
I've been enjoying  teaching ceramics. I teach ceramics every Thursday and also do handbuilding workshops. I forgot how much I love to teach and to be with a group that's learning. Learning from them and seeing them teach each other makes me feel really full.
Learn about the inspiration and process behind Danielle Hutchen's art
I painted this piece called Fruit Season on a canvas from an estate sale. I had just moved into my current space and was discovering what fruits were growing in the garden. I started sketching and drawing some of the leaves and the fruits. It came out really bright. I don't typically use these colors, but I was so excited to be in an entirely new place. 
This piece started with some sketches I made on a trip. A year later, I put some of the pieces together and created this composition. The shapes came from the city of Oaxaca. The pigments came from Cuyama and some charcoal from Topanga Beach. 
The section of the painting with the contained scribbling was a total inner-child exercise. I don't know why it started, but it was so fun and wild that I would save it to the end as a little treat.